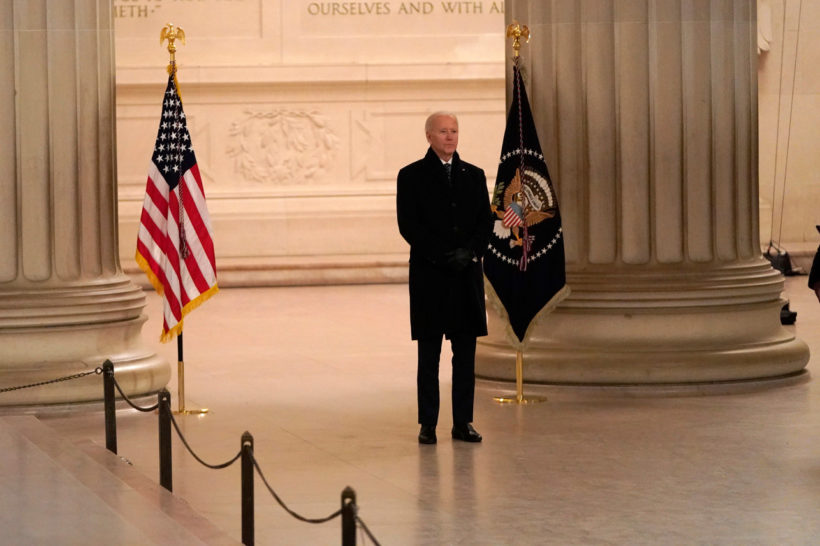 redo Jump to...
print Print...
The newly inaugurated president went bare-faced not only during a televised address to the American people, but also outside the context of the speech, as he stood at the foot of the memorial, C-SPAN footage shows.
The clip showed Biden standing before the towering statue of the nation's 16th president, another person a short distance to his left at an angle that obscures whether they too were unmasked.
The lapse in coronavirus safety precautions by the 78-year-old president came just hours after he signed an executive order mandating masks on federal property [which reads in part "individuals in Federal buildings and on Federal lands should all wear masks"].
That decree is in addition to 10 other executive orders Biden did/will sign [this week as part of his plan to] stamp out the virus….
The White House did not immediately respond to a request for comment.
Biden signed the mask-wearing order Wednesday — the first he issued as president — requiring masks on federal property. Together, the orders come as close to a national mask mandate as his federal powers allow, because only states and municipalities can require residents to wear masks at a local level.
After he signed the order, Biden tweeted:
"Wearing masks isn't a partisan issue — it's a patriotic act that can save countless lives. That's why I signed an executive order today issuing a mask mandate on federal property. It's time to mask up, America."
The president signed an additional mask order Thursday, mandating mask usage in airports and on many planes, trains, ships and intercity buses, the White House said.
Biden's move marks a clear break from Trump's handling of masks, although some specifics, including how it might be enforced, remain unclear pending the release of the order. It will require masks "on certain public modes of transportation and at ports of entry to the United States," according to a White House strategy document released Thursday.
Biden had said before his inauguration that he would require masks for "interstate travel on planes, trains and buses," and CDC officials previously indicated that interstate travel is where their existing authority lies. The precise role of the Transportation Department wasn't immediately clear.
Biden's pick for transportation secretary, failed Democratic presidential candidate Pete Buttigieg, appeared Thursday before the Senate Commerce Committee for a hearing on his nomination. He also pointed to the need to face the broad dangers stemming from the coronavirus pandemic.
President Biden has been focused on masks well before being sworn in. At a press conference on December 8 he said,
"In my first 100 days, I'm going to ask for a masking plan, asking everyone for the first 100 days of my administration to wear a mask."
Biden said he would sign an order "on day one" mandating mask-wearing in federal buildings and for "interstate travel" on planes, trains and buses.
"Wear a mask for the first 100 days. It's the easiest thing to do to reduce COVID cases, hospitalizations and deaths. Help yourself, your family and your community," he said.
More recently, several days before the inauguration on January 15, then President-elect Biden again called on all Americans to wear masks in public for 100 days to combat the spread of the coronavirus, saying it was "stupid" that face coverings had become a political issue.
"This is a patriotic act," Biden said in a speech in Wilmington, Delaware, on Friday outlining his plan to accelerate vaccinations against the virus. "We're asking you, we're in a war with this virus."
He criticized Republican lawmakers who have refused to wear masks….
"What the hell is the matter with them? It's time to grow up," he said.

"For God's sake, wear a mask — if not for yourself, for your loved ones, for your country," Biden said. He, Vice President-elect Kamala Harris and other officials in his incoming administration are frequently seen in masks.
Compiled from articles by William Wan, The Washington Post, Aaron Feis, New York Post and Justin Sink, Bloomberg News. Published here for educational purposes only.
Questions
1. The first paragraph of a news article should answer the questions who, what, where and when. List the who, what, where and when of this news item. (NOTE: The remainder of a news article provides details on the why and/or how.)
2. What order had President Biden signed prior to his appearance at a federal landmark without a mask?
3. What does President Biden's mask mandate order every person to do?
4. What additional mask order did President Biden sign on Thursday? Be specific.
5. a) More than a year after covid lockdowns began (two weeks to slow the spread, health officials said), and a month after vaccine distribution began, what and for how long is President Biden saying people should wear masks everywhere?
b) On January 15, Biden described the 100 days as "a patriotic act." Do you agree? Explain your answer.
6. a) Consider the "Background" below, as well as President Biden's flouting of his own order. How would you describe the actions of our new president? and our elected "officials"?
b) Ask a parent the same question.
Background
Rules for thee but not for me:
Democrat Steve Adler, the mayor of Austin, Texas, traveled to Cabo San Lucas, Mexico in November on a private jet for a vacation, one day after hosting his daughter's wedding. During his vacation at the trendy ocean resort, the Democratic mayor recorded a special video for his constituents. "We need to stay home if you can. This is not the time to relax," he said. Upon being found out, Adler defended both vacation and wedding, even though the guest list at the latter event exceeded city recommendations on private gatherings. He eventually apologized.
California's Democratic governor, Gavin Newsom, attended a party in an indoor "outdoor room" at the exclusive French Laundry restaurant ($300 per person?) while ordering indoor dining to close. The Democrat attended the multi-family dinner in early November, the kind of event told Californians to avoid amidst the coronavirus pandemic.  The event was a birthday dinner for an adviser who is also a partner at a lobbying firm.
California's Democrat London Breed, mayor of San Francisco dined at French Laundry the night after Gov. Newsom. Three days after eating in the Napa Valley restaurant, she banned all indoor dining in San Francisco. Mayor Breed said, "The truth is we're going to have to take more restrictive action and it pains me to say that."
California's Democratic Speaker of the House Nancy Pelosi —While San Francisco shut down businesses in draconian fashion, Pelosi was caught, maskless, getting her hair styled. At the time, salons were only allowed to offer outdoor services.   Pelosi's 'do was done by an independent stylist without the knowledge of salon owner Erica Kious, who described it as "a slap in the face that she went in, you know, that she feels that she can just go and get her stuff done while no one else can go in, and I can't work."  Pelosi's response? "It was clearly a setup," she whined. "This salon owes me an apology."
California's Democratic Senator Dianne Feinstein — "Research shows that masks reduce transmission of the coronavirus," she said in July. "Wearing masks in public should be mandatory. Period."  Feinstein, 87, has been spotted a number of times speaking to colleagues at the Capitol without wearing a mask.
Denver's Democratic mayor Michael Hancock flew to see family for Thanksgiving — after telling his staff to refrain from all travel.  He wrote city employees, "I'm urging you to refrain from travel this Thanksgiving holiday. For my family that means cancelling our traditional gathering of our extended family." After being found out,  Hancock admitted that " my decision was unwise and hypocritical — a mistake that I want to deeply apologize for. My job as Mayor is to not only help come up with safe practices for the entire city. It's also to set an example, and on that measure, I failed."
White House Covid Task Force leader Dr. Deborah Birx was caught not only traveling around the day of Thanksgiving but also with people who were not members of her immediate household. Three different generations of family were in attendance. She claimed it was not to "celebrate" Thanksgiving. Either way, it broke her own advice to the American people.
Liberal CNN host Chris Cuomo (brother of Democratic Gov. Andrew Cuomo of NY) — CNN's top COVID lecturer was bashed by his own landlord for failing to wear a mask in common areas. Even as the anchor was bashing President Trump for not wearing one during events.  An August letter to Cuomo from his landlord said, "You have been observed entering and exiting the building and riding the elevator without the required face coverings. Even though staff members have asked you to comply with this requirement, you have refused to do so. This is a violation of the Executive Order, building policy, and places other residents and our staff at risk. There are no exceptions to this rule, and you are required to comply."
Democratic mayor of Philadelphia Jim Kenney — Banned indoor dining in his city, then traveled to Chesapeake Bay (Maryland) to enjoy indoor dining, while depriving Philadelphians the same right, and depriving Philly restaurant owners and employees their livlihoods.
Chicago's Democratic Mayor Lori Lightfoot told everyone to stay home – no walks around the lake, no hair salon – then got a haircut. "The woman who cut my hair had a mask and gloves on so we are, I am practicing what I'm preaching," Mayor Lightfoot said. The pictures her stylist posted showed Lightfoot and the stylist were right next to each other without any masks or gloves. The mayor claimed her haircut was considered essential because she's "the public face of this city." — "I'm on national media and I'm out in the public eye. I'm a person who, I take my personal hygiene very seriously. As I said, I felt like I needed to have a haircut. I'm not able to do that myself, so I got a haircut. You want to talk more about that?"
NYC Mayor Bill de Blasio, another Democrat, finally got around to telling people that they should be staying home (after first encouraging New Yorkers to ignore all the signs and go out to the parades and the movie theater). But after implementing closures, Mayor de Blasio still went to the gym, and required his staff to accompany him.
Illinois Democratic Gov. J.B. Pritzker, who reportedly evaded springtime covid restrictions by hanging out on his equestrian farms in Wisconsin and Florida, dodged questions about his family plans for Thanksgiving, claiming he was unaware of Chicago's stay-home orders. Pritzker had all but closed his state. He and his public health enforcers told people to cancel Thanksgiving but he got to enjoy his holidays by flying on his private jet to Florida, where the Republican governor has not imposed such stifling restrictions.
Benjamin Yount on Newstalk 1130 wrote: "America is a country of laws. Everyone is supposed to be equal before the law. Our liberal overlords like to remind us that their coronavirus orders are the law. Then they show us that those laws don't apply to them. — And they wonder why [we are unhappy about] even the slightest new restriction on our freedoms.
---
The question is: Does President Biden's new executive order mandating masks on federal property not apply to Joe Biden while he's on federal property?
Daily "Answers" emails are provided for Daily News Articles, Tuesday's World Events and Friday's News Quiz.