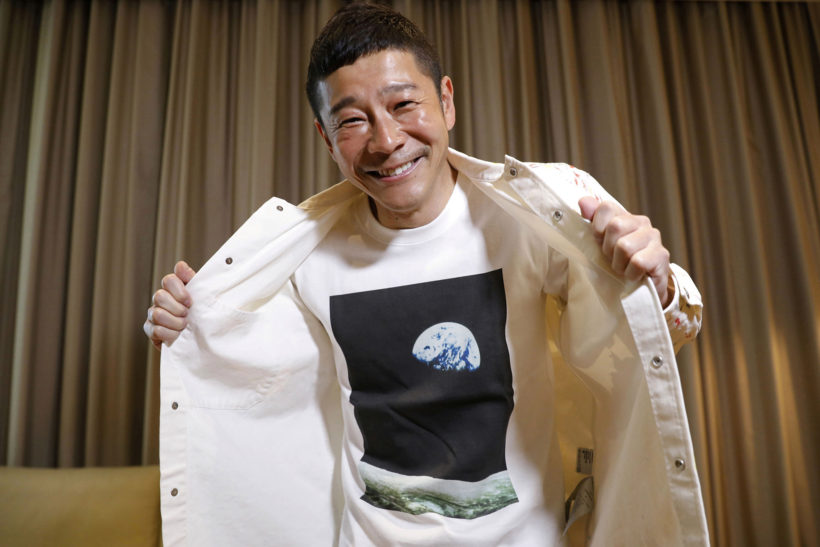 (by Mike Murphy, MarketWatch) — …A Japanese billionaire is looking for eight volunteers to fly to the moon with him on Elon Musk's spaceship.
"It will take three days to get to the moon, loop behind it, and three days to get back," Yusaku Maezawa said in a video Tuesday. "I will pay for the entire journey."
Applications are due by March 14, with initial screenings starting soon after. Final interviews and medical checkups are scheduled to be competed by late May.
The mission to fly around the moon and back — dubbed dearMoon — is scheduled for 2023 on a SpaceX Starship. Though the spacecraft is still in the early stages of testing, Musk says he's confident it will be ready in two years. The first two Starship test flights have ended in explosive crash landings.
Maezawa, an entrepreneur and art collector who founded the online fashion business Zozo — which he sold to SoftBank for $900 million in 2019 — bought the right to be SpaceX's first lunar tourist in 2018.
The flight will have 10-12 people in total, including the eight civilians. "I hope that together we can make it a fun trip," Maezawa said.
Maezawa's initial plan two years ago was to invite artists on the trip, but that plan has since "evolved," he said, as he decided "artist" was too ambiguous a term.
"Every single person who is doing something creative could be called an artist…and that is why I wanted to reach out to a wider, more diverse audience."
Maezawa said there are two key criteria for those who want to fly to space with him: A willingness to push the envelope to create a better society, and a willingness to support others, including crewmembers, in their aspirations.
"Those two criteria will be key in selecting the eight crew members," he said.
In the video, Musk pointed out that the mission will be the first commercial spaceflight with humans to travel beyond Earth's orbit. It will actually go past the moon, Musk said, so "we expect people to go further than any human has ever gone from planet Earth."
It's unclear how much the moon mission is costing Maezawa. In 2018, Musk said only that it's "a lot of money." But Maezawa is no stranger to splurging — he spent a record $110.5 million for a Basquiat painting in a 2017 auction, and admitted losing $41 million in day trading in 2020.
Published at marketwatch .com. Reprinted here for educational purposes only. May not be reproduced on other websites without permission.
Questions
1. The first paragraph of a news article should answer the questions who, what, where and when. List the who, what, where and when of this news item. (NOTE: The remainder of a news article provides details on the why and/or how.)
2. What will the trip entail? (How long will it last?)
3. What is the cost of the trip for the 8 Mr. Maezawa chooses to go with him?
4. What qualifications did Mr. Maezawa say he is looking for in the fellow passengers he chooses?
5. For what reason do you think Mr. Maezawa changed his initial plan of inviting artists only?
6. a) When is the trip expected to take place? – What needs to happen before it does?
b) What do you think of Mr. Musk's ambitions?
7. Over 300,000 people have applied to be one of the eight. Would you apply to go on such a trip (should you be the age that meets the criteria)? Why or why not?
Resources
Watch a March 3, 2021 report:
Daily "Answers" emails are provided for Daily News Articles, Tuesday's World Events and Friday's News Quiz.