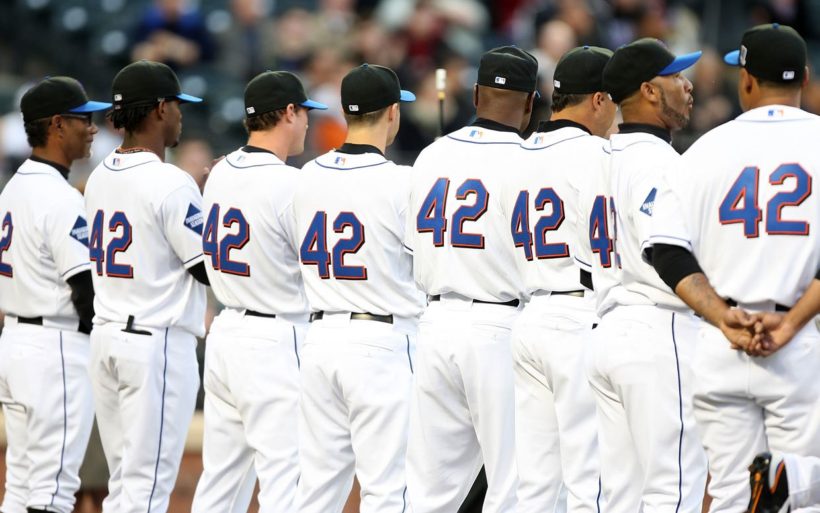 (CBS News) LOS ANGELES — This year, Jackie Robinson Day was even celebrated in space.
While Rachel Robinson, the player's 92-year-old widow, and Commissioner Rob Manfred honored Major League Baseball's first black player in a ceremony at Dodger Stadium on Wednesday night in conjunction with the annual Civil Rights Game*, astronaut Terry Virts wore a Dodgers jersey with Robinson's No. 42 along with a Brooklyn cap at the International Space Station orbiting the Earth. [*The Civil Rights Game is an annual Major League Baseball game (starting in 2007) that honors the history of civil rights in the U.S. and marked the unofficial end to the league's Spring Training. Starting in 2009, the game became a regular season game. (wikipedia)]
Wednesday marked the 68th anniversary of Robinson breaking the major league color barrier. His former team, the Dodgers, announced they will erect a statue of him at their ballpark.
"I can remember reading a book about Jackie when I was in the first grade," Virts said in a video posted on MLB  .com. "Even at that young age, I was really impressed with what he did beyond baseball.
"Jackie, alongside his wife Rachel, opened up a world of opportunities that had been closed to so many Americans simply because of the color of their skin," Virts continued. "What he did took courage, a lot of courage. He had to endure things that most of us could not imagine, and he had to do it while maintaining composure that most of us couldn't begin to muster."

Robinson's No. 42 was retired throughout the major leagues in 1997, with players already using the number grandfathered in. Yankees closer Mariano Rivera was the last player to wear it, in 2013.
Then-Commissioner Bud Selig decided in 2005 that all teams would honor Robinson each April 15. Every major league player, manager and coach on the field wears No. 42 on the date.
"Jackie is the most historic figure who ever played the game, so it's fitting that we honor his legacy by adding the Civil Rights Game on the same day as Jackie Robinson Day," Manfred said.
Speaking at a news conference before the Dodgers hosted Seattle, Manfred and Rachel Robinson were flanked by Dodgers owner Magic Johnson and club President Stan Kasten, who announced that a statue of Robinson will be erected and placed on the stadium's grounds sometime this year — although the location has yet to be determined.
"It's a true blessing for me to sit here with Rachel and understand what her husband has meant to changing society, changing the world and changing baseball," Johnson said, his eyes glistening. "I feel like he's still here — his presence, his legacy."
Rachel Robinson, whose children also were on hand, was escorted to the pitcher's mound by Sandy Koufax. A video presentation was shown on the scoreboards behind the pavilions in left and right field. A No.42 was stenciled on the back slope of the mound and behind second base — Robinson's position.
Most fans wore Dodgers jerseys with Robinson's number on the back, which they received as they entered the ballpark.
Robinson was a six-time All-Star, the 1947 major league Rookie of the Year and the NL MVP in 1949, when he won the league's batting title.
"Jackie was the only black man that I knew of at that time who could have done the job that he did – and do it with the pride that he did it," former teammate Don Newcombe said in Los Angeles. "That's why he was so respected.
"Martin Luther King came to my house one night for dinner 28 days before he died in Memphis," Newcombe continued. "He said to me: 'Don, I want you and Jackie and Roy Campanella and Larry Doby to know that without you, I would never have made it as successfully as I have in civil rights if it were not for what you men did on the baseball field.'
According to Newcombe, "I said: 'Martin, you're kidding.' He said: 'No, I'm not, and I want you to call Jackie tomorrow morning and tell him what I said.'"
Toronto catcher Russell Martin said learned about Jackie Robinson from his father, who grew up in Montreal, where Robinson played for the Triple-A Royals before the Dodger called up.
"When he was growing up he'd get in rundowns on purpose and get out of them because he was faster than the other kids and he'd say that he was Jackie Robinson's son," Martin said.
In New York, Mets outfielder Curtis Granderson wore special spikes with Robinson's No. 42 on the side.
Opening-day rosters included 8.3 percent of players who identified as African-American, according to Richard Lapchick's Institute for Diversity and Ethics in Sport at the University of Central Florida. That was a slight increase from 8.2 last year, which equaled the study low set in 2007.
"We all recognize that there's a tremendous amount of athletes that are migrating to football and basketball," Red Sox manager John Farrell said. "Create more space in the inner cities is one possible way to do it."
"I came up in the Dodger organization, and it was special for all of us young guys to hear the firsthand accounts from like Roy Campanella and Carl Erskine, and all the guys that played on that Brooklyn Dodger team, of just what a special person Jackie Robinson was, not only as a ball player, but as a human being and what he went through," Los Angeles Angels manager Mike Scioscia said.
"Every spring, we make sure we keep messages alive that are important and inspirational, and Jackie's certainly one of them," Scioscia said. "I think that (for) the next generation… it's an important part of American history that needs to be taught and needs to be understood."
Reprinted here for educational purposes only. May not be reproduced on other websites without permission from CBSNews. Visit the website at cbsnews .com.
Questions
1. a) Who was Jackie Robinson?
b) How good a player was he?
2. When was Jackie Robinson Day established?
3. How does MLB commemorate Jackie Robinson Day?
4. How did the Dodgers commemorate Jackie Robinson Day this year?
5. Today's Daily News Article is a human interest news story. Human interest stories differ from the regular news – they are sometimes referred to as "the story behind the story." The major news articles of the day tell of important happenings. Human interest stories tell of how those happenings have impacted the people or places around the story.
Do you think this human interest story is newsworthy? Why?
Resources
Read about Jackie Robinson at wikipedia
Watch an April 15, 2015 clip from MLB Central:
Daily "Answers" emails are provided for Daily News Articles, Tuesday's World Events and Friday's News Quiz.