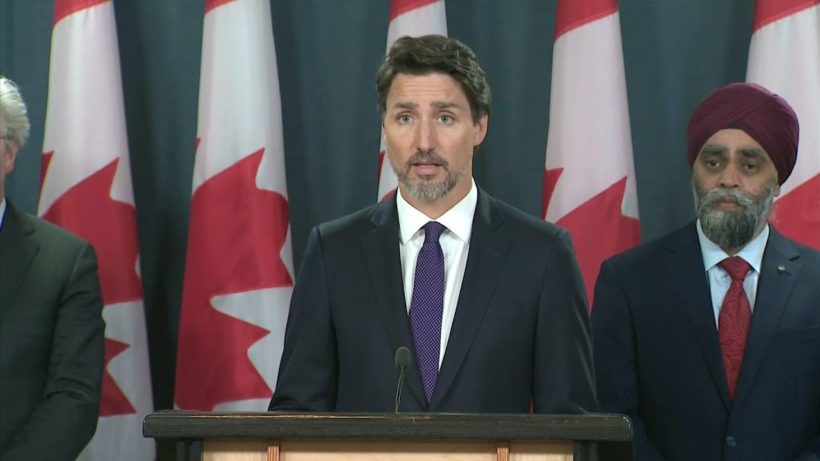 redo Jump to...
print Print...
(by Steve Scherer and David Shepardson, Reuters) OTTAWA/WASHINGTON — A Ukraine airliner that crashed in Iran, killing all 176 people aboard, was likely brought down by an Iranian missile, Canada's prime minister, Justin Trudeau, said on Thursday, citing intelligence from Canadian and other sources.
Trudeau told a news conference in Ottawa that the destruction of the airliner "may well have been unintentional."
The flight was on its way to Kiev from Tehran early on Wednesday, with 63 Iranian-Canadians among the passengers and crew.
"We have intelligence from multiple sources, including our allies and our own intelligence. The evidence indicates that the plane was shot down by an Iranian surface-to-air missile," he said.
The crash of the Ukraine International Airlines plane occurred shortly after Iran fired ballistic missiles at two U.S. military bases in Iraq…
Earlier on Thursday, a U.S. official, citing an extensive review of satellite data, said Washington had concluded with a high degree of certainty that anti-aircraft missiles brought down the plane. The official said the Boeing 737-800 had been tracked by Iranian radar.
Washington believed the plane was most likely brought down accidentally, two U.S. officials said.
[The AP reported that the U.S. officials wouldn't say what intelligence they had that pointed to an Iranian missile. But they acknowledged the existence of satellites and other sensors in the region, as well as the likelihood of communication interceptions and other similar intelligence.].
The data showed the plane was airborne for two minutes after departing Tehran when the heat signatures of two surface-to-air missiles were detected, one of the officials said.
That was quickly followed by an explosion in the vicinity of the plane, this official said. Heat signature data then showed it on fire as it went down.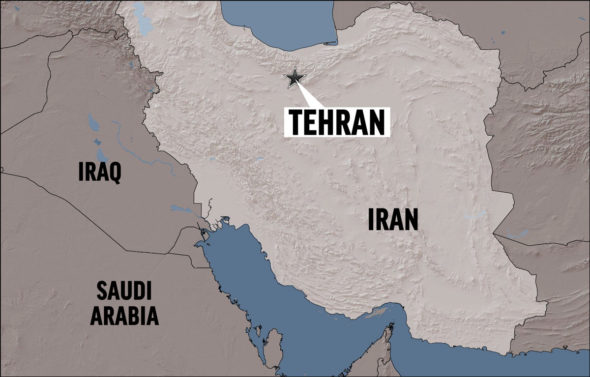 Iran's head of civil aviation denied reports that Iran was to blame as "illogical rumors."
"Scientifically, it is impossible that a missile hit the Ukrainian plane, and such rumors are illogical," the semi-official ISNA News Agency quoted Ali Abedzadeh as saying.
Speaking to reporters at the White House, U.S. President Donald Trump said…he did not believe it was a mechanical issue.
"It's a tragic thing. But somebody could have made a mistake – on the other side," Trump said.
The U.S. Federal Aviation Administration had banned U.S. carriers from operating in the airspace over Iraq, Iran, the Gulf of Oman and the waters between Iran and Saudi Arabia in the hours after Iran's attack on U.S.-led forces in Iraq. Several other airlines also diverted flights. …
[The plane was carrying 167 passengers and nine crew members from several countries, including 82 Iranians, at least 63 Canadians and 11 Ukrainians, according to officials. Many of the passengers were believed to be international students attending universities in Canada; they were making their way back to Toronto by way of Kyiv after visiting with family during the winter break.].
Reporting by Mark Hosenball, David Shepardson, Jonathan Landay and Phil Stewart in Washington; Alexander Cornwell and Babak Dehghanpisheh in Dubai, Pavel Polityuk in Kiev and Steve Scherer in Ottawa; Additional reporting by Tim Hepher in Paris, Jamie Freed in Sydney, Allison Lampert in Montreal, Laurence Frost in Paris, Matthias Williams in Kiev, Mark Hosenball in Washington and David Ljunggren in Ottawa, Elizabeth Piper in London; Writing by Alexander Cornwell and Sonya Hepinstall; Editing by William; Maclean, Alistair Bell and Peter Cooney
Questions
NOTE: Before answering the following questions, read the "Background" and watch the video under "Resources" below.
1. How many people were on board the Ukrainian plane that crashed shortly after takeoff in Tehran, Iran this week? Who were they?
2. a) For what reason is the Canadian government concerned about the crash?
b) How did the Canadian government explain its belief that the plane was brought down by an Iranian missile?
3. How did the U.S. make the determination that the passenger plane was downed by an Iranian missile?
4. How did Prime Minister Trudeau, U.S. officials and President Trump all describe the motive for the missile strike?
5. What specific information did London-based global information company IHS Markit provide in a report on the plane crash that puts the blame on Iran?
6. How did the Iranian government respond to reports that the plane was downed by an Iranian missile?
7. If accidental, this was a pretty big mistake. What could you conclude about the competence of the Iranian government and military?
Background
From a NY Post article by Yaron Steinbuch, Jan. 9:
The Boeing 737-800 was struck by a Russian-built Tor M-1 surface-to-air missile, known to NATO as the SA-15 Gauntlet, Newsweek reported, citing a Pentagon official, a senior US intelligence official.
Images that circulated Wednesday appeared to show fragments of a Tor M-1 missile said to have been found in a suburb of Tehran.
A London-based global information company also said the flight was mistakenly shot down by an Iranian missile.
"Photographs purportedly taken near the site of the crash and circulated on social media appear to show the guidance section of an SA-15 Gauntlet short-range, surface to air missile, which landed in a nearby garden," the firm IHS Markit said in a report, according to USA Today, adding that it could not confirm the authenticity of the images but "assesses them to be credible."
In a preliminary report, Iran's Civil Aviation Organization said the crew did not declare an emergency and were trying to return to the airport when the plane went down. Iranian officials have said the plane apparently suffered engine failure.
But IHS Markit said that publicly available air traffic data was "not consistent" with Iran's claim, adding that the flight data shows a normal ascent until the plane disappears at 8,000 feet.
"This is consistent with a catastrophic incident onboard the aircraft," the report said, according to USA Today.

"A pilot of an airliner that took off from Tehran airport shortly after UIA Flight 752 told an IHS Markit source that he watched the aircraft take off and then explode in midair," the report added.
Under the guidelines outlined in the International Civil Aviation Organization, the country where a crash occurs leads the probe and is responsible for releasing information about incident. Officials in other countries may be included to offer technical and investigative assistance, the Washington Post reported.
Ukrainian President Volodymyr Zelensky said his Iranian counterpart Hassan Rouhani has assured him of full cooperation in investigating the crash and that Iran would provide experts access to all data.
A statement on the Ukrainian presidential website says: "The Iranian party assured full cooperation with a view to holding an objective investigation and finding out the causes of the tragedy. Hassan Rouhani stressed that Iran would provide the Ukrainian expert group with prompt access to all the necessary data."
Also Thursday, Canadian Foreign Minister François-Philippe Champagne spoke by phone with Iranian Foreign Minister Mohammad Javad Zarif and emphasized that Canada, which lost 63 nationals in the crash, wants to be part of the investigation.
Because Boeing planes are manufactured and certified in the US, American officials have the right to take part in the investigation under international rules. But due to sanctions imposed on Iran, there are additional challenges, according to the Washington Post.
Government agencies, including the NTSB, must obtain a license from the Office of Foreign Assets Control to be allowed to travel to the country, a process that experts say can take months or even years. The NY Times later reported that despite earlier reports that the US would not be involved in the probe, the National Transportation Safety Board has been invited by Iran, through the International Civil Aviation Organization to assist, according to two sources familiar with the matter.
Meanwhile, a Ukrainian plane carrying 45 experts and search-and-rescue personnel arrived in Tehran on Thursday to take part in the probe as well as identify and repatriate the bodies of the 11 Ukrainians aboard.
Reuters further reported: Investigations into airliner crashes require regulators, experts and companies across several international jurisdictions to work together. It can take months to fully determine the cause and issuing an initial report within 24 hours is rare.
Resources
Watch a Jan. 9 CBS News report:
Daily "Answers" emails are provided for Daily News Articles, Tuesday's World Events and Friday's News Quiz.