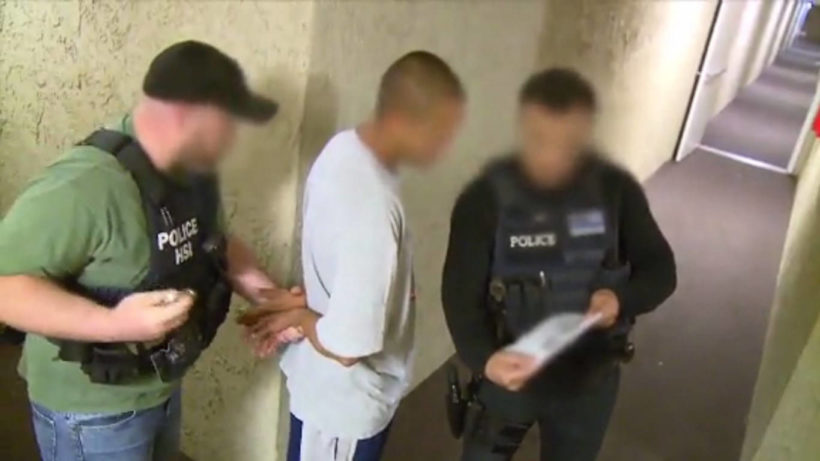 redo Jump to...
print Print...
(by Alex Dobuzinskis, Reuters)  LOS ANGELES – Federal immigration agents have arrested illegal immigrants at California courthouses because local authorities have blocked apprehensions at jails, the Trump administration's top two law enforcement officials told the state's chief justice, who had requested a halt to the practice.
In a letter to Chief Justice Tani Cantil-Sakauye made public on Friday, U.S. Attorney General Jeff Sessions and Department of Homeland Security Secretary John Kelly gave no indication that agents would stop the arrests.
Sessions and Kelly criticized California officials for limiting the cooperation of state and local law enforcement officers with U.S. agents, preventing them from going to jails to pick up illegal immigrants arrested for other crimes [which is usually done]. The attorney general and DHS secretary criticized California and its jurisdictions for having policies of non-cooperation with ICE [U.S. Immigration and Customs Enforcement] — blaming those policies for the courthouse arrests.
"Some jurisdictions, including the State of California and many of its largest counties and cities, have enacted statutes and ordinances designed to specifically prohibit or hinder ICE from enforcing immigration law by prohibiting communication with ICE, and denying requests by ICE officers and agents to enter prisons and jails to make arrests," Sessions and Kelly wrote.

"As a result, ICE officers and agents are required to locate and arrest these aliens in public places, rather than in secure jail facilities," Sessions and Kelly wrote in the letter dated on Wednesday, using the acronym for Immigration and Customs Enforcement.
Kelly, whose Department of Homeland Security includes ICE, and Sessions, who as attorney general heads the Justice Department, are members of President Donald Trump's Cabinet.
Since taking office in January, Mr. Trump has widened the net for illegal immigrants to be detained and removed from the country, in keeping with his White House campaign promise.
Immigrant rights groups say federal agents have entered courthouses with increased frequency this year, including in California, Massachusetts, Maryland and Texas.
California law enforcement officers, including in Los Angeles and San Francisco, decline requests from ICE agents to hold illegal immigrants past their release dates in local jails so they can be transferred to federal custody. The stance of these law enforcement officials follows orders from the state's two most recent Democratic attorneys general.
These and other "sanctuary" jurisdictions that opt not to cooperate with federal immigration agents / refuse to obey federal law have [been opposed by the majority of Americans]. Last Monday, Sessions threatened to withhold millions of dollars in U.S. funding for cities that fail to assist immigration authorities / refuse to uphold the law.
In their letter, Kelly and Sessions said agents make arrests at courthouses rather than other public places in part because visitors are screened for weapons before entering, as they are at jails.
They were responding to a letter sent two weeks ago by Cantil-Sakauye, who asked the two Cabinet officials to stop immigration agents from arresting illegal immigrants inside California courthouses.
["Our courthouses serve as a vital forum for ensuring access to justice and protecting public safety,"] Cantil-Sakauye wrote in her letter earlier this month. "Courthouses should not be used as bait in the necessary enforcement of our country's immigration laws."
The presence of immigration agents in courthouses in the nation's most populous state could undermine public trust in its judicial system, she said.
Her letter went on to say that immigration agents were "stalking undocumented immigrants" at courthouses, language that drew a sharp rebuke from Sessions and Kelly.
They said the use of the word "stalking" suggested criminal conduct. They said that was unwarranted because agents have full authority to arrest illegal immigrants – [that ICE is constitutionally and lawfully authorized to arrest anyone with probable cause.].
Questions
1. The first paragraph of a news article should answer the questions who, what, where and when. List the who, what, where and when of this news item. (NOTE: The remainder of a news article provides details on the why and/or how.)
2. a) What is the role of the U.S. Attorney General?
b) What is the role of the Secretary of the Department of Homeland Security?
c) Name the current U.S. Attorney General and DHS Secretary.
3. a) What did the Chief Justice of California's Supreme Court ask Sessions and Kelly to do in a letter?
b) Why have ICE agents begun arresting illegal immigrants at California courthouses? Be specific — In a letter to the Chief Justice made public on Friday, for what reasons did Sessions and Kelly criticize California officials?
4. a) For what reason did the Chief Justice of California's Supreme Court ask Sessions and Kelly to stop immigration agents from arresting illegal immigrants inside California courthouses?
b) How did they reply to this concern?
5. How did the Attorney General and DHS Secretary respond to the Chief Justice's accusation that ICE agents were "stalking undocumented immigrants" at courthouses?
6. The Hill reported on February 27:
A survey from Harvard–Harris Poll found that 80 percent of voters say local authorities should have to comply with the law by reporting to federal agents the illegal immigrants they come into contact with.

Hundreds of cities across the nation — many with Democratic mayors or city councils — are refusing to do so [and have declared their cities to be "sanctuary cities," which are cities which permit residence by illegal immigrants to help them avoid deportation.].

President Trump has signed an executive order directing Homeland Security Secretary John Kelly to find ways to [cut] federal funding to these sanctuary cities. A Reuters analysis found the top 10 sanctuary cities in the U.S. receive $2.27 billion in federal funding for programs ranging from public health services to early childhood education.

The Harvard–Harris Poll survey found strong support for an overhaul of the nation's immigration laws, with 77 percent saying they support comprehensive immigration reform against only 23 percent who oppose.

"While there is broad support for comprehensive immigration reform, there is overwhelming opposition to sanctuary cities," said Harvard–Harris co-director Mark Penn. "The public wants honest immigrants treated fairly and those who commit crimes deported and that's very clear from the data."

The finding is one of several in the survey that show President Trump has support for some of the…immigration proposals [strongly opposed by progressives] that were a hallmark of his campaign.
Are you surprised by this report? Explain your answer.
Background
ICE:  For info on ICE (U.S. Immigration and Customs Enforcement), visit the website: ice.gov
THE U.S. JUSTICE DEPARTMENT:
The United States Department of Justice (often referred to as the Justice Departmentor DOJ), is the U.S. federal executive department responsible for the enforcement of the law and administration of justice. The Department is led by the Attorney General, who is nominated by the President and confirmed by the Senate and is a member of the Cabinet. The current Attorney General is Jeff Sessions. (from wikipedia)
ATTORNEY GENERAL: (from the Department of Justice website justice.gov/ag/about-oag.html and wikipedia)
The Attorney General is the head of the Department of Justice and chief law enforcement officer of the Federal Government.
The Attorney General represents the United States in legal matters generally and gives advice and opinions to the President and to the heads of the executive departments of the Government when so requested.
The Department of Justice is an executive department of the government of the United States.
The Attorney General guides the world's largest law office and the central agency for enforcement of federal laws.
The mission of the U.S. Department of Homeland Security, from the website: "With honor and integrity, we will safeguard the American people, our homeland, and our values."
The Department of Homeland Security (DHS) Secretary is responsible for ensuring the safety and security of the United States from terrorist attacks and other disasters. (from allgov .com)   
(from dhs.gov/secretary): The Secretary of Homeland Security leads the third largest Department of the U.S. government, with a workforce of 229,000 employees and 22 components including TSA, Customs and Border Protection, Immigration and Customs Enforcement, U.S. Citizenship and Immigration Services, FEMA, the Coast Guard, and the Secret Service. Under the Secretary's leadership, DHS is responsible for:
counterterrorism
cybersecurity
aviation security
border security
port security
maritime security
administration and enforcement of our immigration laws
protection of our national leaders
protection of critical infrastructure
detection of and protection against chemical, biological and nuclear threats to the homeland, and response to disasters
Read about Secretary Kelly's background from the DHS website.
Resources
Attorney General Jeff Sessions at a White House press briefing:
Daily "Answers" emails are provided for Daily News Articles, Tuesday's World Events and Friday's News Quiz.