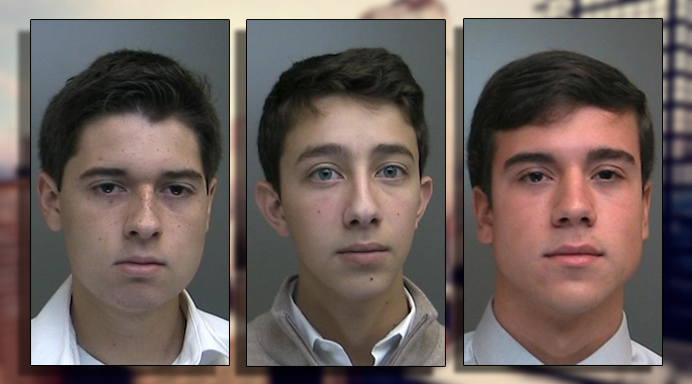 (by Jeremy Tanner and Nicole Johnson, NY's WPIX11 TV) – HAUPPAUGE, Long Island – Three students face multiple charges after police say they hacked into Commack High School's computer system.

Commack Union Free School District officials called police in July after discovering that someone was accessing the computer system and changing the schedules of 300 students.  At least two students' grades were also changed.

Following an investigation by the Suffolk County Police Computer Crimes Section, detectives traced the breach to three Commack High School students.

Police arrested 17-year-old Daniel Soares, of Commack; 17-year-old Alex Mosquera, of East Northport and Erick Vaysman, 17, of Commack.  Soares faces two burglary counts, three counts of computer tampering, three counts of identity theft, one count of computer trespass and one count of eavesdropping.  Vaysman and Mosquera were both charged with one count of computer tampering and one count of criminal solicitation.

"We would consider Daniel to be the ringleader," Suffolk police Detective Sergeant John Best said. "He's actually the student who accessed the school district computer on each of the events they're charged with."

Authorities accuse Soares of attaching a device known as a keylogger to a school computer to get into the system. Police also say Soares changed several of his grades and at least one grade for Vaysman and another student's schedule at the request of Mosquera.

[The keylogger…captured every keystroke made by the computer's users, including log-ins and passwords, Detective Best, head of his department's Computer Crimes Unit, told The NY Post.  It enabled him to collect logins and password credentials while operating remotely from his home.

"Daniel had the knowledge, and he had the ability — he's not a dumb kid," Best said of Soares, a member of the school's computer club. ]

In September, Soares' parents reported their son missing after he disappeared just days after his 17th birthday.  [Soares apparently panicked and went missing after detectives executed a search warrant at his home on Sept. 2.] Hundreds of people joined the search for the teen after his family posted "missing" fliers on telephone poles and Facebook. He contacted his parents on Facebook a few days later to tell them he was OK and returned home.

[The three surrendered to cops with their parents and lawyers Tuesday morning.]  All three were released without bond after pleading not guilty during their arraignments in First District Court in Central Islip.  If convicted, Alex and Erick could face 4 years in prison; Erick if convicted faces up to 7 years in prison.

The investigation is ongoing. [In a statement, the Commack School District says they are reviewing their network security protocols to prevent something like this from happening again.]

Reprinted here for educational purposes only. May not be reproduced on other websites without permission from WPIX11 TV. 
Questions
1. What did three NY teens do that led to their arrest?
2. How were these students caught?
3. What charges do the three face?
4. How much jail time could they get if convicted?
5. a) How did Daniel react when detectives executed a search warrant at his home?
b) What do you think of his actions? Explain your answer.
6. Why do you think the teens have been charged with such serious charges that carry the possibility of real jail time?
7. Do you think charging the three to the fullest extent of the law and publicizing their arrest and the potential consequences they face if convicted will deter other teens who might attempt something similar? Explain your answer.
8. In its report on the story, CBS News wrote:
Investigators traced it to the house of Daniel Soares, who they call the "mastermind" behind the brazen cyber attack. He and his accomplices, Alex Mosquera and Erick Vaysman, were arraigned in a Long Island courtroom Tuesday.
What do you think of the terms "mastermind" "brazen" "cyber attack" and "accomplices"? An apt description or exaggerated spin?
Resources
Watch a CBS News report:
---
Watch a WPIX New York local news report:
Daily "Answers" emails are provided for Daily News Articles, Tuesday's World Events and Friday's News Quiz.