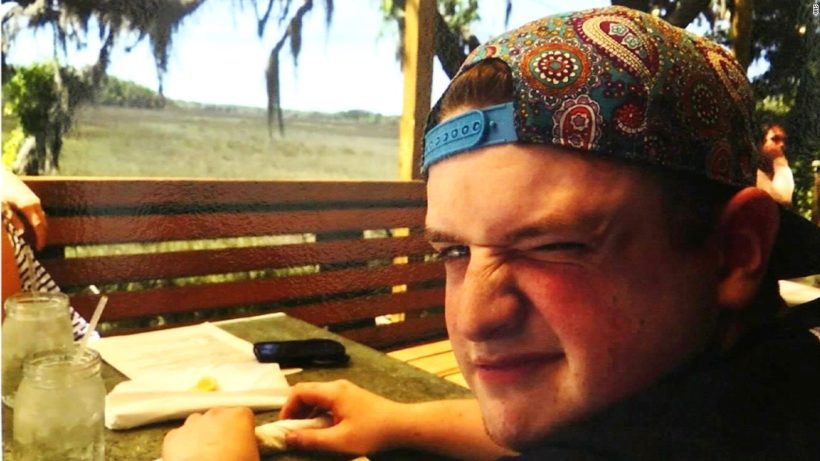 redo Jump to...
print Print...
(Compiled from reports by Jamiel Lynch and Debra Goldschmidt for CNN and from CBS News) – Too much caffeine caused the death of a 16-year-old high school sophomore from South Carolina who collapsed during class last month, according to the county coroner.
Davis Allen Cripe died from a caffeine-induced cardiac event causing a probable arrhythmia, Richland County Coroner Gary Watts announced in a news conference Monday. During an arrhythmia, or abnormal heart rhythm, the heart may not be able to pump enough blood to the body, and lack of blood flow affects the brain, heart and other organs.
The teen consumed three caffeine-laden drinks — a cafe latte, large Diet Mountain Dew and an energy drink — in a two-hour period before collapsing in his classroom at Spring Hill High School on April 26, Watts said. A classmate who was with Davis the day he died, said he loaded up on caffeine — and "basically chugged" an energy drink during class.
Among those at the news conference Monday was the teen's father, Sean Cripe.
"He was a great kid, he didn't get mixed up in the wrong things — he loved music," Mr. Cripe said. "Like all parents, we worry about our kids as they grow up. We worry about their safety, their health, especially once they start driving. But it wasn't a car crash that took his life. Instead, it was an energy drink."
Watts said Davis had purchased the latte at McDonald's around 12:30 p.m. After that he consumed the Diet Mountain Dew and the energy drink.
Davis collapsed at the school in Chapin, near Columbia, just before 2:30 p.m. and according to Watts, was pronounced dead at 3:40 p.m. Davis had an abnormal reaction to the caffeine, Watts said:
"You can have five people line up and all of them do the exact same thing with him that day, drink more, and it may not have any type of effect on them at all.  These drinks, this amount of caffeine, how it's ingested can have dire consequences and that's what happened in this case," Watts said.

"You know it when it happens. You start to feel dizzy. You can feel it in your chest," said CBS News medical contributor Dr. David Agus. Agus says energy drinks send more than 20,000 people to the emergency room annually.

"The problem that we're learning is that it's not just caffeine, it's the other stimulants that are in there.  In a cup of coffee, you may [drink it] over 45 minutes or 60 minutes. These energy drinks you're [drinking] all at once. And so all the caffeine give this big peak in the body and that's when bad things happen." Agus said.
Davis' autopsy showed no undiagnosed heart conditions and that Davis was healthy and had no conditions that could have been triggered by the caffeine intake. Also, no other drugs or alcohol were found in the teen's system, according to Watts.
"This was not an overdose. We lost Davis from a totally legal substance," Watts said. "Our purpose here today is to let people know, especially our young kids in school, that these drinks can be dangerous, and be very careful with how you use them, and how many you drink on a daily basis."
Mr. Cripe said he hopes that if nothing else comes out of this, parents and kids will realize the dangers of caffeinated beverages.
"Parents, please talk to your kids about the dangers of these energy drinks," he said.
The American Academy of Pediatrics recommends that adolescents, age 12 to 18, should not consume more than 100 milligrams of caffeine per day. The AAP also says energy drinks usually contain additives not tested on children and advises against children and teens drinking energy drinks of any kind.
The American Beverage Association, which represents the makers of almost all energy drinks sold in America, did not return a request for comment. The trade group says their energy drinks can be safely consumed in moderation.
CNN's Jacqueline Howard and Jen Christensen contributed to this report.
Compiled from news reports at CNN and CBS News. Reprinted here for educational purposes only. May not be reproduced on other websites without permission.
Questions
PLEASE NOTE: Daily posting and "Answers" emails will end for the school year on Friday, May 26th.
1. What was the cause of South Carolina sophomore Davis Cripe's death? Be specific.
2. What is an arrhythmia?
3. How much caffeine did Davis consume before he died?
4. What did Davis' autopsy reveal about other possible causes of death?
5. What was the purpose for the news conference the county coroner and Davis' father held this week?
6. What does Mr. Cripe hope will come out of his son's preventable death?
7. What limit does the American Academy of Pediatrics recommend adolescents age 12-18 should place on their caffeine consumption per day?
8. What does the American Academy of Pediatrics say about the consumption of energy drinks?
Background
Caffeine is a stimulant that can improve alertness and mood. It can also be habit forming. Too much caffeine can cause mild symptoms such as shaky hands and an upset stomach. Severe symptoms can include high blood pressure, seizures and coma, according to the National Capital Poison Center.  (from the CNN article)
CBSNews reports: "The American Academy of Pediatrics recommends that adolescents, age 12 to 18, should not consume more than 100 milligrams of caffeine per day."
Resources
Watch a statement from Richland County Coroner Gary Watts, who ruled Davis's death a caffeine overdose:
---
Watch a CBS News report:
Daily "Answers" emails are provided for Daily News Articles, Tuesday's World Events and Friday's News Quiz.