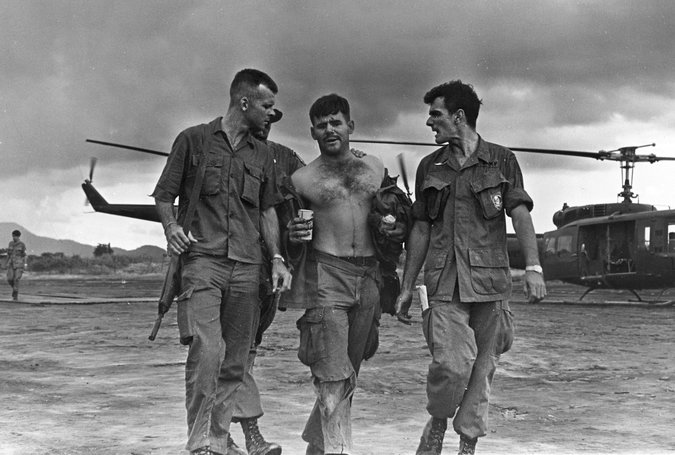 redo Jump to...
print Print...
(by David Martin, CBS News) – The nation's highest military honor was awarded Monday to retired Army Capt. Gary Michael Rose, who goes by Mike, for extraordinary acts of heroism in a secret war.
During the ceremony, President Trump said Rose's love for fellow soldiers and devotion to the country inspires us all.
Rose was a Green Beret medic in 1970 when he and 15 other Americans were sent on a top-secret mission inside Laos, which helps explain why it took so long to award him the Medal of Honor.
"It wasn't what we were doing," Rose said. "It was where we were doing it is really why it was classified."
Laos was officially a neutral country where the U.S. military couldn't go, but the North Vietnamese were using it as a base camp from which to launch attacks into South Vietnam, so the U.S. military went in secret.
All Rose was told was to bring extra medical supplies.
CBS News asked Rose what [he was told] about the mission.
"It's going to be a tough one, and it proved to be," he said.
Helicopters carried the Americans and a company of about 120 Montagnard tribesmen (Vietnamese fighters) 50 miles inside Laos.
"We took two casualties going in. And we hit the ground running and it became a running gun battle for the next four days which seemed like one long day," Rose said.
(No Americans were killed during that four-day battle in Laos, and there were only three fatalities overall. This mission was also a success from an operational standpoint: They came home with a trove of intelligence. "This trove of documents gave MACV [Military Assistance Command Vietnam] its most complete understanding of this [Ho Chi Minh] trail network," said military historian Eric Villard.)
According to the citation*, Rose "continuously exposed himself to intense fire as he fearlessly moved from casualty to casualty." He is credited with treating 60-70 wounded. (*A citation is a note accompanying an award, describing the reasons for it.)
"If I had done anything less than what I did on those four days, I would have failed myself and the guy on my left and the guy on my right," Rose said.
Rose himself was hit by shrapnel in the foot and showed that the wound was almost a finger-length long.
Rose was on the last chopper out and saved the life of a crewman who had been shot through the neck.
"He was going into shock and I remember leaning down to him and said, 'Listen, you [son of a gun], if you were going to die, you'd already be dead.' And he came out of shock," Rose told CBS News.
Five decades later, Rose accepted the Medal of Honor on behalf of all the soldiers who fought in Laos.
"You just keep putting one foot in front of the other," Rose said. "That's what you do. I mean, either that or you, you give up. Are you going to give up?  No, you're not going to give up. …
(While attending the ceremony at the White House, retired Lt. Col. Eugene McCarley, Rose's commanding officer during the battle said, "Mike never stopped. I know he never slept. I don't know that he ever took time to eat because from day one he had his hands full. I can't think of anyone any more deserving than Mike to receive this award. It's an effort we pushed and we fought for for many, many years, and finally it looks like it's coming to pass.")
Reprinted here for educational purposes only. May not be reproduced on other websites without permission from CBSNews. Visit the website at cbsnews .com.
Questions
1. a) Define classified as used in the article.
b) Why was Captain Rose's mission classified?
2. List the who, what, where and when of Capt. Rose's mission.
3. What was the purpose of the mission/what did they accomplish?
4. For what actions did Captain Rose receive the Medal of Honor, according to the citation he received?
5. What is the Medal of Honor? Be specific.
6. Read the "Background" and watch the videos under "Resources" below the questions. How does the story of Captain Rose's mission inspire you?
Background
THE MEDAL OF HONOR:
The Medal of Honor is the highest military decoration awarded by the United States government.
It is bestowed by the President in the name of Congress on members of the United States Armed Forces who distinguish themselves through "conspicuous gallantry and intrepidity at the risk of his or her life above and beyond the call of duty while engaged in an action against an enemy of the United States." 
Due to the nature of its criteria, it is often awarded posthumously (more than half have been since 1941).

Members of all branches of the armed forces are eligible to receive the medal, and there are three versions (one for the Army, one for the Air Force, and one for the Navy, Marine Corps and Coast Guard).
The Medal of Honor is bestowed upon an individual by the passing of a Joint Resolution in the Congress; and is then personally presented to the recipient or, in the case of posthumous awards, to next of kin, by the President of the United States, on behalf of the Congress, representing and recognizing the gratitude of the American people as a whole.
Due to its honored status, the medal is afforded special protection under U.S. law.
As the award citation includes the phrase "in the name of Congress", it is sometimes erroneously called the Congressional Medal of Honor; however, the official title is simply the Medal of Honor. (from wikipedia)
Read about the Medal of Honor at history.army.mil.
Resources
Read about Capt. Rose's Medal of Honor at army.mil.
Watch the entire Medal of Honor ceremony at the official WhiteHouse YouTube page.
---
Capt. Rose tells his story:
---
Watch a brief news report on Capt. Rose and the Medal of Honor ceremony:
Daily "Answers" emails are provided for Daily News Articles, Tuesday's World Events and Friday's News Quiz.