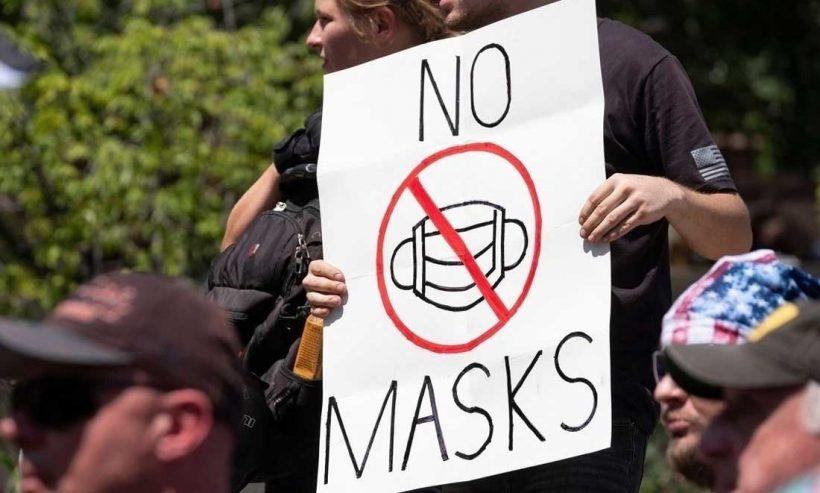 redo Jump to...
print Print...
(Compiled from WCTV, WTXL and Orlando Weekly) – Face coverings will no longer be required indoors while on campus, Florida State University announced in a press release last Friday.
Going into the summer and fall semesters, the school said that it will follow CDC safety guidelines, but recommends, not requires, the use of face coverings while indoors.
Previously, FSU's mask-wearing policy required all to wear masks while indoors on campus or while with one or more people on campus.
This shift "reflects our substantial efforts to vaccinate the university community, along with a low number of COVID-19 cases on campus," the school wrote.
The following is FSU's full statement:
As we prepare for the summer and fall semesters, I want to remind everyone that the University will continue to follow the Centers for Disease Control (CDC) guidelines for mitigating the spread of COVID-19. The University recommends the use of face coverings while indoors, in accordance with CDC guidance. This represents a shift from the previous face-covering requirement and reflects our substantial efforts to vaccinate the university community, along with a low number of COVID-19 cases on campus.
FSU's first summer classes began on May 10, with their first fall semester classes beginning on August 23.
Earlier this week, University of Central Florida announced that they will be dropping their on-campus masking requirements next month.
The school plans to end all masking and social distancing requirements for students and faculty on its campus starting June 23. They will continue to encourage people to wear masks while indoors.
The State University System of Florida recently said that all 12 public universities expect to increase classroom occupancy to pre-COVID capacity by the 2021-22 academic year and return to pre-COVID operations.
They also said that they anticipate returning to full in-person participation in athletic and social activities on all campuses, including fan participation in stadiums and arenas.
Compiled from articles by Cristi McKee and WCTV Staff and ABC27 WTXL Tallahassee on May 7 and Orlando Weekly on May 11.
Questions
1. What announcement did Florida State University make last week?
2. On what factors did university officials make this decision?
3. What similar announcement did University of Central Florida make this week? Be specific.
4. What covid regulations changes will Florida's public university system implement by the Fall of 2021?
5. Would these changes make you more or less likely to attend these colleges? Explain your answer.
6. When should all U.S. public schools (K-12) drop their mask mandates and resume regular sports and social activities? Explain your answer.
Background
What about K-12 public school mask mandates?  When will your school district drop mask mandates?
---
In South Carolina, Republican Gov. Henry McMaster called school mask mandates "ridiculous" last month and urged schools to get rid of their policies. He said, "Now that we've had so many people that have developed immunity, I think is ridiculous for a school district to be requiring children to wear the masks unless the parents of those children want them to wear masks."
In South Carolina under current state guidance, masks have to be worn when entering school buildings, on buses and in carpools, as well as when there's not enough room for social distancing.
A growing number of parents and lawmakers agree with the governor. One parent said that school is the only place her kids wear masks. Now, more parents are planning to speak at a local school board meeting to ask the district to drop its face mask mandate.
Repubican Rep. Stewart Jones wrote on Facebook, "My colleagues and I sent a letter today to Superintendent Molly Spearman regarding lifting mask restrictions in South Carolina schools. We echo Gov. Henry McMaster, children should not be forced to wear a mask!"
---
In Florida, state Education Commissioner Richard Corcoran is asking public school districts across the state to drop mask mandates for the upcoming school year, saying that it has no impact whether or not students and teachers wear masks on campus.
"We ask that districts, which currently are implementing a mandated face-covering policy, revise their policy to be voluntary for the 2021-2022 school year," Corcoran wrote in an April 14 letter sent to district superintendents.
The districts' mask mandates "do not impact the spread of the virus," Corcoran wrote, citing a review of policies of those districts where masks are mandatory, the percentage of students learning in-person in those districts, and relevant health data.
"Face coverings are a personal decision and certainly families and individuals should maintain their ability to make a decision that is unique to their circumstances," Corcoran's letter reads. "Broad sweeping mandatory face covering policies serve no remaining good at this point in our schools."
According to Corcoran, masks "may impede instruction," particularly for English-language learners and those with disabilities, who benefit from being able to see the teacher's face and mouth. He also noted that mask requirements may also have prompted some parents to keep their children at home instead of sending them back to classrooms.
Daily "Answers" emails are provided for Daily News Articles, Tuesday's World Events and Friday's News Quiz.