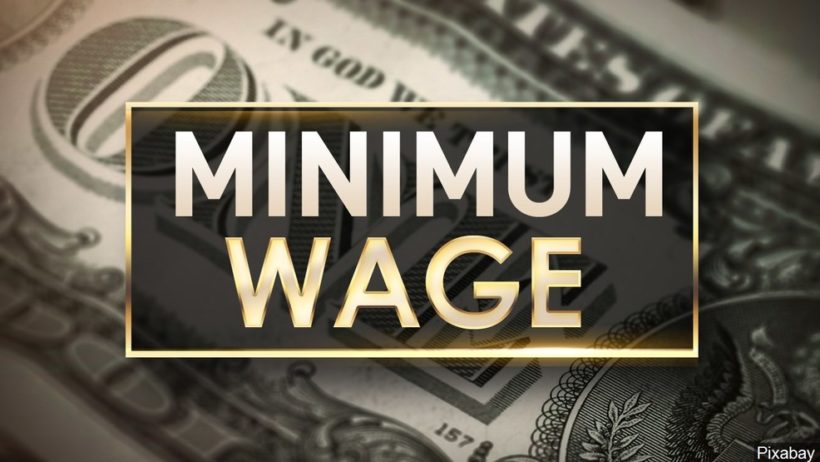 redo Jump to...
print Print...
(Compiled from articles  Jacob Pramuk, CNBC Sarahbeth Ackerman, WFTV.com) Floridians voted Tuesday to gradually hike the state's minimum wage to $15 per hour, joining a growing list of states and municipalities in taking the step.
The 2020 election ballot initiative (Florida Amendment 2) garnered the 60% support needed to pass, (60.8% to be exact – which was 6,377,444 votes). Florida becomes the eighth state to approve a $15-an-hour minimum wage, and the second-most populous to do so.
The measure would increase the state's current $8.56-an-hour pay floor to $10 next year. For every year after that, the minimum wage would rise by $1 an hour until it hits $15 in 2026.
Supporters said it is needed to improve the standard of living of many workers. Labor advocates have long argued to raise minimum pay to what they call a living wage.
John Morgan, a wealthy personal injury attorney, put millions of dollars into the effort to get the initiative on the 2020 ballot.  The amendment has been a longtime push by Mr. Morgan, who said Wednesday he feels like this is a victory for Florida.
"What we did yesterday was immediately improve the lives of 2.5 million households," Morgan said.
But local small business owners like Evan Dimov said they're worried.
"It's not that I don't want to increase anybody's pay, I'm all for it. It's just, can I afford? And where's the money's coming from?" Dimov said.
Last year, the Democratic-controlled U.S. House also introduced and passed federal legislation dubbed the Raise the Wage Act to enact a $15 minimum wage nationwide. The bill has been held in the Republican-majority U.S. Senate ever since.
As part of his platform, Democratic presidential nominee and former Vice President Joe Biden endorsed raising the federal minimum wage to $15 an hour. Bernie Sanders, a self-described democratic socialist and longtime labor advocate, also supports a federal wage boost. President Donald Trump does not, saying increasing the minimum wage should be left up to each state to decide.
Florida's Fight for $15 and union leaders – who have been central to this victory – consider the passage of Amendment 2 not only a win for labor, but also for social and racial justice.
Many businesses in Florida have argued against increasing the minimum wage.  Opponents argued that raising the minimum hourly wage to $15 would kill jobs, threaten the livelihood of small businesses, and negatively impact Florida's economic recovery from the pandemic.
NFIB* Florida Executive Director Bill Herrle said an October analysis showed that 20 percent of small businesses were unsure if they would remain operational in the next six months.  [*NFIB – National Federation of Independent Business]
"This makes 2021 a greater challenge for small businesses. Throw it on, we'll see if this breaks the camel's back," Herrle said.
Compiled from articles by Jacob Pramuk, CNBC and Sarahbeth Ackerman and Katlyn Brieskorn, WFTV.com, Orlando Weekly, The News Service of Florida and the Daytona Beach News Journal.
Questions
1. a) What percent of the vote was needed for Florida's Amendment 2 to pass?
b) What was the outcome of the vote?
2. a) How many other states have a similar law?
b) List the other states. (Do an internet search to find the answer.)
c) What do you think is the difference between Florida and the other states that have a similar law?
3. How will the law be implemented?
4. Which political party is pushing for a federal minimum wage law; which party is opposed?
5. What reasons do supporters – and opponents have for their view of a government-mandated minimum wage?
CHALLENGE QUESTION #1:
Do the commentary and/or video change your point of view of minimum wage laws? Explain your answer.
CHALLENGE #2:
Do a search to find articles that illustrate positive benefits for small businesses as well as for overall employment.
Background
Minimum wage laws are designed to stamp out exploitation of workforces and ensure that a country's working population does not fall below the poverty line. As the prices of goods rises, so too should the minimum wage.
However, critics point out that companies, not the government, should decide how much staff deserve to be paid. Among other things, they warn that a minimum wage does not always boost the spending power of a population and can instead lead to higher unemployment.
There is a high elasticity of demand for low-skilled labor. This means that a small change in the price for low-skilled labor tends to have a large effect on its demand. As a result, too high a minimum wage can lead to increasing unemployment among the low-skilled.
In modern times, the proliferation of improved technology also increases the rate of technical substitution for low-skilled labor. When the cost of labor increases, companies find it increasingly profitable to switch to labor-replacing technology, such as the decision made by Wendy's Co. (WEN) in 2016 to introduce self-serve kiosks in response to higher minimum wage laws.   (from Investopedia)
Resources
Watch a September 29th report from ABC local WPLG – what to know about Florida's minimum wage:
Daily "Answers" emails are provided for Daily News Articles, Tuesday's World Events and Friday's News Quiz.