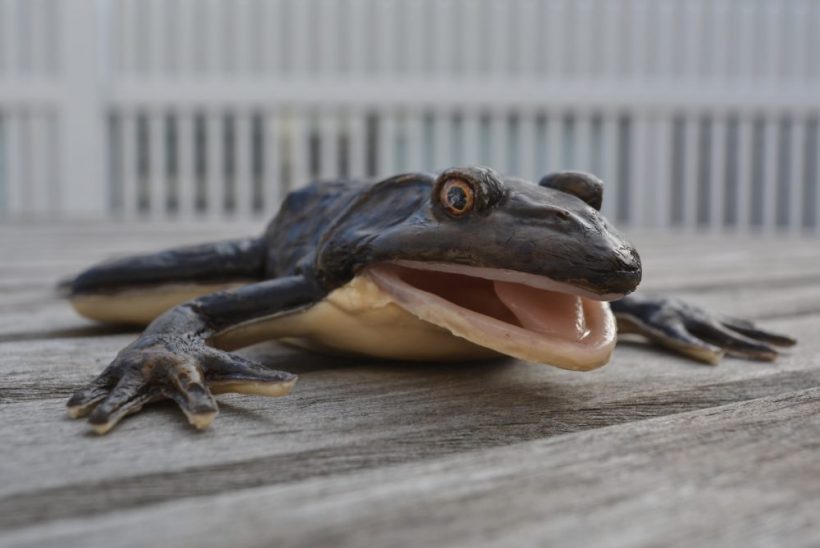 redo Jump to...
print Print...
(Compiled from WFTS Tampa Bay, Fox News and WBUR) NEW PORT RICHEY, Fla. — A Florida high school was the first in the world to use synthetic frogs for dissections in November.
J.W. Mitchell High School in New Port Richey will use the realistic man-made frogs as a replacement for dead, preserved ones.
The frogs, called SynFrog, are developed by SynDaver, which is headquartered in Tampa. They develop synthetic human and animal models used for education, surgical simulation and medical device testing.
"The Pasco County School District is committed to being a leader in innovation and opportunity for students, so we are excited to announce that Mitchell High School is the first in the world to use SynFrogs in science labs, giving our students a learning experience no other students have ever had," said Kurt Browning, Pasco County Superintendent of Schools.
"We're excited to announce our revolutionary SynFrog, which is a far superior learning tool as it is designed to mimic living tissue. This makes it more like a live frog than the preserved specimens currently sold to schools for dissection labs," said Dr. Christopher Sakezles, founder and CEO of SynDaver.
SynFrogs attempts to mimic the anatomy of a real frog with skin that looks and feels like live tissue. The frogs' skin and removable organs are realistic in size and color. SynDaver says their patented synthetic tissues are made of water, fibers and salts. They are reuseable and chemical-free.
It's important for the students' learning experience that the synthetic frogs be as close to the real thing as possible. The company says they are designed to mimic the visual and textural properties of a live female frog and feature a synthetic skeleton, muscles, skin organs and reproductive system with eggs.
Principal Jessica Schultz says her school used to buy between 200 to 300 frogs per year from a scientific supply company. Now, she says the first-of-its-kind synthetic SynFrogs give her students a "superior" anatomy lesson.
For example, when students cut open a real female frog, the egg sac can break and leave debris to clean up. Using a synthetic frog prevents this extra step, she says.
"When you cut it open, you have to cut the breastbone of the synthetic frog just as hard and put as much pressure as you would on a regular frog," she says. "So kids are involved, they are in it, they are finger deep in frog guts, but it's all synthetic, so the smell isn't there, the stigma isn't there…. Every kid is engaged…"
Each frog is costs $150 – a lot more than the real thing. Real frogs cost about $10 each.  People with the Ethical Treatment of Animals (PETA) came up with $150,000 to help the company speed up the development of the frog. They say one million frogs are killed for classroom use every year.
"All of SynDaver's synthetic humans, animal models and task trainers simulate the anatomy of live patients in great detail, including individual muscles, tendons, veins, arteries, nerves and organ systems," said Shalin G. Gala, PETA's vice president of International Laboratory Methods. "The company's patented synthetic tissues are made of water, fibers and salts. Each of these non-toxic, non-latex tissues has been validated against the relevant living tissue for mechanical and physical properties."
Compiled from ABC Action News' WFTS Tampa Bay Digital Staff on November 20, Fox News on November 30 and WBUR on Jan. 2. Reprinted here for educational purposes only. May not be reproduced on other websites without permission.
Questions
1. The first paragraph of a news article should answer the questions who, what, where and when. (In this article, 1st and 2nd paragraphs). List the who, what, where and when of this news item. (NOTE: The remainder of a news article provides details on the why and/or how.)
2. What does SynDaver make?
3. a) How is the SynFrog designed? (What is it designed to do?) Be specific.
b) Why is it a better learning tool than the real frogs currently used in schools?
4. What materials are used to make the SynFrog?
5. a) What is the difference in cost to the school between a real frog and a SynFrog?
b) PETA gave the school the money for the SynFrogs. Do you think the benefits of the SynFrog outweigh the cost to schools/taxpayers for those who wouldn't have them donated? Explain your answer.
c) SynDaver has also developed synthetic animals as well as cadavers for use in college medical programs. Are there any drawbacks or should these be used despite the much higher cost? (Who should pay the extra amount to purchase SynDaver products?) Explain your answer.
Daily "Answers" emails are provided for Daily News Articles, Tuesday's World Events and Friday's News Quiz.