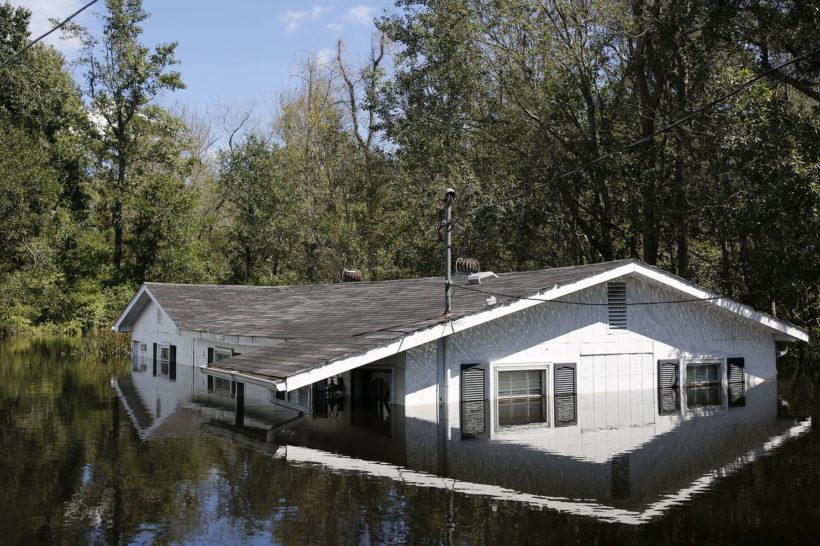 redo Jump to...
print Print...
(by Chuck Burton and Martha Waggoner, Associated Press at 13ABCNews) WILMINGTON, N.C. 3 p.m., Sept. 18 — Hundreds of people waited in long lines for water and other essentials in Wilmington, still mostly cut off by rising water days after Hurricane Florence unleashed epic floods, and North Carolina's governor [urged] more than 10,000 evacuees around the state not to return home yet. …
Gov. Roy Cooper warned that the flooding set off by as much as 3 feet of rain from Florence is far from over and will get worse in places.
"I know for many people this feels like a nightmare that just won't end," he said.
Addressing roughly 10,000 people who remain in shelters and "countless more" staying elsewhere, Cooper urged residents to stay put for now, particularly those from the hardest-hit coastal counties that include Wilmington, near where Florence blew ashore on Friday.
Roads remain treacherous, he said, and some are still being closed for the first time as rivers swelled by torrential rains inland drain toward the Atlantic.
"I know it was hard to leave home, and it is even harder to wait and wonder whether you even have a home to go back to," Cooper said.
In Wilmington, population 120,000, workers began handing out supplies using a system that resembled a giant fast-food drive-thru: Drivers pulled up to a line of pallets, placed an order and left without having to get out. A woman blew a whistle each time drivers were supposed to pull forward. …
Supplies have been brought into the city by big military trucks and helicopters, which also have been used to pluck hundreds of desperate people from atop homes and other structures.
Wilmington Mayor Bill Saffo said two routes were now open into Wilmington, which had been completely cut off by floodwaters, but those roads could close again as water swells the Cape Fear River on the city's west side.
"We still are encouraging or asking folks not to come home," said Woody White, chairman of the New Hanover County commissioners. "…Access to Wilmington is still very limited and is not improving as quickly as we would like.
[Crews have conducted about 700 rescues in New Hanover County, where Wilmington is located. More than 60 percent of homes and businesses were without power, authorities said. Roads are being cleared and the landfill is open to accept storm refuse.

Mayor Saffo said he was working with the governor's office to get more fuel into Wilmington. "At this time, things are moving as well as can be in the city," he said.

Compounding problems, downed power lines and broken trees crisscrossed many roads in Wilmington three days after Florence made landfall.]

At Fayetteville, about 100 miles inland, near the Army's sprawling Fort Bragg, the Cape Fear River had risen about 50 feet toward a crest that was predicted to be more than 25 feet above flood level. On Tuesday, logs and other debris became trapped under a rail bridge as rushing brown water pushed against the span.

The river swallowed trees, lamp posts and a parking lot near its banks. City officials warned that still-rising water threatened some neighborhoods and businesses that seemed safe, but said the worst was nearly over and life was beginning to return to normal downtown. Businesses were re-opening and owners were removing sandbags and plywood from storefronts.

The governor said 16 rivers statewide were at major flood stage and more than 1,100 roads were closed. Emergency workers reported rescuing and evacuating more than 2,200 people and around 575 animals, he said.

In a bright spot, the Lumber River appeared to be falling in hard-hit Lumberton, about 70 miles  inland. Power outages in the Southeast also were down, from a high of more than 910,000 to about 310,000, nearly all in North Carolina. …

Reprinted here for educational purposes only. May not be reproduced on other websites without permission from the AP and 13abc .com.
Questions
1. How much rainfall did the affected areas of North Carolina get as a result of Florence?
2. Why is North Carolina Governor Roy Cooper asking people who evacuated prior to the storm not to return home yet?
3. What warning did Wilmington Mayor Bill Saffo give after two roads into Wilmington were opened?
4. In addition to flooded roads, what other obstacles are in the way of people hoping to travel on the unflooded roads?
5. How many rivers were at flood-stage when this article was written? How many roads were closed? How much power had been restored?
CHALLENGE: Follow news reports on your own.
Background
Florence rainfall totals: Elizabethtown receives nearly 3 feet
Hurricane Florence produced one of the " most significant rainfall events" in the Carolinas, the National Weather Service said.
On Tuesday, NWS released rainfall totals for cities and towns across the state after Florence.
As of 2 p.m. Monday, Elizabethtown topped the list after it received 35.93 inches of rain.
Swansboro followed with 34 inches.
Wilmington received 26.58 inches.
Florence's storm surge flooded New Bern – which received 16.65 inches.
A total of 9.58 inches fell on Durham and
6.98 inches on Raleigh
"Over a large portion of the region, observed rainfall had an estimated less-than 1% chance of occurring in any given year, indicating a rare and historic event," the National Weather Service said. (from cbs17.com)
Resources
Additional reports:
Watch Raleigh NC's ABC11 news report on Sept. 18:
---
Watch a Sept. 18 PBS News Hour report:
---
Watch a Sept 18 Raleigh, NC, ABC11 news report:
---
Watch a Sept. 18 Fox News report:
Daily "Answers" emails are provided for Daily News Articles, Tuesday's World Events and Friday's News Quiz.