Jump to...
(by Michael M. Phillips, The Wall Street Journal, WSJ.com) MARJAH, Afghanistan – Afghan officials unfurled the country's green, red and black flag over the new government offices, further evidence that U.S. and Afghan troops have reached a tipping point in the 13-day-old offensive to reclaim this town from the Taliban.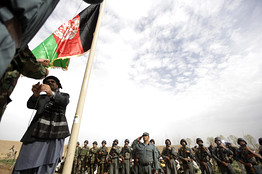 Ghulab Mangal, governor of restive Helmand Province, and Brig. Gen. Shir Mohammed Zarzai, commander of the Afghan army's 205th Corps, described Thursday's flag-raising as symbolizing the Kabul government's return to Marjah – and its promise to rule more honestly than it did before the Taliban took control two years ago.
"Nobody can tell me that during the last two years the Taliban did a single thing for you," Gov. Mangal told hundreds of tribal elders and other men and boys who applauded politely. "Can you tell me they built a school? A clinic? Helped the poor? Built roads? Fixed the canals?"
The Afghan authorities and their international backers see the Marjah offensive – the biggest since 2001 – as a test of both the effectiveness of U.S. President Barack Obama's troop escalation, and of Afghan President Hamid Karzai's promise to crack down on corruption.
Coalition and Afghan officials acknowledge that to win over Marjah residents, they'll have to match the Taliban's respect for tribal tradition and efficient justice system, while outdoing their rivals in delivering honest government services with a more humane touch than the insurgents'.
Kabul's relations with locals were soured by the corrupt and brutal practices of the provincial police, opening the door to the Taliban.
The coalition has tens of millions of dollars at the ready to repair battle damage, provide education, supply healthcare and launch economic-development projects.
More than 50 Marjah residents each earned $5 and a wind-up radio for a day's work cleaning up the area around the Loy Chareh bazaar on Wednesday, with further cash-for-work projects slated for the weekend and beyond.
The new district administrator has been living in Marjah since Tuesday, meeting with town notables and delivering food aid and blankets.
"The point at which you have enough security to do something symbolic like this is the point at which the hard work of delivering governance starts," British Maj. Gen. Nick Carter, commander of allied troops in southern Afghanistan, said of the flag-raising.
Gen. Carter shed his body armor and helmet to walk from a nearby Marine outpost to the new government offices, located in a concrete house the government seized for the purpose. The old district center was razed long ago. Marine officers are unsure who owns the new building, though it is rumored to have belonged to an opium dealer or Taliban commander.
At least 10 U.S. and Afghan troops have died in the Marjah offensive, with more than 20 wounded. Marine officers estimate some 150 Taliban have been killed in the fighting that raged for more than a week after the initial incursion on Feb. 13.
"We haven't had a gunfight in three days," Brig. Gen. Larry Nicholson, commander of Marine forces in Marjah, said Thursday. "Enemy resistance has subsided more quickly than we expected."
Commanders remained wary, however, particularly of hidden bombs and suicide attacks. Marine vehicles hit three buried explosives on Thursday, causing relatively minor injuries.
Afghan officials asked locals to show their support by reporting Taliban fighters who remained in Marjah.
"We promise we won't abandon you," Gen. Zarzai assured the residents.
Write to Michael M. Phillips at michael.phillips@wsj.com.
Copyright 2010 Dow Jones & Company, Inc. All Rights Reserved. Reprinted here for educational purposes only. Visit the website at wsj.com.
Questions
1. What is significant about the raising of the Afghan flag in Marjah?
2. Why was the Taliban able to take control of Helmand province two years ago?
3. What will Afghan officials have to do to get Marjah's residents to support them?
4. How will the coalition spend the tens of millions of dollars it has available to use in Helmand Province?
5. How many Taliban were killed in the fighting in the Marjah offensive?
6. In paragraph 13, Marine commander Brig. Gen. Larry Nicholson said "We haven't had a gunfight in three days. Enemy resistance has subsided more quickly than we expected." What do you think might be the reason for this?
Free Answers — Sign-up here to receive a daily email with answers.
Background
The War in Afghanistan is an ongoing coalition conflict which began on October 7, 2001, as the U.S. military's Operation Enduring Freedom (OEF) that was launched, along with a number of coalition allies, in response to the September 11, 2001 attacks on the U.S. … The U.K. has, since 2002, led its own military operation, Operation Herrick, as part of the same war in Afghanistan.The International Security Assistance Force (ISAF) was established by the UN Security Council at the end of December 2001 to secure Kabul [Afghanistan] and the surrounding areas. NATO assumed control of ISAF in 2003. By July 2009, ISAF had around 64,500 troops from 42 countries, with NATO members providing the core of the force. The NATO commitment is particularly important to the United States because it gives international legitimacy to the war. The U.S. has approximately 29,950 troops in ISAF. (from wikipedia.org)
Operation Moshtarak is an Afghan-led initiative to assert government authority in the centre of Helmand province. Afghan and ISAF partners are engaging in this counter-insurgency operation at the request of the Government of the Islamic Republic of Afghanistan and the Helmand provincial government. Moshtarak is a Dari word for "together". The security forces that make up the combined force are serving side-by-side, representing partnership in strength. Insurgents who do not accept the government's offer to reintegrate and join the political process will be met with overwhelming force. However, the strongest of measures will be taken to protect the civilian population. (from isaf.nato.int/images/stories/File/2010-02-CA-059-Backgrounder-Operation%20Moshtarak.pdf)
The Taliban, a Muslim fundamentalist group, took control of Afghanistan's government in 1996 and ruled until the 2001 U.S.-led invasion drove it from power. Despite its ouster, however, remnants of the Taliban have maintained influence in rural regions south and east of Kabul. The group is known for having provided safe haven to Osama bin Laden and al-Qaeda as well as for its rigid interpretation of Islamic law, under which it publicly executed criminals and outlawed the education of women. Though the group has been out of power for several years, it remains a cultural force in the region that operates parallel governance structures aimed at undermining the U.S.-backed central government. Clashes between Taliban-linked fighters and coalition forces increased in the first half of 2008 and continued in 2009, highlighting the Taliban's resurgence and complicating efforts by NATO and U.S. forces to stabilize the country. The Pakistani army, meanwhile, is tackling its own Taliban insurgency. (read more at cfr.org/publication/10551.)
Resources
Visit NATO's International Security Assistance Force (ISAF) website at isaf.nato.int for updates on the Marjah offensive (Operation Moshtarak). (See map of Afghanistan on homepage.)
Read about the Taliban in Afghanistan at cfr.org/publication/10551.)