(from stlouis.cbslocal.com) ST. LOUIS (AP) – The father of a terminally ill toddler transferred to a St. Louis hospital after an Ontario court ruled doctors could remove the breathing tube keeping the boy alive says he won't stop fighting for his son…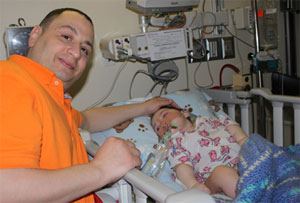 Thirteen-month-old Joseph Maraachli (pictured at right with his father Moe) arrived last weekend at Cardinal Glennon Children's Hospital, which agreed to treat him after his doctors at an Ontario hospital that had tended to him since October determined that he was in a permanent vegetative state and in deteriorating condition.
When Joseph's doctors at London Health Sciences Centre planned to take him off of assisted breathing, the boy's parents, who lost an 18-month-old child to the same disease eight years ago, challenged the hospital's finding in court but lost.
Officials at the St. Louis hospital have said Joseph probably will undergo throat surgery this week to clear his airway and connect him to a portable breathing machine. His parents hope to eventually take him back home to Windsor, Ontario, across the border from Detroit.
"I fight for him because that's my job for my son," Moe Maraachli, 34, told the St. Louis Post-Dispatch for a story Wednesday while he was at Cardinal Glennon. "He's never given up, because I've never given up. `Let me take him home and let him breathe. If he will die, he will die because he's sick, naturally."
As part of their Canadian legal dispute, Moe Maraachli and Sana Nader contended that removing their son's breathing tube would make him suffocate and cause him undue suffering. They sought to compel doctors to give Joseph a tracheotomy that would allow him to
breathe through a tube inserted into his throat.
The parents insisted the tracheotomy could extend his life up to six months, as they say it did for their other child who died, and would allow him to die at home.
After losing in the courts, Joseph's parents enlisted support for their cause using social media sites, but the hospital refused to reverse course. So they began reaching out to U.S. hospitals, and Cardinal Glennon agreed to care for their son.
New York City-based Priests for Life, which lobbies against abortion rights and euthanasia, agreed to pay for Joseph's transfer on a chartered plane and his subsequent medical care in St. Louis. The Rev. Frank Pavone, of the priests' group, said the exact disease from which Joseph suffers has not been determined. The Ontario hospital, in a news release, has called it a "progressively deteriorating neurological condition" and said the move to St. Louis was against the advice of its medical staff.
Maraachli, an 11-year Canadian citizen who is Muslim and originally from Lebanon, told the Post-Dispatch that his family believes Joseph's fate rests with God. His wife, who plans to travel soon to St. Louis, is Catholic. "Nothing is impossible in this world if you have trust in God," the newspaper quoted Maraachli as saying. "What God wants to do, that's what I want to do." "Give him this treatment and let me go home," he added. Maraachli said he appreciates the "big, warm hug" he feels he's gotten from Americans, and he plans to eventually write a book or screenplay about Joseph's story as a lesson for parents.
Associated Press. Reprinted here for educational purposes only. May not be reproduced on other websites without permission from CBS St. Louis. Visit the website at stlouis.cbslocal.com.
Questions
1. Why did a hospital in Canada fight to remove 18 month-old Joseph Maraachli's assisted breathing tube?
2. Why did Joseph's parents fight to keep Joseph's assisted breathing tube, and then get him a tracheotomy?
3. How did a Canadian court rule when Joseph's parents fought the hospital's decision to take him off his assisted breathing tube?
4. How did Joseph's parents get help to carry out their wishes for their son?
5. If the Canadian doctors had removed the breathing tube as they wanted to do, Joseph would have died very soon. Why do you think the Canadian hospital was still opposed to his parents moving him to a U.S. hospital, saying it was against the advice of its medical staff? (from para. 9)
6. Joseph's parents wanted to move their son to a hospital in the U.S. for two reasons: to get a second opinion on his diagnosis, and to get doctors to perform a tracheotomy on Joseph so they could bring him home to die. Watch the videos under "Resources" below. Who do you think should have the final decision about a terminally ill patient: his family, or doctors/hospital? Explain your answer.
7. Rebecca Dresser, a professor of law and medical ethics at Washington University in St. Louis, said U.S. courts generally side with families in such cases that want to continue treatment for loved ones even in seemingly hopeless medical cases. Dresser said end-of-life cases similar to Joseph's in Canada will likely become more common as President Obama's new Health Care plan takes effect. She said "Because of the growing concerns about costs, we're going to see more of this." Americans opposed to the new Health Care law give this as one of their reasons for their opposition: people/families will increasingly lose control over healthcare: instead a government bureaucrat trying to keep costs down will be making decisions on who gets what health care. Ask a parent how he/she views this issue.
Resources
Visit the Priests for Life website for more information on baby Joseph at priestsforlife.org.
Watch an interview with Joseph's father Moe and Fr. Frank Pavone on March 14, 2011 after Joseph was moved to the St. Louis hospital from Canada:
and Fr. Frank Pavone with Baby Joseph in St. Louis Hospital on March 14, 2011:
Daily "Answers" emails are provided for Daily News Articles, Tuesday's World Events and Friday's News Quiz.