(by Dean Nelson, Telegraph.co.uk) New Delhi — An Indian farmer's daughter disarmed a terrorist leader who broke into her home, attacked him with an axe and shot him dead with his own gun.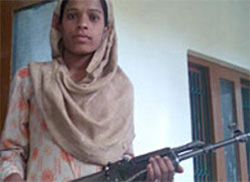 Rukhsana Kausar, 21, was with her parents and brother in Jammu and Kashmir when three gunmen, believed to be Pakistani militants, forced their way in and demanded food and beds for the night.
Their house in Shahdra Sharief, Rajouri district, is about 20 miles from the ceasefire line between Indian and Pakistani forces.
It is close to dense forests known as hiding places for fighters from the Lashkar-e-Taiba group, which carried out the Mumbai terrorist attack last November.
Militants often demand food and lodging in nearby villages.
When they forced their way into Miss Kausar's home, her father Noor Mohammad refused their demands and was attacked.
His daughter was hiding under a bed when she heard him crying as the gunmen thrashed him with sticks. According to police, she ran towards her father's attacker and struck him with an axe. As he collapsed, she snatched his AK47 and shot him dead.
She also shot and wounded another militant as he made his escape.
Police have hailed the woman's bravery.
They said she would be nominated for the president's gallantry award.
She may also receive a £4,000 reward if, as police believe, the dead terrorist is confirmed as Uzafa Shah, a wanted Pakistani LeT commander who had been active in the area for the past four years.
Supt Shafqat Watali said Miss Kausar's reaction was "a rude shock" for the militants. "Normally they get king-like treatment but this was totally unexpected," he said.
Miss Kausar said she had never fired an assault rifle before but had seen it in films and could not stand by while her father was being hurt. "I couldn't bear my father's humiliation. If I'd failed to kill him, they would have killed us," she said.
Information appearing on telegraph.co.uk is the copyright of Telegraph Media Group Limited and must not be reproduced in any medium without licence. Reprinted here for educational purposes only. May not be reproduced on other websites without permission from the Telegraph. Visit the website at telegraph.co.uk.
Questions
1. What is Lashkar-e-Taiba (LeT)?
2. Why did LeT terrorists force their way into Rukhsana Kausar's house?
3. How did Ms. Kausar's father Noor Mohammad respond to the terrorists' demands?
4. Why did Ms. Kausar attack the terrorists, killing one and wounding another?
5. How did Indian officials react to Ms. Kausar's actions?
6. How would you describe Rukhsana Kausar's actions? Explain your answer.
Daily "Answers" emails are provided for Daily News Articles, Tuesday's World Events and Friday's News Quiz.