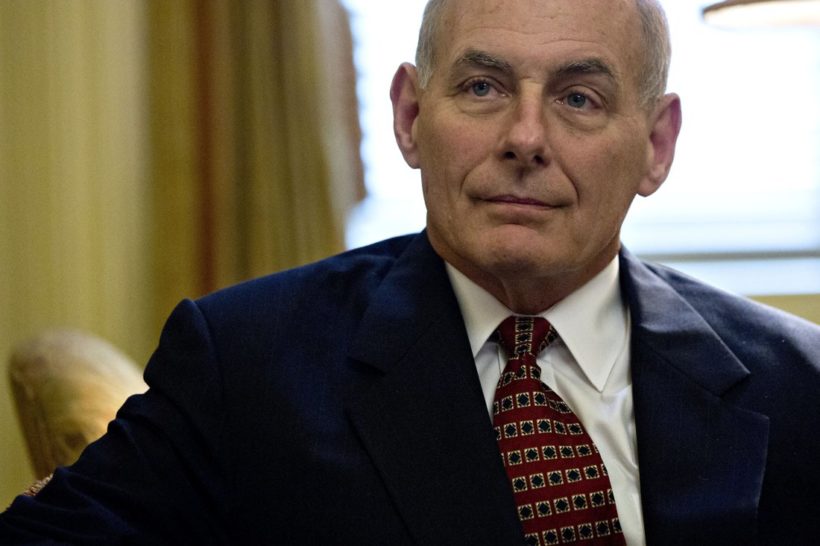 redo Jump to...
print Print...
(by Catherine Herridge and Matthew Dean, FoxNews) MCALLEN, Texas – In his first television interview as Homeland Security secretary, retired four-star Marine Gen. John F. Kelly told Fox News he wants the U.S.-Mexico border wall finished in two years – setting an ambitious schedule for the project ordered last week by President Trump.
"The wall will be built where it's needed first, and then it will be filled in. That's the way I look at it," Kelly said. "I really hope to have it done within the next two years."
Fox News traveled with Secretary Kelly in McAllen, Texas, on Wednesday where he saw first-hand the challenges for Border Patrol agents. The Rio Grande Valley, known as the "RGV sector," is among the busiest. On any given day, Border Patrol agents pick up at least 600 people who have crossed the Mexican border, entering the U.S. illegally.
Those personnel, he explained, are all part of the broader plan for securing the border.
"Any discussion about the protection of our southwest border involves discussion of physical barriers but also of technological sensors, things like that," he said. "But it's a layered approach, and it's got to be backed up by great men and women who are going to make sure that the wall is intact."
But first, the department faces the tough task of funding – and then building – what would be the largest-ever construction project undertaken by the president who made his name in real estate.
Kelly, who was tasked by the president's executive order with overseeing the planning and construction of the wall, echoed Trump in saying they already "have the authority" under existing law.
"We're looking at the money aspect," he acknowledged. But he said the White House is working with Congress on the timetable.
"I think the funding will come relatively quickly and like I said, we will build it where it's needed first as identified by the men and women who work the border," Kelly emphasized.
Kelly said it will be only a matter of months before construction begins.
Kelly also said he supported a "surge" of resources to the border so that processing those who cross illegally can happen in a matter of weeks, not "600 plus days."
"If we could surge the court proceedings — immigration court proceedings on the border — and within the law, do it very rapidly … I think that alone would act as a huge deterrent for people who are considering making the trip up," he said.
As for hostility to the wall from Mexico, Kelly said the safety of Americans comes first, though he wants to build a partnership on shared border issues. "I'd really like to establish a relationship on this, on the other side. It would be a mutually beneficial relationship."
Kelly also defended his agents in the wake of last week's…executive order temporarily suspending the refugee program and restricting travel from seven mostly Muslim countries. As his agency came under fire over the weekend, he said the department worked to verify reports of mistreatment, and did not find any evidence of these accusations. Kelly suggested critics had blown the issue out of proportion.
"Mr. Trump is not loved by everyone in America, and I think this very rapid succession of decisions, I don't think the American public is really all that used to people making decisions," he said. "I really don't think they're used to people that say things on the campaign trail actually turning them into action."
Asked if the pace had come as a "shock" to the public, Kelly said: "Yes, I think so. But I will tell you the men and women of Homeland Security did a great job out on the front lines, in this case mostly at the airports. People were treated with dignity and respect."
Kelly knocked down media reports that he first learned of the executive order by watching television, the day it was signed, a story first reported by the New York Times: "As soon as I was confirmed which was on Friday a couple of weeks ago, inauguration day, I knew that they were being developed."
Asked if he was "blindsided by the order," Kelly said, "Not at all. I saw the initial couple of cuts on them probably on Tuesday maybe Thursday, knew it was coming soon and then it came."
After more than 45 years of service, Kelly retired last year, and did not plan a return to Washington or full-time employment. He said it all changed with a cold call from the transition team when he and his wife Karen were relaxing.
Kelly was initially skeptical about the caller, who is now White House chief of staff.
"We were sitting on the couch when I got the original call on a Saturday afternoon and Reince Priebus called me," he said. "I don't know him. Once he convinced me it was really Reince Priebus, he said, 'Would you come up and talk to Mr. Trump, he'd like to talk to you about a position in the administration.' And I said, 'I can do that, I'll be up tomorrow.'"
He told his wife he thought the Trump administration was about to offer him a job.
"She said, 'take it, your whole life, our whole life, the Kelly family is a life of service.'"
Reprinted here for educational purposes only. May not be reproduced on other websites without permission from FoxNews.
Questions
NOTE TO STUDENTS: This is a controversial issue for many Americans. Be polite to those with whom you disagree when discussing these types of issues and always give the other person a chance to explain his/her point of view. Also, learn how to recognize when it is no longer productive to discuss an issue on which you strongly disagree.
BEFORE answering the questions, read the "Background" and watch the video under "Resources" below.
1. The first paragraph of a news article should answer the questions who, what, where and when. List the who, what, where and when of this news item. (NOTE: The remainder of a news article provides details on the why and/or how.)
2. Where will DHS begin building the wall on the U.S. border with Mexico?
3. What role does Secretary Kelly have in the construction of the wall?
4. a) What does Secretary Kelly say about obtaining the necessary funding for the wall?
b) When does he say construction will begin?
5. In addition to building the wall, what would Secretary Kelly like to do to stop people from crossing the border into the U.S. without permission?
6. Regarding opposition to President Trump's executive action to put a temporary hold on immigration from 7 countries until the U.S. vetting process is 100% secure, Secretary suggested critics had blown the issue out of proportion. He said, "Mr. Trump is not loved by everyone in America, and I think this very rapid succession of decisions, I don't think the American public is really all that used to people making decisions. I really don't think they're used to people that say things on the campaign trail actually turning them into action." Do you agree or disagree? Explain your answer.
7. One of Donald Trump's campaign promises was to build a wall on our southern border and make Mexico pay for it. Do you think he will do so? Explain your answer.
(Consider this: Mexican President Enrique Pena Nieto has vowed that his country "would not pay." President Trump said there are several options they are considering to have Mexico pay for the wall: a 20 percent tax on imports from Mexico, an increase in visa and border-crossing card fees, or the possibility of threatening to cancel visas and/or restrict wire transfers as leverage. Fox News reports that the import tax option gained prominence over the last week after White House Press Secretary Sean Spicer mentioned it, in the wake of Trump signing the executive order directing the wall's construction.)
CHALLENGE QUESTION:
Read the text of President Trump's executive order: "Border Security and Immigration Enforcement Improvements."
a) On what authority does President Trump issue these orders?
b) List the reasons he gives for the necessity of building a wall/securing the border.
c) How does this explanation differ from news reports about this issue?
d) Do the actions President Trump authorizes in this order make Americans more safe or less safe? Explain your answer.
e) Ask a parent the same questions. Discuss your answers.
Background
The mission of the U.S. Department of Homeland Security, from the website: "With honor and integrity, we will safeguard the American people, our homeland, and our values."
Secretary of Homeland Security: (from dhs.gov/secretary)
The Secretary of Homeland Security leads the third largest Department of the U.S. government, with a workforce of 229,000 employees and 22 components including TSA, Customs and Border Protection, Immigration and Customs Enforcement, U.S. Citizenship and Immigration Services, FEMA, the Coast Guard, and the Secret Service. Under the Secretary's leadership, DHS is responsible for:
counterterrorism
cybersecurity
aviation security
border security
port security
maritime security
administration and enforcement of our immigration laws
protection of our national leaders
protection of critical infrastructure
detection of and protection against chemical, biological and nuclear threats to the homeland, and response to disasters
Read about Secretary Kelly's background from the DHS website.
---
DHS Secretary John F. Kelly:  Did you know Secretary Kelly is a retired four-star general and a Gold Star Father?
John Kelly joined the Marine Corps in 1970, and after his discharge in 1972 he came home, graduating from UMass Boston in 1976. He re-enlisted in the corps, became an officer, and finished his career as Commander of the United States Southern Command. Tom Lyons is the Managing Director of Government Affairs & Corporate Communications at MassHousing, and he's known General Kelly for 25 years.
"I've seen a guy from our hometown rise through the ranks to become a four-star general in the Marine Corps," he said, "and all along the way, he never forgot his family, friends, in Brighton where he grew up"
That feeling seems to be pretty much shared by everyone who knows Kelly. Dan Magoon is a Boston firefighter, and combat veteran who founded Massachusetts Fallen Heroes, which honors those who have died in the war on terror since 9/11.
Magoon says that in 2010, when they began organizing for a memorial, the first person he called was Kelly, who agreed to speak at a fundraiser that December.  "Unfortunately," Magoon recalls, "in November of that year, we were notified that General Kelly's son Robert had been killed in action in Southern Afghanistan."
Kelly was now both a four-star general, and a gold star family member.
But he still came to Boston for the Fallen Heroes event, delivering an inspiring speech about sacrifice. He didn't mention his own loss. Tom Lyons says, "as a gold star family member, he knows how important his message is when he's talking to people about the tragedies of war but also the importance of how we remember those that have given their lives for our freedom."
Lyons tells a story he says reveals the depth of Kelly's connection to Boston, and his commitment to those who serve.
After the Boston Marathon Bombing, Lyons got a call from his old friend. "The general called me and said, as he usually does, 'Lyons: I'm coming up on this day, I want you to get as many first responders who were at the marathon that day together, 'cause I want to talk to them, I want to tell them how marvelous they are, I want to tell them what great Americans they are but I also want to tell them that as a marine who led marines in combat, if they need any support they have to reach out to family members or just reach out to someone who they can tell their story to.'
"And that, to me, said an awful lot about him caring about the people who are in public service," Lyons said.
Lyons adds the men and women who work in homeland security — including his own son, an Immigrations and Enforcement Agent — are lucky to have the general's support and guidance. (from WGBH News)
Resources
Watch a brief Thursday morning report from Fox News:
Daily "Answers" emails are provided for Daily News Articles, Tuesday's World Events and Friday's News Quiz.