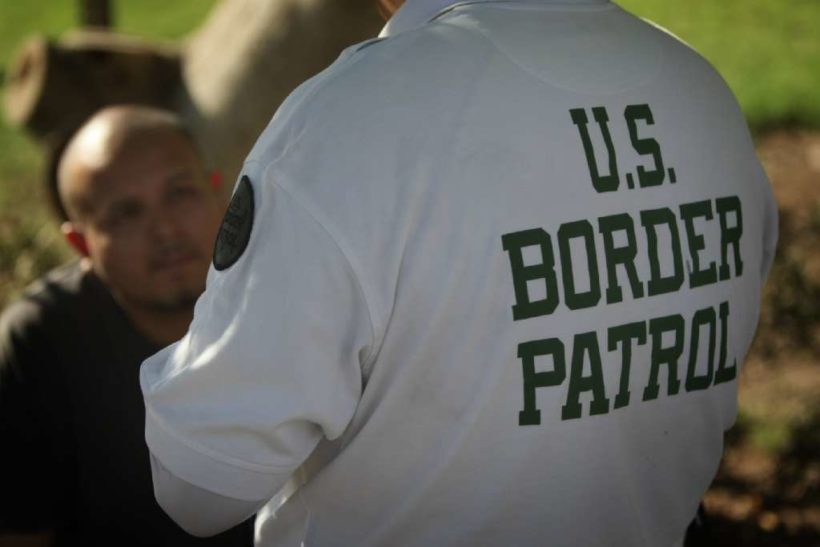 redo Jump to...
print Print...
(by Judson Berger) – Homeland Security Secretary John Kelly moved Tuesday to implement a host of immigration enforcement changes ordered by President Trump, directing agency heads [including Border Patrol and ICE] to hire thousands more officers, end so-called "catch-and-release" policies and begin work on the president's promised U.S.-Mexico border wall.
"It is in the national interest of the United States to prevent criminals and criminal organizations from destabilizing border security," Kelly wrote in one of two memos released Tuesday by the department.
The memos follow up on Trump's related executive actions from January and, at their heart, aim to toughen enforcement by expanding the categories of illegal immigrants targeted for deportation.
The changes would [exclude] so-called "dreamers." On a conference call with reporters, a DHS official stressed that the directives would not affect Obama-era protections for illegal immigrants who came to the U.S. as children and others given a reprieve in 2014. But outside those exemptions, Kelly wrote that DHS "no longer will exempt classes or categories of removable aliens from potential enforcement."
A DHS official said the agencies are "going back to our traditional roots" on enforcement.
The memos cover a…set of initiatives including:
Prioritizing criminal illegal immigrants and others for deportation, including those convicted or charged with "any criminal offense," or who have "abused" any public welfare program
Expanding the 287(g) program, which allows participating local officers to act as immigration agents – and had been rolled back under the Obama administration
Starting the planning, design and construction of a U.S.-Mexico border wall
Hiring 10,000 Immigration and Customs Enforcement agents and officers
Hiring 5,000 Border Patrol agents
Ending "catch-and-release" policies under which illegal immigrants subject to deportation potentially are allowed to "abscond" and fail to appear at removal hearings
It's unclear what timelines the secretary is setting for some of these objectives, and what budgetary and other constraints the department and its myriad agencies will face. In pursuing an end to "catch-and-release," one memo called for a plan with the Justice Department to "surge" immigration judges and asylum officers to handle additional cases.
While congressional Republicans have vowed to work with Trump to fund the front-end costs associated with his promised border wall, the same memo also hints at future efforts to potentially use money otherwise meant for Mexico – following on Trump's repeated campaign vow to make Mexico pay for the wall. The secretary called for "identifying and quantifying" sources of aid to Mexico, without saying in the memo how that information might be used.
Mexican officials repeatedly have said they will not pay for a border barrier. DHS said it has identified initial locations to build a wall where current fencing is not effective, near El Paso, Texas; Tucson, Ariz.; and El Centro, Calif.
The DHS directives come as the Trump White House continues to work on rewriting its…executive order suspending the U.S. refugee program as well as travel from seven mostly Muslim countries. The order was [blocked] by a federal court, and Trump's team is said to be working on a new measure.
The directives also come as the Trump administration faces criticism from Democratic lawmakers and immigration advocacy groups for recent ICE raids of illegal immigrants.
DHS officials on Tuesday's conference call stressed that they are operating under existing law and once again shot down an apparently erroneous news report from last week claiming National Guard troops could be utilized to round up illegal immigrants. That will not happen, an official said.
"We're going to treat everyone humanely and with dignity, but we are going to execute the laws of the United States," a DHS official said on the conference call.
Reprinted here for educational purposes only. May not be reproduced on other websites without permission from FoxNews. 
Questions
NOTE TO STUDENTS: This is a controversial issue for many Americans. Be polite to those with whom you disagree when discussing these types of issues and always give the other person a chance to explain his/her point of view. Also, learn how to recognize when it is no longer productive to discuss an issue on which you strongly disagree. Be kind to one another. It is a sensitive issue to those affected by it and by those who believe U.S. laws should be enforced.
BEFORE answering the questions, read the "Background" and watch the video under "Resources" below.
1. The first paragraph of a news article should answer the questions who, what, where and when. List the who, what, where and when of this news item. (NOTE: The remainder of a news article provides details on the why and/or how.)
2. What changes to immigration enforcement did DHS Secretary John Kelly direct agency heads to make this week?
3. How did Secretary Kelly explain the reasoning behind the changes?
4. What did a DHS official say about the changes on enforcement?
5. Define "dreamers" and "catch and release".
6. What did DHS officials emphasize during a conference call with reporters?
7.  Consider the reasons for enforcing current federal immigration law, and the fact that the majority of Americans support it. President Trump is not opposed to legal immigration, but says we should know who is coming into the country, and that we need to stop the out of control flow of drugs coming across our southern border.  Also consider the role of the President of the United States: The President is responsible for the execution and enforcement of the laws created by Congress.
This news article concludes: "During the conference call with reporters, a DHS official said, 'We're going to treat everyone humanely and with dignity, but we are going to execute the laws of the United States.'"
Why do you think the media in general portrays the President's actions to enforce the law as hateful/racist/bigoted/xenophobic?
CHALLENGE QUESTION:
Read the text of President Trump's executive order: "Border Security and Immigration Enforcement Improvements."
a) On what authority does President Trump issue these orders?
b) List the reasons he gives for the necessity of building a wall/securing the border.
c) How does this explanation differ from news reports about this issue?
d) Do the actions President Trump authorizes in this order make Americans more safe or less safe? Explain your answer.
e) Ask a parent the same questions. Discuss your answers.
Background
The Hill reported on Tuesday (Feb 21, 2017) that an overwhelming majority of Americans believe that cities that arrest illegal immigrants for crimes should be required to turn them over to federal authorities.
The poll shows that President Trump has broad public support in his effort to crack down on sanctuary cities.
A survey from Harvard–Harris Poll provided exclusively to The Hill found that 80 percent of voters say local authorities should have to comply with the law by reporting to federal agents the illegal immigrants they come into contact with.
As it stands, hundreds of cities across the nation — many with Democratic mayors or city councils — are refusing to do so.
Trump has signed an executive order directing Homeland Security Secretary John Kelly to find ways to withhold federal funding from these sanctuary cities until they enforce the law.
A Reuters analysis found the top 10 sanctuary cities in the U.S. receive $2.27 billion in federal funding for programs ranging from public health services to early childhood education. Many of these mayors would rather risk losing their federal funding for these programs than enforce federal immigration law.
One exception is Miami-Dade, which is the first locality to reverse its status as a sanctuary city:
Miami-Dade formally dropped its status as a "sanctuary" for illegal immigrants on Febuary 17 after the county commissioners voted 9-3 to uphold an order from Miami Mayor Carlos Gimenez that local authorities cooperate with federal immigration officials, in accordance with the law, and refuse to provide arrested illegal immigrants sanctuary.
Gimenez defended the decision, pointing out most of the immigrants affected are prior offenders, and that local authorities would not be actively seeking out and detaining illegal immigrants. "Look. I am an immigrant myself," he said. "I can assure our residents that I will not comply with any executive order that will unfairly put our law-abiding immigrants at risk."
The poll also revealed that 75% of voters favor increasing border patrol, while only 47% favor a wall [we do not know how the question was worded, as The Hill chose not to provide that information. It is believed that the disparity indicates what has been publicized in previous polls: that most people prefer various ways to secure the border, but say it does not need to be a physical wall].
---
The mission of the U.S. Department of Homeland Security, from the website: "With honor and integrity, we will safeguard the American people, our homeland, and our values."
Secretary of Homeland Security: (from dhs.gov/secretary)
The Secretary of Homeland Security leads the third largest Department of the U.S. government, with a workforce of 229,000 employees and 22 components including TSA, Customs and Border Protection, Immigration and Customs Enforcement, U.S. Citizenship and Immigration Services, FEMA, the Coast Guard, and the Secret Service. Under the Secretary's leadership, DHS is responsible for:
counterterrorism
cybersecurity
aviation security
border security
port security
maritime security
administration and enforcement of our immigration laws
protection of our national leaders
protection of critical infrastructure
detection of and protection against chemical, biological and nuclear threats to the homeland, and response to disasters
Read about Secretary Kelly's background from the DHS website.
Resources
Watch a Tuesday, Feb. 21 news report:
Daily "Answers" emails are provided for Daily News Articles, Tuesday's World Events and Friday's News Quiz.