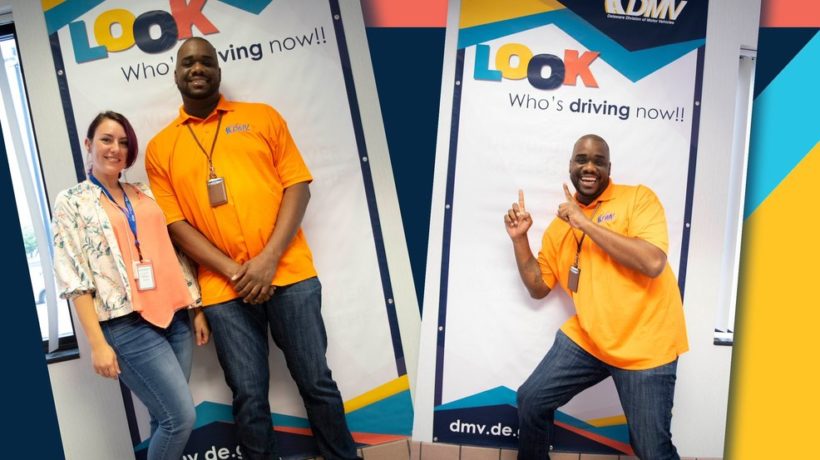 redo Jump to...
print Print...
(Compiled from articles by Hannah Chinn at NBC Philadelphia and the AP) – Delaware's Division of Motor Vehicles has installed "Safe Selfie Zones" at its four locations, to allow newly licensed drivers to share the news — and not their personal details.
WBOC-TV reports that the zones feature a bright backdrop in front of which people can take pictures of themselves to share on social media – instead of sharing photographs of their driver's licenses.
According to a DMV informational image, the top of the backdrop is emblazoned with the words "Look who's driving now!!"
The station reports that the idea is the brainchild of Dover DMV employee Willie Goldsboro.
Last year, Delaware issued around 36,500 new licenses to minors and adults.
As Mr. Goldsboro congratulated students and handed them their licenses,  he grew increasingly concerned with what he saw them doing.
"I mean, they're standing right in front of me. You see them taking a picture holding up their license, and you know they're posting straight to social media. That can hit a lot more people than you think."
U.S. licenses have the driver's full name, picture, DOB, license number, and address — personal information that, after being posted, could be stolen and used without the owner's permission.
Goldsboro says his father-in-law is a cop and deals with issues like identity theft, so watching kids post this information was a red flag for him. He approached Laura Russum, another DMV employee who coordinates social media and communications, for help.
Originally, Russum said, they thought of creating a license prop. When that didn't fly, they brainstormed ways to cover up identifying information on the new licenses. But that didn't feel right, either.
Finally, on their fourth round of ideas, she knew. "I'm a photographer as well, and I know people like to take photos in front of fun backdrops. Why not one of those?"
She designed the signage and wording for the backdrop, plus shareable hashtags to go with it.  The resulting project was a hit.
On September 17, Delaware's Division of Motor Vehicles launched "Safe Selfie Zones" at its four locations – so new drivers can collect likes, without compromising privacy.
"We want you to share the love," reads a placard next to the brightly colored backdrop, "but before you snap that selfie… REMEMBER your license has personal information that should be protected."
Read the press release at Delaware DMV's page.
Compiled from articles at NBC Philadelphia and AP at ABC6 for educational purposes only.
Questions
NOTE: Today's Daily News Article is a human interest news story. Human interest stories differ from the regular news – they are sometimes referred to as "the story behind the story."
1. What problem did Willie Goldsboro notice while working at the Delaware DMV?
2. Mr. Goldsboro was motivated to act by his concern for new teen drivers. How did he solve the problem?
3. What is the goal for the new selfie backdrops?
4. What types of information does a drivers license contain?
5. What do you think of Willie Goldsboro and Laura Russum's solution?
6. The major news articles of the day tell of important happenings. Human interest stories tell of how those happenings have impacted the people or places around the story. These stories take a break from the more serious news material to highlight something light or funny, something unusual and often something inspiring.
Do you think this human interest story is newsworthy? Why or why not?
Daily "Answers" emails are provided for Daily News Articles, Tuesday's World Events and Friday's News Quiz.