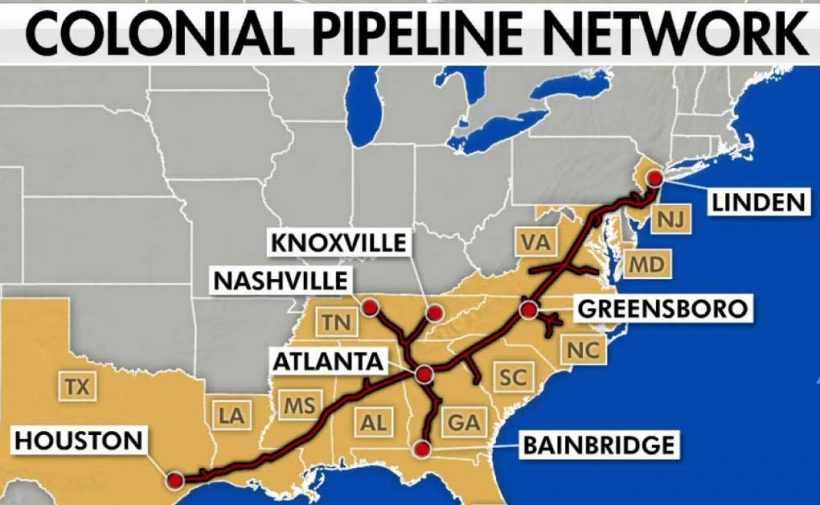 A cyber attack is an attempt to gain illegal access to a computer or computer system for the purpose of causing damage or harm.
Malware is any software intentionally designed to cause damage to a computer, server, client, or computer network. A wide variety of malware types exist, including computer viruses, worms, Trojan horses, ransomware, spyware, etc.
Ransomware is a type of malware that infects a computer or network, encrypts its files or denies the owner access to them, and demands a ransom in return.
---
(by Oliver O'Connell, UK Independent) — A ransomware attack forced the suspension of operations on a major US energy pipeline that transports 45 percent of all fuel consumed on the East Coast.
Colonial Pipeline said the attack took place on Friday and also affected some of its information technology systems. [The company did not say what was demanded or who made the demand. Ransomware attacks are typically carried out by criminal hackers who scramble data, paralyzing victim networks, and demand a large payment to decrypt it].
Colonial Pipeline operates the largest refined-products* pipeline in the US, transporting more than 100 million gallons of gasoline, diesel, jet fuel, and home heating oil, daily through a pipeline system that spans 5,500 miles from Houston, Texas to the New York area (to Linden, New Jersey).  *
An outside security firm is investigating the nature and scope of the attack and the Alpharetta, Georgia-based company has also been in touch with law enforcement and federal agencies.
"Colonial Pipeline is taking steps to understand and resolve this issue," the company said in a statement late on Friday.

"At this time, our primary focus is the safe and efficient restoration of our service and our efforts to return to normal operation. This process is already underway, and we are working diligently to address this matter and to minimize disruption to our customers and those who rely on Colonial Pipeline."
The precise nature and motive of the attack are unclear at present.
Mike Chapple, teaching professor of IT, analytics and operations at the University of Notre Dame's Mendoza College of Business, said systems that control pipelines should not be connected to the internet, [which makes them] vulnerable to cyber [attacks].
"The attacks were extremely sophisticated and they were able to defeat some pretty sophisticated security controls, or the right degree of security controls weren't in place," said Mr. Chapple, who is also a former computer scientist with the National Security Agency.
There is widespread alarm at the vulnerability of the US's critical infrastructure following an unsuccessful attack on a water treatment plant in Florida that sought to compromise the water supply.

These fears are especially heightened in light of the SolarWinds hacking of US government agencies and private companies orchestrated by Russia.

Microsoft president Brad Smith said that hack was "the largest and most sophisticated attack the world has ever seen."

[Business Insider notes: SolarWinds, a Texas-based IT firm, was the subject of a cyberattack that went undetected for months – as a result of the hack, foreign attackers were able to spy on private companies as well as government agencies, including the Treasury Department and the Department of Homeland Security.

Earlier this year, thousands of organizations across the US were hacked through flaws in Microsoft's Exchange server email software].

The Biden administration is undertaking a new effort to help electric utilities, water districts, and other critical industries protect against potentially damaging cyberattacks.

Anne Neuberger, the deputy national security adviser for cybersecurity and emerging technology, told The Associated Press in April that the goal was to ensure that control systems serving 50,000 or more Americans have the core technology to detect and block malicious cyber activity.

Since then, the White House has announced a 100-day initiative aimed at protecting the country's electricity system from cyberattacks.

Owners and operators of power plants and electric utilities have been encouraged to improve their capabilities for identifying cyber threats to their networks.

This includes concrete milestones to put technologies into use to spot and respond to intrusions in real-time.

The Justice Department has also announced a new task force dedicated to countering ransomware attacks in which data is seized by hackers who demand payment from victims in order to release it.

[There is no word yet as to how how long the pipeline will be shut down or if/how it will affect consumers and businesses].

From a report by the UK Independent. With reporting from The Associated Press. Reprinted here for educational purposes only. May not be reproduced on other websites without permission.
Questions
1. The first paragraph of a news article should answer the questions who, what, where and when. List the who, what, where and when of this news item. (NOTE: The remainder of a news article provides details on the why and/or how.
2. a) How long is Colonial's pipeline? Where does it begin and end?
b) How much of the East Coast's fuel comes from Colonial Pipeline?
3. a) What are refined products?
b) List the refined products transported through the affected pipeline.
4. a) What is a cyberattack?
b) What is a ransomware attack?
c) Who is behind the ransomware attack on Colonial Pipeline?
5. a) What did Notre Dame IT professor Mike Chapple note about the cyber attack on Colonial Pipeline?
b) What advice did he offer?
c) Taking into account other recent cyberattacks and the potential for attacks on our electric grids and various infrastructures, business and government agencies, how important do you think it is to heed this advice? Explain your answer.
Resources
Watch a May 8 ABC report:
---
Watch a May 8 CBS report:
Daily "Answers" emails are provided for Daily News Articles, Tuesday's World Events and Friday's News Quiz.