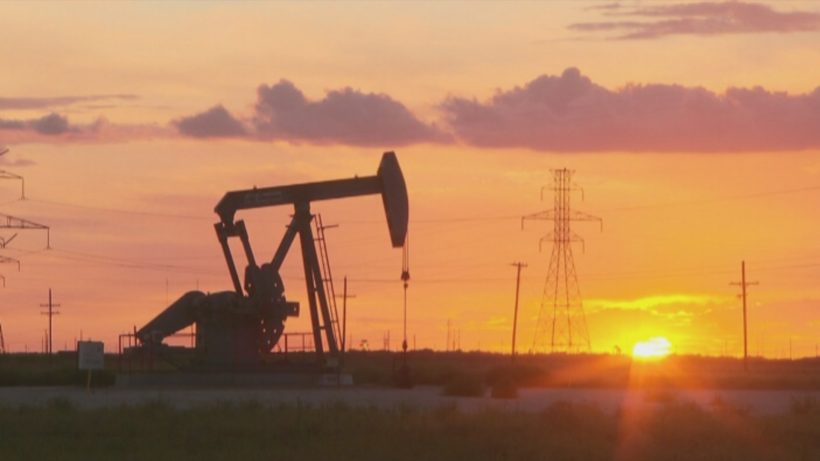 redo Jump to...
print Print...
WASHINGTON — The U.S. Congress is on the verge of lifting a 40-year ban on crude oil exports onto the international market, an issue that pitted Texans who work in oil production – and their House representatives – against those who work in refineries.
In large part, the Texas delegation members led the charge to repeal the ban over the course of this year. But that effort stalled earlier in the fall when President Obama essentially issued a veto threat on the legislation.
In a just-announced, trillion-dollar Congressional spending bill, House Republicans managed to move forward on an export ban repeal. U.S. House Speaker Paul Ryan and House Minority Leader Nancy Pelosi struck a deal on the budget Tuesday night….[In return for agreeing to lift the ban, Democrats won a five-year extension of credits for wind and solar energy producers and a renewal of a land and water conservation fund and Republican agreement not to attempt to roll back President Obama's environmental regulations.]
The export ban dates to the 1970s energy crisis when global oil prices skyrocketed in reaction to the 1973 Arab oil embargo. President Gerald Ford signed the 1975 Energy Policy and Conservation Act banning crude oil exports with few exceptions, with an aim to keep oil at home and prevent domestic price shocks.
Since then, most crude oil drilled here is not allowed on the international market.
Pelosi fought hard against the repeal, according to a New York Times report, and the issue almost unraveled the deal. But she and Democrats picked up a series of GOP concessions on other fronts in the massive bill. Many Democrats opposed the notion due to environmental concerns and worries a repeal would hurt refineries in the Northeast.
She criticized the repeal at a Wednesday news conference.
"Our members [congressional Democrats] are curious to see what the renewable package is to offset the damage done by the exportation of oil," Pelosi said. "But in a bigger sense, here we are, at a time when we want good-paying jobs, which we have here in our refineries, we're shipping those jobs overseas."
Three key Texas House members fought all year for lifting the ban: U.S. Reps. Joe Barton, R-Ennis, Henry Cuellar, D-Laredo, and Michael McCaul, R-Austin. Barton predicted in a September interview with the Texas Tribune that a ban repeal could happen by Christmas.
This is largely a House Republican cause, but a handful of Texas Democrats supported the push.
The hope for many Texans is that doing away with a crude oil export ban will stabilize oil prices. But other Texans worry the legislation could hurt refineries in the Houston area.
If House members pass the spending bill later this week, the deal will need to clear the U.S. Senate, where Minority Leader Harry Reid is a critic of the legislation. U.S. Majority Whip John Cornyn of Texas, however, is a leading proponent (supporter) of repeal.
House sources do not anticipate President Obama will veto the entire spending bill over this issue.
Reprinted here for educational purposes only. May not be reproduced on other websites without permission from The Texas Tribune. Visit the website at texastribune .org.
Questions
PLEASE NOTE:  Look for a special Christmas post tomorrow. Regular "Daily News Articles" will resume Monday, January 11.  (Also, look for our "2015 Year in Review" news quiz in January as well.) 
1. Define the following as used in the article:
ban
crude oil
export
(oil) refinery
repeal
veto
embargo
concessions
2. When and why was a ban placed on U.S. oil exports?
3. Who is opposed to repealing the ban? For what reason?
4. Who supports the repeal? Why?
5. Why have Democrats in the House agreed not to fight repealing the ban on crude oil exports despite their opposition?
Background
More on the deal from a Dec. 16 USA Today article:
The ban on U.S. exports stretches back to the 1970s during chronic oil shortages. It was imposed after the Organization of Petroleum Export Countries (OPEC) placed an oil embargo on the U.S. when we sided with Israel in the Yom Kippur War of 1973, slamming the American economy and leading to long lines at the gas pump.

GOP and industry leaders have called the ban antiquated and applauded the proposal to lift it.

"We have the best technology, the best oil and over time we will drive out Russian oil, we will drive out Saudi, Iranian," Republican Rep. Joe Barton of Texas said in an interview with Bloomberg. "It puts the United States in the driver's seat of energy policy worldwide. It is a huge victory."

The move to abolish the ban on oil exports comes as crude prices have plummeted to some of its lowest points in years and technology has unlocked vast, formerly unreachable reservoirs of oil, creating an overabundance of U.S. oil. West Texas Intermediate crude was selling for less than $37 a barrel Wednesday, down from more $100 last year.

The low price and glut of oil is still keeping many producers from pumping at full capacity and forcing others to stop altogether, said Thomas Tunstall, senior research director at the University of Texas at San Antonio' Institute for Economic Development. Oil from South Texas or North Dakota's Bakken shale is a lighter crude that could fetch better prices on the world market than from U.S. refineries, which are optimized for heavier crude, he said.

"It will certainly help," Tunstall said. "But the effects are probably going to be pretty marginal."

Current law allows limited oil exports, such as to Canada and from Alaska's North Slope. The U.S. exports nearly 500,000 barrels a day, according to the U.S. Energy Information Administration. Led by booms in production in places such as Texas and North Dakota, the U.S. today produces more than 9 million barrels of crude a day, according to the EIA. It also consumes about 19 million barrels of crude and petroleum products a day, making it the largest consumer in the world.

Potential beneficiaries from the ban's repeal would be the welders, engineers, pipeline developers and others involved in building the added infrastructure needed to export the oil, said Kenneth Medlock, an energy fellow at Rice University's Baker Institute for Public Policy.

Allowing exports would create an estimated 630,000 new jobs and add an additional $165 billion each year to the GDP for the next six years, according to a report last year from the Aspen Institute. 
Daily "Answers" emails are provided for Daily News Articles, Tuesday's World Events and Friday's News Quiz.