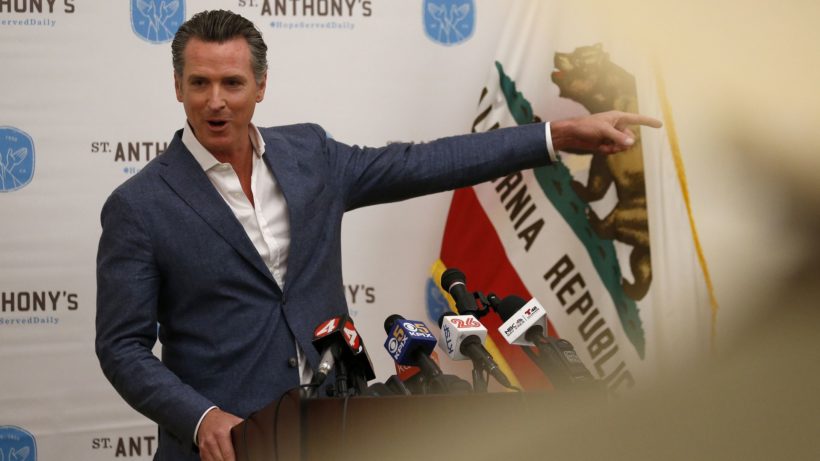 redo Jump to...
print Print...
(by David Shepardson, Reuters) – California Democratic Governor Gavin Newsom said on Tuesday the state will dramatically scale back a planned $77.3 billion high-speed rail project that has faced cost hikes, delays and management concerns, but will finish a smaller section of the line.
"Let's be real. The current project, as planned, would cost too much and respectfully take too long. There's been too little oversight and not enough transparency," Newsom said in his first State of the State Address to lawmakers on Tuesday.
"Right now, there simply isn't a path to get from Sacramento to San Diego, let alone from San Francisco to L.A. (Los Angeles). I wish there were," he said.
Newsom said the state will complete a 119-mile high-speed rail link between Merced and Bakersfield in the state's Central Valley. In March 2018, the state forecast the costs had jumped by $13 billion to $77 billion and warned that the costs could be as much as $98.1 billion.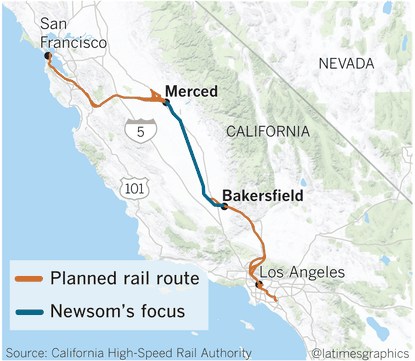 Newsom said he would not give up entirely on the effort and will continue to seek additional funding.
California planned to build a 520-mile system in the first phase that would allow trains to travel at speeds of up to 220 miles per hour in the traffic-choked state from Los Angeles to San Francisco and begin full operations by 2033.
"Abandoning high-speed rail entirely means we will have wasted billions and billions of dollars with nothing but broken promises, partially filled commitments and lawsuits to show for it," Newsom said. "And by the way, I am not interested in sending $3.5 billion in federal funding that was allocated to this project back to Donald Trump."
U.S. House Transportation and Infrastructure Committee Republicans cited a recent Democratic clean energy proposal in noting the project's demise, tweeting that "the plug gets pulled on the frequently delayed, over-budget San Francisco-LA (high-speed rail) project. Reality: 1, #GreenNewDeal: 0."
A state audit issued in November said California's High‑Speed Rail Authority's "flawed decision making and poor contract management have contributed to billions in cost overruns and delays."
The Obama administration awarded the state a total of $3.5 billion in 2010 and California voters in 2008 approved nearly $10 billion in bond proceeds. The U.S. Transportation Department's inspector general's office noted in August 2018 that the state had only identified $30.7 billion in funding, or less than half the project's needs.
A spokesman for U.S. Transportation Secretary Elaine Chao did not immediately comment.
Newsom said the state will finish environmental reviews from San Francisco to Los Angeles, "connect the revitalized Central Valley to other parts of the state, and continue to push for more federal funding and private dollars. But let's just get something done."
The governor also said he will name his economic development director, Lenny Mendonca, to chair the High-Speed Rail Authority, and vowed new transparency and to hold contractors and consultants accountable to explain how tax dollars are spent.
"I'm not interested in making the same old mistakes," Newsom said.
From Reuters .com. Reprinted here for educational purposes only. May not be reproduced on other websites without permission from Thomson Reuters.
Questions
1. The first paragraph of a news article should answer the questions who, what, where and when. List the who, what, where and when of this news item. (NOTE: The remainder of a news article provides details on the why and/or how.)
2. a) For what reasons is Governor Newsom scaling back the construction of a rail system in California?
b) What did he say he will do going forward?
3. a) How many miles did California plan to build?
b) How many miles will they instead build?
4. a) What did the state forecast the cost would be in March 2018?
b) What did they warn the cost might actually be?
5. a) What did a state audit issued in November say about California's High‑Speed Rail Authority?
b) What did The U.S. Transportation Department's inspector general's office in August 2018 note about state's funding for the project?
6. California received $3.5 billion from the Obama administration for the project in 2010.
a) What is your reaction to the problems with the California rail project?
b) Do you think the federal government should give California the $40-60 billion additional funding it needs to build a high speed railway? Explain your answer.
7. Consider the following:
The estimated cost of a border wall between the U.S. and Mexico is about $25 billion. President Trump scaled back his initial request and in a compromise asked Congress for $5.1 billion.
U.S. military in Afghanistan costs about $45 billion every year.
Congress this week offered the president $1.5 billion. In comparison:
In December 2018, the U.S. pledged:
$5.8 billion in aid and investment for strengthening government and economic development in Central America
$4.8 billion in development aid for southern Mexico
The U.S aid aims to promote better security conditions and job opportunities as part of a regional plan to allow Central Americans and Mexicans to remain in their countries.
Republicans and Democrats in Congress allocated $500 million for Lebanon to build a wall on its border with Iraq.
Rebuilding New York's Tappan Zee Bridge (re-named the Mario M. Cuomo bridge after the former governor, who was current NY Democratic Governor Andrew Cuomo's father) cost $4-5 billion.
a) Why do you think Democrats – now in the majority in Congress – refuse to approve President Trump's request for $5.1 billion?
b) Why do you think Republicans in Congress did not allocate funding for the border wall before last year's budget (when Republicans were in the majority)?
Daily "Answers" emails are provided for Daily News Articles, Tuesday's World Events and Friday's News Quiz.