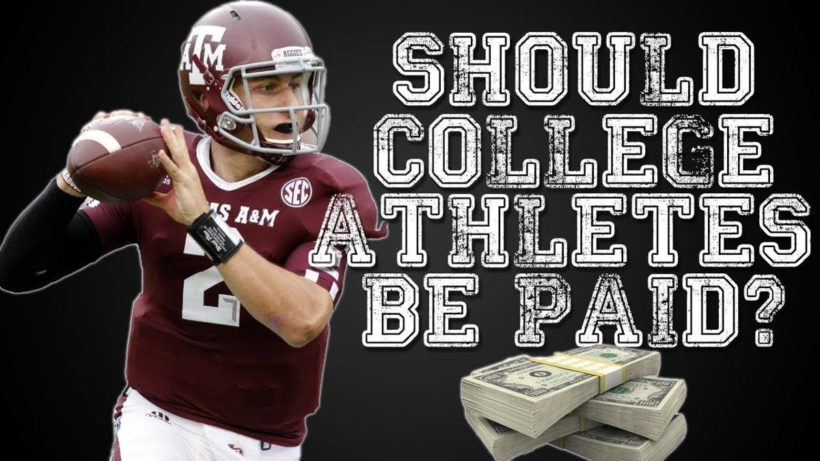 redo Jump to...
print Print...
(by David K. Li, NBC News) – [Defying the NCAA, California's governor signed a first-in-the-nation law Monday that will let college athletes hire agents and make money from endorsements – a move that could upend amateur sports in the U.S. and trigger a legal challenge.].
The legislation, which takes effect in 2023, allows student-athletes to sign endorsement deals and prohibits the governing body of college sports, the National Collegiate Athletic Association (NCAA), and the schools from [revoking scholarships or] banning those compensated athletes.
NCAA rules strictly prohibit athletes from profiting in any way from their sports, and the law would still bar schools from directly paying athletes.
"Colleges reap billions from student athletes but block them from earning a single dollar. That's a bankrupt model," Gov. Newsom tweeted after signing the bill.
The NCAA acknowledged in a statement Monday that its current regulations on amateurism will need to change, but said California's new law won't help.
"As a membership organization, the NCAA agrees changes are needed to continue to support student-athletes but improvement needs to happen on a national level through the NCAA's rules-making process," the governing body said. …
Newsom signed the bill while appearing on NBA icon LeBron James' HBO show, "The Shop: Uninterrupted." [James' 14-year-old son is a closely watched basketball prospect in Los Angeles and will be 18 when the measure takes effect.]
The governor predicted it would prompt dozens of other states to pass similar legislation and force the NCAA's hand.
"It's going to change college sports for the better by having now the interests finally of the athletes on par with the interests of the institutions," Newsom said. "Now we're re-balancing that power arrangement.
James, who went pro straight out of high school, urged the NCAA to come to the bargaining table and find a way to compensate athletes who generate millions of dollars, especially in football and basketball.
…While the NCAA is the governing body of college sports, membership is voluntary. So conceivably, if schools are forced out of competition by the NCAA, they could simply opt out to form their own new leagues.
Lisa Masteralexis, who teaches sports management at the University of Massachusetts Amherst, said the upcoming battle on this issue could embolden high-revenue, so-called "Power 5" leagues — the Big Ten, Southeastern, Pacific-12 [see "Background" below], Big 12 and Atlantic Coast Conferences — to create their own athlete compensation packages.
And if they did so, those big-money schools and leagues could break away on their own, bumping the NCAA from the business of big-time college sports altogether.
"The power conferences have leverage," Masteralexis told NBC News shortly after Newsom signed the bill. "If you look at the Power 5 conferences, they have enough money and media attention, some with their own TV networks, they can drive the bus."
Legislation signed Monday by Newsom seemed to fall in line with the public's general view of compensating college athletes.
A Morning Consult poll published this past spring showed that Americans oppose direct school-to-athlete pay, 45 percent to 32 percent.
But when asked if student-athletes should be able to sign deals with brands, respondents said yes by 47 percent to 35 percent.
And asked if college athletes should be allowed to profit off their names or images on video games and other products, respondents again said yes by 52 percent to 31 percent.
The Golden State is home to dozens of schools that play top-flight Division I sports, including Pacific-12 Conference institutions such as the University of Southern California, Stanford University, the University of California, Los Angeles, and the University of California, Berkeley.

[The NCAA, a non-profit organization, reported $1.1 billion in revenue in 2017.  It's president Mark Emmert received a salary of $2.4 million in 2016].

Published at NBCNews .com on September 30, 2019. Reprinted here for educational purposes only. May not be reproduced on other websites without permission from NBC.
Questions
1. The first paragraph of a news article should answer the questions who, what, where and when. List the who, what, where and when of this news item. (NOTE: The remainder of a news article provides details on the why and/or how.)
2. What is the NCAA? Be specific.
3. What are sports endorsements?
4. What does the new law prohibit the NCAA and universities from doing to athletes who sign endorsement deals?
5. What will the law prohibit schools from doing to attract athletes?
6. From "Background" below:
"the NCAA vowed to…challenge the law. Gov. Newsom said the language of the bill was carefully crafted to avoid a lawsuit. He also said the NCAA can't afford to follow through on its threats because California "is truly a nation-state and the economic consequences will be profound."
a) What does the governor mean by calling California a 'nation-state' as he refers to the control it has over the rest of the states in this matter? Is this harmful or helpful to other states? Explain your answer.
b) Consider the saying "As California goes, so goes the nation" – that state policies started in California will spread and be adopted by the rest of the nation. Is this a good thing? Explain your answer.
7. University of Chicago economics professor Allen Sanderson told NBC, "The NCAA's 100-year model is not going to survive another 10 years, there's just too much money involved."
Watch the videos under "Resources" below. What do you think?
Should college athletes be paid like employees or should they remain amateurs?
Has the NCAA been treating athletes fairly?
Was there a better way to do this than to pass this law, or was it necessary?
Should all college athletes be able to make endorsement deals?
8. List several pros (benefits to the athletes, fans, etc.) and cons (including unintended consequences) of the issue. (or, what is the best argument for and against each side?)
Background
Shortly after [California Senate Bill 206, the "Fair Pay to Play Act"] cleared the Assembly with unanimous support earlier this month, the organization told Newsom in a letter that the law would give the state's 58 NCAA schools an "unfair recruiting advantage."
As a result, the NCAA Board of Governors threatened to ban those schools from playing in NCAA competitions. The announcement came in addition to their prior threats to revoke California's ability to host future championships.
"We urge the state of California to reconsider this…bill and hope the state will be a constructive partner in our efforts to develop a fair name, image and likeness approach for all 50 states," they wrote.
On Monday, the NCAA vowed to explore "next steps" to continue challenging the law.
Newsom said the language of the bill was carefully crafted to avoid a lawsuit. He also said the NCAA can't afford to follow through on its threats because California "is truly a nation-state and the economic consequences will be profound."
Newsom played college baseball on a partial scholarship at Santa Clara University…and said he wouldn't have been able to go to that school without the scholarship opportunity. While he acknowledged the NCAA opens up educational opportunities for people who wouldn't otherwise be able to go to college, he called the notion of a student-athlete a "farce" legal term. He noted public opinion is on his side. …
State Sens. Nancy Skinner, D-Berkeley and Steven Bradford, D-Gardena, wrote the bill. Skinner told The Bee earlier in the day the state is in "pretty good shape" if the NCAA decides to sue.
But some athletic organizations worry about the precedent the new law could set.
In a statement, the Pac-12 said it is "disappointed" by the news and believes the law "will have very significant negative consequences for our student-athletes and broader universities in California. This legislation will lead to the professionalization of college sports and many unintended consequences related to this professionalism."
Sen. Skinner has long blasted the NCAA and accused it of not seriously considering the subject of athlete pay. In May, the NCAA formed a working group to examine name, image and likeness benefits. In the announcement, the NCAA said a final report would be due to the Board of Governors in October, with an update provided in August. That update has yet to be publicly released.
"Their press release said they would have an initial report out in August," Skinner told The Bee earlier this month. "August is over. No one has seen anything from the NCAA. SB 206 is necessary. The NCAA has not really demonstrated good faith." (From an article by Bryan Anderson at The Sacramento Bee [sacbee .com] on Sept. 30)
Resources
News Report – CBS-13 Sacramento, Sept 30:
---
Report from News4 Tucson AZ, Sept. 30, 2019:
---
OPPOSE – Tim Tebow, ESPN, Sept. 13:
Daily "Answers" emails are provided for Daily News Articles, Tuesday's World Events and Friday's News Quiz.