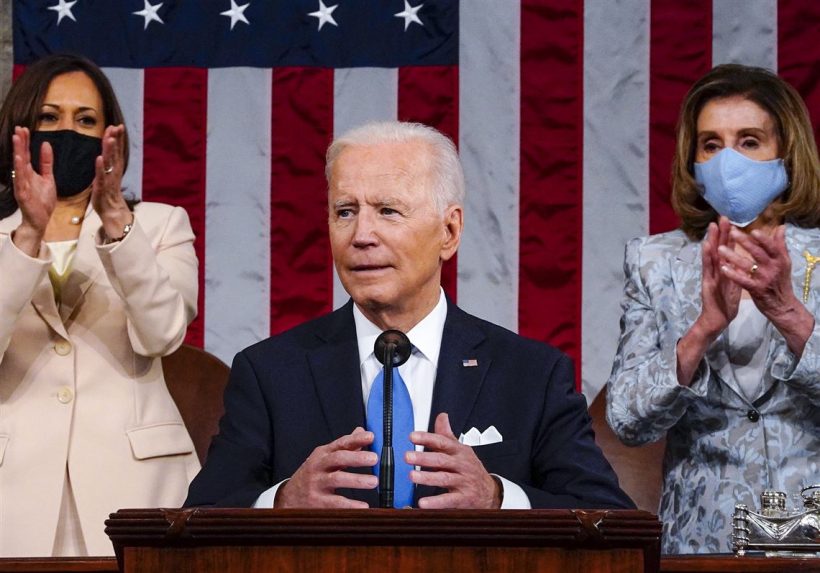 redo Jump to...
print Print...
An estimated 26.9 million people watched President Joe Biden's address to the Joint Session of Congress Wednesday night across 16 broadcast and cable networks, according to Nielsen figures.
The numbers include viewers watching Biden's speech on ABC, CBS, NBC, Fox, Telemundo, Univision, PBS, CNBC, CNN, Fox Business, Fox News, MSNBC, Newsmax, NewsNation and Newsy.
Biden's number is way down from the 48 million who watched President Donald Trump's first speech to a joint session on Feb. 28, 2017.
President Barack Obama's first address to a joint session of Congress in February 2009 drew a whopping 52.3 million viewers, far outstripping Biden's ratings.
Nielsen reported that the bulk of Biden's audience — 18.5 million — were 55 and older. The figures include out of home viewing.
Nielsen did not announce how the numbers broke down for individual networks. Deadline had previously reported that ABC had won the ratings battle, followed by MSNBC, NBC and CBS.
Ratings for CNN, MSNBC and Fox News have all declined since Biden took office, as have ratings for the evening news programs of ABC, NBC and CBS, according to Nielsen statistics.
---
Watch President Biden's address to Joint Session of Congress at c-span.  Read the text at whitehouse.gov.
Watch South Carolina Senator Tim Scott's Republican response to President Biden's address.
Questions
NOTE: In the 2020 presidential election, Joe Biden received 81 million votes; Donald Trump had 74 million.
Barack Obama received 69.5 million votes in 2008 and almost 66 million in 2012.
1. Viewership for President Biden's address was down 49% from President Trump's address.
a) How many Americans watched Joe Biden's address to the Joint Session of Congress this week?
b) How many Americans watched Donald Trump's address to the Joint Session of Congress in 2017?
c) How many Americans watched Barack Obama's address to the Joint Session of Congress in 2009?
2. a) How many Americans watching President Biden's long awaited address to Congress were age 55 and older?
b) What percent of Biden's viewers were 55 and older?
c) What is your reaction to this?
3. The media has placed great emphasis on the numbers: that Joe Biden won the most number of votes ever of any presidential candidate, beating even Barack Obama's 2008 win by 11 million votes. Reports from every news outlet had the same take on Trump supporters' insistence that numerous reports of election irregularities should be investigated – that these were "unfounded" claims that were "debunked" and "discredited."
Why do you think such a small percentage of President Biden's voters cared enough to watch his first major address to the nation, in which he laid out his spending plans and policies for America?
4. Several news reports acknowledged that President Biden's numbers were very low, but pointed out that viewership for the Super Bowl and the Oscars were way down also.
The 2021 Oscars plunged to an all time low of 9 million people; viewers were at 23.6 million in 2020 and 30 million in 2019.
Why do you think this is so? (Ask a parent if unsure.)
CHALLENGE:  Which congress members were actually invited by the Democrats to attend?  (We are unable to find this information published anywhere.)
Daily "Answers" emails are provided for Daily News Articles, Tuesday's World Events and Friday's News Quiz.