redo Jump to...
print Print...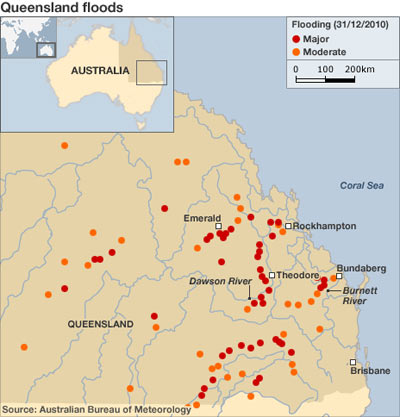 (by Lyndal McFarland, The Wall Street Journal, WSJ.com) MELBOURNE – The Australian military began rushing supplies to a town slowly being swamped by floodwaters Monday as authorities warned that floods devastating large parts of Queensland state are set to worsen in some areas.
A proper assessment of damage is expected only after the floodwaters, which follow torrential rains associated with the La Nina weather pattern, recede. But many expect damage to run to billions of dollars.
Floods affecting an area the size of France and Germany combined have forced thousands of residents to flee their homes, impacting as many as 200,000 people.
So far two people have died, with the latest casualty a 38-year-old man whose boat was swamped in central Queensland. A 41-year-old woman died after being swept from a vehicle attempting to cross a flooded causeway. Another man is missing and feared dead after the car he was travelling in was swept from a flooded causeway in the state's central west, police said.
Coal mining, haulage and export is the major industry in central Queensland, a major global source of coking coal used in steelmaking. Central Queensland and the Hunter Valley in New South Wales are the heartland of Australia's US$51 billion-a-year coal export industry.
The floods have forced many of the biggest miners-including BHP Billiton Ltd., Rio Tinto Ltd. and Anglo American PLC-to stop production and cancel deliveries to key customers.
"We have three quarters of our coal fields unable to operate and unable to supply markets," Queensland Premier Anna Bligh told Australian Broadcasting Corp. television.
"There is likely to be a significant long-term effect of that, not only nationally, but also internationally," she said, noting the state provides half of the world's supply of coking coal, a key ingredient in steelmaking. "So there is a remarkable problem out there in the mining industry…They will have a long, slow climb back to full production," she said.
Crops and livestock have also suffered.
"We are going to see an economic impact, there's no doubt about that," Prime Minister Julia Gillard told ABC Radio Monday. "When floodwaters recede, we're going to see a lot of damage to roads, to bridges, to schools, to the community facilities that everybody relies on. We can't assess what that's going to cost until we can see the damage."
Water levels have begun to recede in some of the worst-hit areas around towns such as Emerald and Condamine. But residents of Rockhampton, a city of around 75,000 people 40 kilometers inland from Australia's Coral Sea coast, were bracing for the worst, with the swollen Fitzroy River not expected to hit its peak until Wednesday.
Ms. Bligh said military aircraft will fly supplies to Mackay Airport, with 100 tons of food and supplies to be trucked to Rockhampton before the last road link to the city is cut. Floodwaters are expected to peak in Rockhampton at 9.4 meters on Wednesday after hitting 9 meters Monday.
Large parts of the city, including Rockhampton's airport, are already underwater and authorities have warned the town could be cut off for more than a week. In addition to rising floodwaters, residents are battling poisonous snakes seeking dry ground, along with contaminated water.
Queensland will delay its mid-year budget review to take the flood impact into account, state treasurer Andrew Fraser said over the weekend.
"The cost to the state will be huge, both in direct costs such as rebuilding roads and other damaged infrastructure and providing relief payments to families, but also in lost income while the mining, agriculture and tourism sectors recover," Mr. Fraser said in a statement Saturday.
Severe storms also caused a cinema roof to collapse Monday in the New South Wales city of Bathurst, injuring dozens. …..
Write to Lyndal McFarland at lyndal.mcfarland@dowjones.com.
Copyright 2010 Dow Jones & Company, Inc. All Rights Reserved. Reprinted here for educational purposes only. Visit the website at wsj.com.
Questions
1. How large is the area of Queensland, Australia that is currently flooded?
2. How many people have been impacted by the floods?
3. a) How has the flooding affected the coal industry in Australia? Be specific.
b) How will these disruptions affect people worldwide?
4. Read the "Background" below the questions. What additional production has been damaged by the flooding?
5. What damage does Prime Minister Gillard expect to face when the floodwaters recede?
Background
ON THE FLOODING IN QUEENSLAND:
The floods were triggered by cooling "La Nina" ocean currents that produced monsoon rains over the western Pacific and southeast Asia on the heels of months of downpours.
Queensland's interior, normally a vast outback of cattle properties, farms and mines, is now an inland sea, dotted with the roofs of flooded homes and islands with stranded livestock.
Australia is the world's biggest exporter of coking coal used for steel-making and accounts for about two-thirds of global trade. It is also the second-biggest exporter of thermal coal used for power generation.
Queensland also accounts for nearly all of the country's sugar production and export, but this year will need to buy more raw sugar from rivals Brazil and Thailand to meet sales commitments because of drenched canefields.
The industry group Canegrowers estimated up to 18 percent of the 2010 cane harvest has been abandoned and early plantings for 2011's crop were under water.
Australia is also the world's fourth largest wheat exporter. Although Queensland provides only a small fraction of the total harvest, floods could cause as much as half the crop – 10 million tons – to be downgraded to less than milling quality.
The transportation of all grain in Queensland was at a standstill. Harvesting was disrupted in many areas as machinery was unusable in sodden fields. (from telegraph.co.uk)
AUSTRALIA:
…before European settlement in the late 18th century, Australia was inhabited by indigenous Australians who belonged to one or more of roughly 250 language groups.
After discovery by Dutch explorers in 1606, Australia's eastern half was claimed by Britain in 1770 and initially settled through penal transportation [Great Britain exiled convicts] to the colony of New South Wales, formally founded on February 7, 1788.
The population grew steadily in subsequent decades; the continent was explored and an additional five self-governing Crown Colonies were established.
On January 1, 1901, the six colonies became a federation and the Commonwealth of Australia was formed.
The Federation of Australia was the process by which the six separate British self-governing colonies of New South Wales, Queensland, South Australia, Tasmania, Victoria and Western Australia formed one nation. They kept the systems of government that they had developed as separate colonies but also would have a federal government that was responsible for matters concerning the whole nation. When the Constitution of Australia came into force, on January 1, 1901, the colonies collectively became states of the Commonwealth of Australia.
Since Federation, Australia has maintained a stable liberal democratic political system and is a Commonwealth realm.
The population is 22 million, with approximately 60% concentrated in and around the mainland state capitals of Sydney, Melbourne, Brisbane, Perth and Adelaide.
The nation's capital city is Canberra, in the Australian Capital Territory. (from wikipedia)
The six states of Australia and their capitals are:
* New South Wales – Sydney
* Tasmania – Hobart
* Victoria – Melbourne
* Queensland – Brisbane
* Western Australia – Perth
* South Australia – Adelaide
The two mainland territories and their capitals are:
* Northern Territory – Darwin
* Australian Capital Territory, which is where Australia's national capital of Canberra is situated.
There are also seven external (offshore) territories.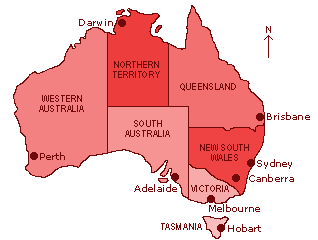 Resources
For background information on Australia, go to the U.S. State Department website at state.gov/r/pa/ei/bgn/2698.htm.
Watch a news video from Queensland below:
Daily "Answers" emails are provided for Daily News Articles, Tuesday's World Events and Friday's News Quiz.