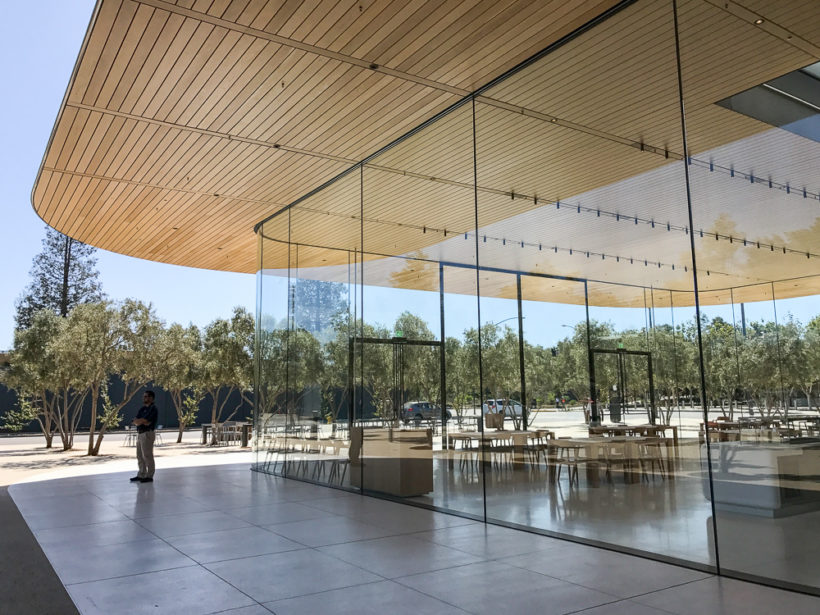 redo Jump to...
print Print...
(Compiled from articles by Sean Devlin at UK Daily Mail and CBS News) – CUPERTINO, Calif. — Apple's stunning "spaceship" campus — official name "Apple Park" — is giving some staff a headache and worse.  Apple's giant, doughnut-shape headquarters building is wrapped in glass and there's plenty more glass inside too, walling-off offices and meeting rooms — and workers literally have been walking into walls, CBS San Francisco reports.
The walls and doors are so clear, employees don't always see the panes as they hurry about their business.
The $5 billion "spaceship" campus opened at the beginning of the year, led by a coporate kickoff event led by CEO Tim Cook. "Apple Park has been built to reflect Apple's values," Cook said.
The San Francisco Chronicle got access to 911 emergency [describing] some of the incidents….
"They (injured person) are bleeding, slightly disoriented," one caller reported.
In another incident, … a male employee placed a call after he walked into one of the glass panes.
"Um, I walked it into a glass door on the first floor of Apple Park when I was trying to go outside, which is very silly," said the staffer.
The dispatcher replied, "You walked through a glass door?" – "I didn't walk through a glass door. I walked into a glass door," the staffer said.
Another injury that forced a call had employees telling the dispatcher that the victim might need stitches.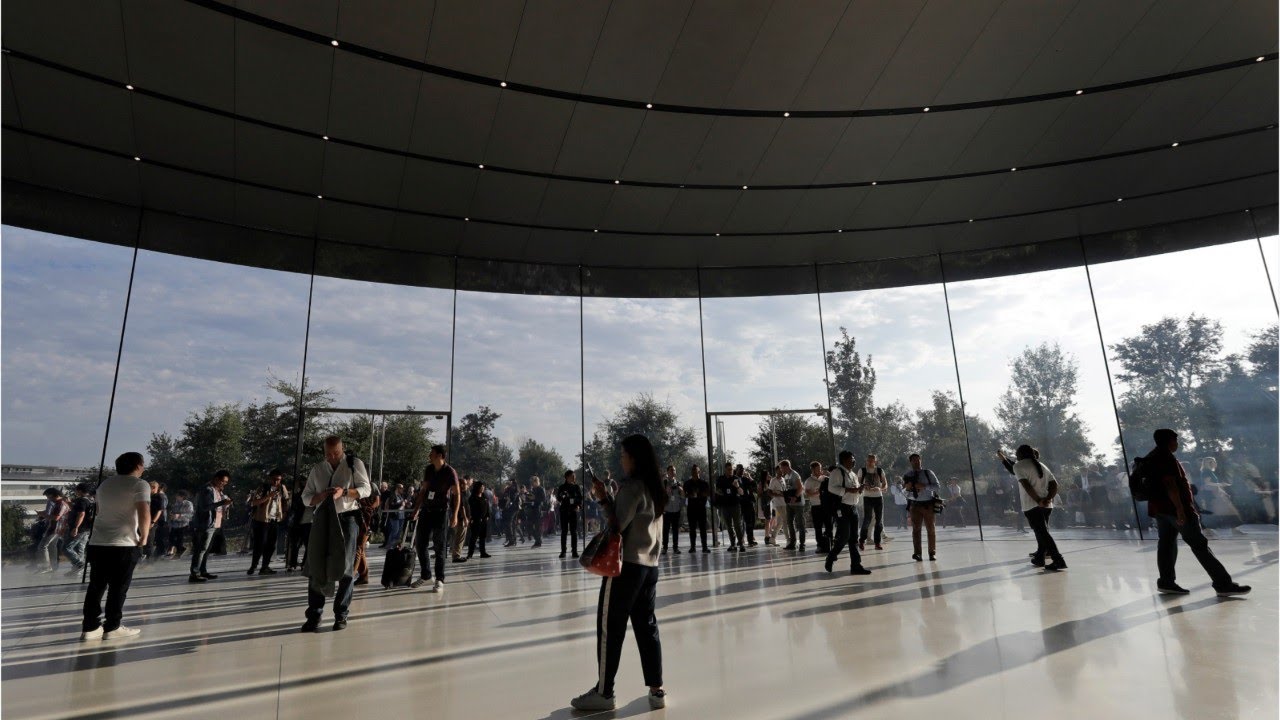 Apple's new campus sparked some concerns with Cupertino officials due to the amount of glass used when it was being built.
"We did recognize this was going to be an issue, especially when they clean the glass. When you clean the windows, you can't even tell some of them are there," said Cupertino building inspector Albert Salvador. However, he added the panes are legal and up to code.
California law says that "employees shall be protected against the hazard of walking through glass by barriers or by conspicuous durable markings," [but that code is geared toward the safety of construction workers, not office employees. There isn't a safety regulation that requires employers to protect office workers from walking into glass walls, but the state does require employers to "identify and address hazards in the workplace."]  The company has not been subject to citations, according to US Occupational Safety and Health Administration data.
Inspector Salvador told CBS San Francisco that Apple has addressed the issue by sticking small white markers on the glass panes and that, since then, there haven't been any more 911 calls.
Compiled from articles by UK Daily Mail and CBS News. Reprinted here for educational purposes only. May not be reproduced on other websites without permission.
Questions
1. What is the problem with Apple's new headquarters?
2. What was the cost of the new Apple headquarters?
3. What did the building inspector for the city of Cupertino say about the Apple Park before it opened?
4. What does California law require for employee safety?
5. How did Apple solve the problem?
6. Read the "Background" below the questions. Why do you think Apple officials did not address the problem during construction when it was pointed out to them?
Background
Apple was warned of glass danger (excerpted from a March 2 sfchronicle article):
When Albert Salvador, Cupertino's building official, visited Apple's new spaceship building last year, he worried that people would walk into the cafeteria's glass walls because they couldn't distinguish them from the equally clear automatic doors.
After he brought up the issue, a contractor walked straight into the glass. He would not be the last.
The glamorous $5 billion headquarters, called Apple Park and built for more than 13,000 employees, was championed by Apple co-founder Steve Jobs as a temple of design. He believed that the campus' glass-encased, ring-shape centerpiece could become "the best office building in the world." But in January 2018, as office workers began moving in after five years of construction, several employees walked into glass panes. It is unclear how many people hurt themselves, but The Chronicle found at least three incidents in a review of 911 audio and incident reports obtained from Santa Clara County in a public records request.
Three people suffered head injuries, including a middle-aged man who hit his head so hard against a glass window that he was bleeding on his eyebrow and expected to have stitches, according to 911 audio.
Salvador and Dirk Mattern with the Santa Clara County Fire Department said they raised concerns about the glass doors of the cafeteria, a highlight of the spaceship building, during a visit to Apple Park nine months ago. State building code requires that doors be identifiable. They were talking with one contractor when another walked into a glass wall, both men said.
"That helped form our point," Mattern said.
Apple Park's architect, Foster and Partners, a London firm that also worked on the Reichstag in Berlin, did not return a request for comment.
Apple declined to comment. But in January, Dan Whisenhunt, an Apple vice president of real estate and development, told the Rotary Club of Cupertino that birds flying into the glass had not proved much of a problem.
"Now the humans on the inside, that's a different story," Whisenhunt said. "We've had people bump into the glass. That's a problem we are working on right now."
Paola Laverde, a spokeswoman for the state's Department of Industrial Relations, said she has not heard of similar problems in other glass buildings. The division is aware of the injuries caused by people walking into the glass at Apple Park but cannot comment on whether complaints have been filed or if it is carrying out inspections, she said.
After Salvador and Mattern brought up the glass issue, Foster and Partners placed black rectangular stickers with rounded corners on the glass panes, Salvador said. The stickers were placed in the cafeteria before Salvador gave his Dec. 30 approval for Apple employees to begin moving into the main building.
"In my mind, the building is safe per the codes that I enforce," Salvador said, adding that he chiefly considers fire protection and life safety systems. "We don't look at running into glass."
Employees began moving into Apple Park's spaceship building on Jan. 2, Salvador said. The accidents began on the first day, with two men suffering head injuries, followed by a third on Jan. 4, according to the incident reports obtained by The Chronicle, which cover the beginning of January through mid-February. Afterward, Foster and Partners and Apple started putting the rectangular stickers on other parts of the building, Salvador said. The stickers were effective in preventing people from running into glass, he said.
After Jan. 4, there were no other incidents in which emergency services were called to treat people running into the glass.
Apple has used similar stickers at its retail stores.
Jobs, who died in 2011, wanted the building, with its walls of curved glass, to stand out. Architecture students would come to Cupertino to see it, Jobs predicted.
But for now, the company permits only employees to enter its building.
Resources
Watch a San Francisco Chronicle report:
Daily "Answers" emails are provided for Daily News Articles, Tuesday's World Events and Friday's News Quiz.