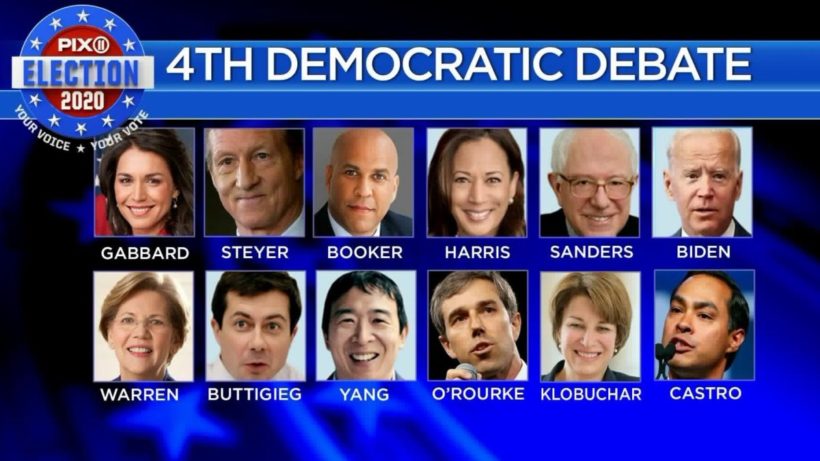 redo Jump to...
print Print...
(by Nicholas Sakelaris, UPI) — The fourth Democratic primary debate [took place] in central Ohio [last night] and featured a dozen candidates on the stage, from a still expansive pool of hopefuls in which seven failed to qualify. …
Of the 19 Democratic candidates, 12 qualified for the debate, which required more stringent criteria.
Those who [participated] include former Vice President Joe Biden, Massachusetts Sen. Elizabeth Warren, California Sen. Kamala Harris, Minnesota Sen Amy Klobuchar, former housing secretary Julian Castro, New Jersey Sen. Cory Booker, Hawaii Rep. Tulsi Gabbard, Indiana mayor Pete Buttgieg, businessman Andrew Yang, former Texas Rep. Beto O'Rourke, activist Tom Steyer and Vermont Sen. Bernie Sanders, who appeared after suffering a heart attack two weeks ago.
The debate was moderated by CNN anchors Erin Burnett and Anderson Cooper and New York Times National Editor Marc Lacey.
The debate's heightened requirements included at least 2 percent support in four early state or national polls and 130,000 unique donors. Both Steyer and Gabbard qualified this time, despite not making the cut in the third debate in Houston last month. …
Seven candidates were not on the stage — Colorado Sen. Michael Bennet, Montana Gov. Steve Bullock, Ohio Rep. Tim Ryan, former Pennsylvania Rep. Joe Sestak, former Maryland Rep. John Delaney, New Age author and lecturer Marianne Williamson and Florida mayor Wayne Messam.
Experts expect the pool to shrink further in the following primary debates. The party said last month even more stringent requirements must be met to qualify going forward — 3 percent support in the four early voting states or national polls and 165,000 unique donors.
So far, just five candidates have qualified for the Nov. 20 debate in Georgia — Biden, Warren, Sanders, Harris and Buttgieg. The venue and format have yet to be announced. …
What will they talk about?
The House's impeachment inquiry involving President Donald Trump is expected to be a topic of discussion, and how it relates to Biden's involvement over his son's [controversial] professional dealings in Ukraine. Most Democratic candidates have voiced support for the impeachment inquiry.
Healthcare is also sure to be discussed, as several candidates have unveiled plans to reform or enhance the healthcare system. Biden has said he would effectively build on the Affordable Care Act, while Sanders and Warren support "Medicare For All" plans.
Questions about the economy, the trade conflict with China, tensions with Russia and Iran and gun violence are also expected to be posed to the candidates.
Published at UPI .com. Reprinted here for educational purposes only. May not be reproduced on other websites without permission from United Press International.
Questions
NOTE TO STUDENTS: The central focus of a debate should be to provide voters with information they need to measure the suitability of the candidates for office.
Some people vote for a candidate based on the person's age, sex, race or religion. Some vote for a candidate because he/she is an interesting or dynamic speaker, is attractive, or looks like a leader.
Before you are eligible to vote, decide that you will vote for a candidate based on his/her positions on the issues, and who you think will enact policies that are best for the country, not just for you personally. (e.g. many college students say they will vote for the candidate who ensures they will not have huge student loan debt – would that be enough of a reason to elect a person president? Ask a parent.)
1. List the candidates who took part in this debate.
2. What requirements did the candidates need to meet to qualify for last night's debate?
3. List the candidates who did not make it into this 4th Democratic debate.
4. a) When is the next Democratic primary debate?
b) How will the requirements needed to qualify for the next debate change?
c) Do you think having such requirements is too much, too little or just right? Explain your answer.
5. a) Name the candidates who have qualified for the next debate.
b) Do you think any candidate who does not qualify for the next debate has a chance to win the Democratic nomination? Explain your answer.
CHALLENGE: Take time to learn about where the candidates stand on the issues, what their positions are, and what their proposals are for carrying out their plans. Most of the Democratic candidates are current or former office holders so they have a track record of what they have done to advance their agendas. Consider the following: What do they say, what have they done, what do others say about them? For what reasons do voters support them? Discuss the issues with a parent as well.
---
OPTIONAL: Watch the debate and EITHER fill in the "Primary Debate" chart OR answer the following different questions below:
a) List three questions asked by the moderator(s).
b) Which question do you think was the most important? Explain your choice.
c) For which question(s) did one or more candidates not give a direct answer, or not clearly answer the question?
d) A debate moderator's role is to act as a neutral participant in a debate, to hold participants to time limits and to try to keep them from straying off the topic of the questions being raised in the debate. Do you think the moderator(s) in this debate fulfilled this role? Explain your answer.
e) Were the moderator's questions fair to every candidate? Explain your answer.
f) Do you think the questions chosen by the moderator(s) helped viewers understand the candidates' positions on the issues? Explain your answer.
g) Did Biden, Warren and Sanders receive more time than some of the lesser known candidates? Why do you think this is so? Should they receive more time? Explain your answers.
Daily "Answers" emails are provided for Daily News Articles, Tuesday's World Events and Friday's News Quiz.