World #1 – Hong Kong Protesters appeal to Trump for help
Daily News Article — Posted on September 10, 2019
(by Thomas Maresca, UPI) HONG KONG — As protests spread across Hong Kong for a 14th straight weekend, massive numbers of demonstrators staged a peaceful rally near the U.S. Consulate General on Sunday, calling for support from Washington lawmakers and the Trump administration.
Chanting "Fight for freedom! Stand with us!" and singing The Star-Spangled Banner, tens of thousands filled the streets and parks surrounding the consulate, many of them carrying American flags.
Protesters said they were looking to Washington to pass the proposed Hong Kong Human Rights and Decency Act, which would punish officials who suppress basic freedoms in Hong Kong with measures such as freezing their U.S.-based assets and denying them entry to the country.
"We need the U.S. to add pressure," said Daniel Lee, a student attending the protest. "We have tried many other ways, but the government isn't responding to our demands. They just don't care about the Hong Kong people. But this act can do something about their assets and make them pay attention."
The bill, which was co-sponsored by U.S. Senators Marco Rubio, R-Fla.; Tom Cotton, R-Ark.;and Ben Cardin, D-Md., has bipartisan support and lawmakers have called it a priority when Congress return[ed] to work on Monday. …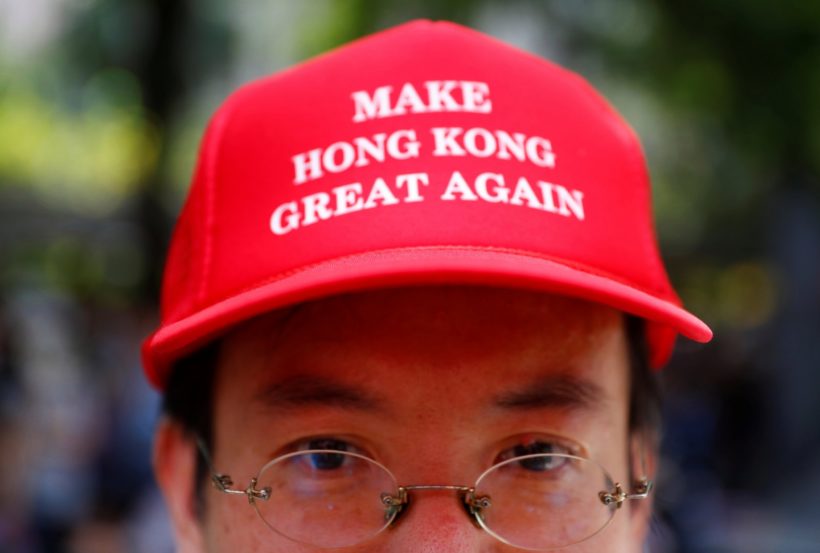 Chapman Chen, a protester wearing a red "Make Hong Kong Great Again" baseball cap on Sunday, said that Hong Kong has turned into a crucial battleground for maintaining democracy against a growing authoritarianism around the world.
"We are pleading with the U.S. to pass the act to sanction Hong Kong and Chinese authorities for gross violations of human rights," said Chen. "Hong Kong is on the front line between democracy and the Chinese model of totalitarianism and state-controlled capitalism."
A gesture this week from embattled Hong Kong leader Carrie Lam to fully withdraw the extradition bill that sparked the [protests that have taken place every weekend since it was announced in April] did little to mollify protesters. Their demands have evolved into a movement that seeks to hold onto autonomy in legal and political affairs under its "one country, two systems" arrangement with Beijing that has been in place since the 1997 handover from Britain [which the Communist Chinese government agreed to at that time].
Demonstrators Sunday chanted "Five demands! Not one less!" in reference to their platform, which calls for steps such as an investigation into police actions during the demonstrations, amnesty for arrested protesters and direct elections to choose the city's politicians.
The weekend also saw continued outbreaks of violence as protesters and riot police squared off on improvised battlegrounds all throughout the city.
On Saturday night, groups of protesters clashed with police near a makeshift memorial outside of Prince Edward subway station, the scene of a violent crackdown last weekend that saw riot police storming the station [and attacking peaceful protesters] with pepper spray and batons. [Protesters began wearing masks and respirators after the police began attacking them with pepper spray when the protests first started in April.]
A planned attempt by protesters to [peacefully] disrupt transportation to Hong Kong International Airport on Saturday was largely thwarted by police, who came out in force at train stations and ferry stops. …
Many of the demonstrators are students, and while the new school year started last week, protesters say there is no sign of the movement ebbing as a deep and lasting rift has grown between citizens and authorities.
"This is not the end," said Y.K. Chan, a recent college graduate. "Most students feel that their trusted figures, such as teachers or government leaders, can no longer be trusted. When average people see the police, they feel afraid. I think it's been traumatic for the younger generation."
Authorities, meanwhile, have continued to target high-profile Hong Kong activists with a wave of arrests in recent weeks. On Sunday, Joshua Wong, the student who became the face of the 2014 Umbrella Movement in Hong Kong, was arrested at the airport on his return from Taiwan.
Published by UPI .com on September 8, 2019. Reprinted here for educational purposes only. May not be reproduced on other websites without permission from United Press International.