The Battle of Iwo Jima
Daily News Article — Posted on March 17, 2021
Note: This article was originally posted on Feb . 21, 2020:
(Reuters) – This month marks the 75th anniversary of the start of the Battle of Iwo Jima, which saw some of the bloodiest fighting of World War Two take place on a small Japanese island 745 miles south of Tokyo.
Iwo Jima was the first native Japanese soil to be invaded during the Allied advance. Located halfway between Tokyo and Guam, it was regarded as a strategic outpost. Close to 7,000 U.S. Marines and nearly all of the 21,000 Japanese defenders of the island died during the 36-day battle.
The Japanese troops held the heavily fortified island for more than a month, supported by a network of bunkers and tunnels and hidden artillery positions.
From Feb. 19, 1945, over 500 warships and 1,000 warplanes from the U.S. navy and army pounded Iwo Jima so heavily that the shelling and bombing changed the shape of the island's highest point, Mount Suribachi, located at its southern tip.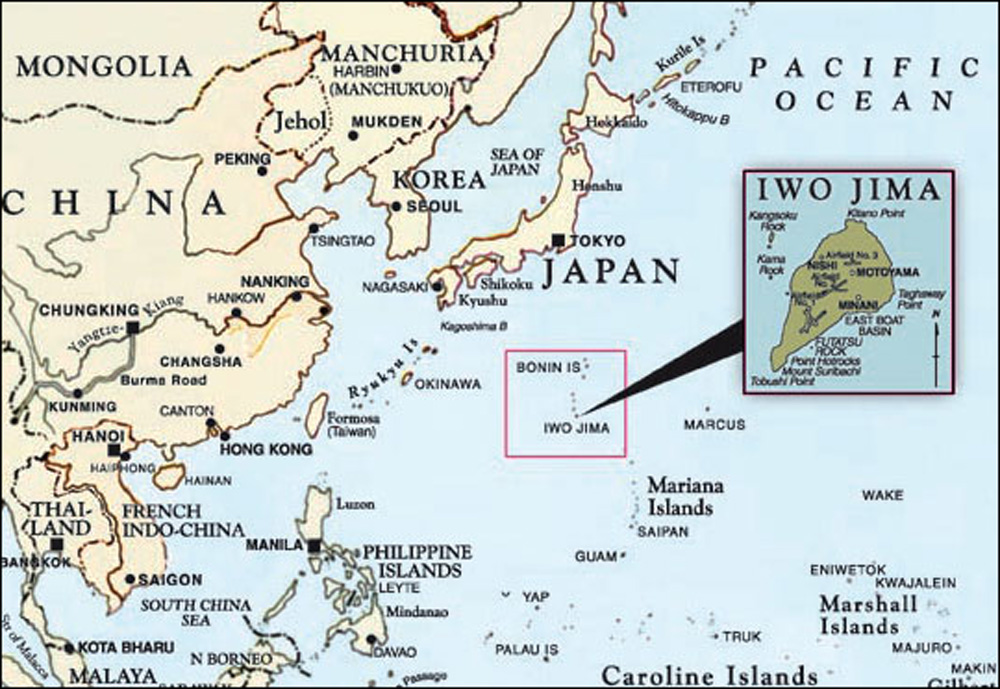 White phosphorus was used in the pre-invasion bombardment and U.S. troops wielded flame-throwers during the battle.
Mount Suribachi was captured on Feb. 23. A photograph of six U.S. marines raising a U.S. flag on the mountain, the second flag-raising that day, was taken by Associated Press photographer Joe Rosenthal and won the Pulitzer Prize for Photography that year. It later formed the subject for the Marine Corps War Memorial in Arlington, Virginia.
---
Iwo Jima veterans remember:
Gedeon LaCroix, a Marine who's now 96, was there.  LaCroix is a native of Bennington, Vermont who joined the Marines at just 19, shortly after the Japanese bombed Pearl Harbor. The Vermonter became battle-hardened fighting in Guadalcanal and the island of Bougainville. But it's the memories of Iwo Jima that still haunt him today.
"When you are trying to crawl through volcanic ash [Iwo Jima, a volcanic island, is covered with volcanic sand and ash], it's very difficult. Particularly when you're under fire," LaCroix said.
Seventy-thousand Marines landed; 7,000 would die in combat. It took more than a month to take the island. LaCroix was part of an intelligence unit taught some basic Japanese. He's credited with apprehending the first Japanese soldier to surrender. However, few did; most fought to the death.
"I shouted out 'Will you surrender?' And all of a sudden he came out just in virtual loincloths," LaCroix recalled. "The first thing I did was offer him a cigarette."
LaCroix was injured by shrapnel in that battle and was awarded a Purple Heart.
"I continue to thank the good Lord that he spared me to live a good life," LaCroix said. (from local Vermont CBS wcax.com)
---
The Boston Globe reported on a commemoration service in Massachusetts:
Stepping onto the shores of Iwo Jima 75 years ago, Larry Kirby was one of 230 Marines in his platoon prepared to fight for his country. By the time he left the island, Kirby was one of just seven men from the platoon who survived the five-week blood bath, a crucial victory during World War ll for the Allied Forces.
"So much has been written about that battle," Kirby, 95, told a packed Memorial Hall at the State House Wednesday afternoon. "Yet, to me, the best description of the battle of Iwo Jima can be found in the final six words of Admiral Nimitz: 'Uncommon valor was a common virtue.'"

"As long as there's breath in my body, I will remember those brave young men on Iwo Jima, and I will forever be in their debt."
Twenty-seven Medals of Honor, the highest military decoration, were awarded to Marines in Iwo Jima, more than any other battle in history. Three were given to Massachusetts natives: William Caddy of Quincy, William Walsh of Roxbury, and Joseph Julian of Sturbridge.
Caddy, who was just 19, is credited with saving the lives of his platoon leader and fellow Marines after he dove on a grenade and was killed. Walsh, 22, met a similar fate when he saved members of his squad by jumping on a grenade that was thrown into their trench. Equipped with a rifle, explosives, and a bazooka, Julian, 26, launched a one-man assault on enemy trenches. After knocking down multiple enemies, he was killed by machine gun fire. (read about Larry Kirby at: pritzkermilitary.org)
---
The battle for the blackened sands of an inactive volcano gave us the iconic image of the Marines raising the flag on Mt. Suribachi.
A young Marine from Marion County, West Virginia named Hershel "Woody" Williams remembered the event well.
"I saw it immediately after it went up. There were Marines around me who were yelling and screaming and firing their weapons and saying something about a flag. I didn't see it go up, but when they were doing that, I turned and we could see it. I was about a thousand yards away." said Williams in a 2019 interview on his 96th birthday.
The same day the flag went up on Suribachi, was the day Williams engaged in the fight which would eventually result in his being awarded the Medal of Honor. He took out seven Japanese gun emplacements or pillboxes to enable a breakthrough.
"They had us stalled. We couldn't move. They were inside and we're outside trying to advance toward them. Every time we'd jump up to run, they'd just mow us down. Once we got those seven eliminated, that left a hole and we could get through," he explained.
Williams used six flamethrowers to eliminate the gun emplacements over the course of more than four hours. He never got a scratch during the entire ordeal. He handpicked four fellow Marines to provide covering fire as he approached each emplacement. All four riflemen eventually were killed in the fight.
"Divine intervention I guess. They eventually got me later, but not while that was going on," said Williams.
Williams was awarded the Medal of Honor by President Harry S. Truman for his heroic efforts.