World Scene – 3/2/10
Tuesday's World Events — Posted on March 2, 2010
(World Scene from WashingtonTimes.com, from wire dispatches and Washington Times staff reports)
INDIA – Fighter jets hold drills near border
POKHRAN | Indian fighter jets pounded mock enemy bunkers close to the Pakistan border Sunday in a show of air power at a time when the two nuclear-armed rivals are trying to improve relations.
The exercise was watched by military attaches from about 30 countries but not Pakistan and China, neighbors who would be keen to take a look at India's military firepower.
Last week saw the first official talks between India and Pakistan since the militant attacks in Mumbai in 2008.
The talks ended with an agreement to keep in touch, signaling relations remain fraught despite a desire to reopen a dialogue that India suspended after the Mumbai killings.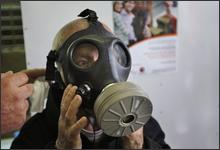 ISRAEL – Citizens given gas masks
JERUSALEM | Israel began distributing new gas masks to its 7 million citizens on Sunday to offer protection against a possible chemical attack. Israel's postal service is handing out the equipment. The process will take about three years.
The Israeli military says it is routine and not in response to a specific threat. Israel believes a chemical attack could potentially come from Syria or Iran.
Israel has distributed gas masks and kits with antidotes in the past, beginning with the first Persian Gulf war in 1991. Three years ago, Israel recalled masks after some components passed their expiration date.
EGYPT – Blogger to face military trial
CAIRO | A blogger detained for writing a post critical of Egypt's armed forces will face trial in a military court this week, a Cairo-based rights group said Sunday.
Egypt's military prosecutor charged Ahmed Moustafa, 21, with "disseminating false information about the armed forces," Mohamed Mahmoud, a lawyer from the Arabic Network for Human Rights Information, told Reuters news agency.
Mr. Moustafa's trial begins Monday, Mr. Mahmoud said.
Intelligence agents detained Mr. Moustafa on Thursday in Kafr el-Sheikh, a city north of Cairo, for posting a blog in February 2009 criticizing the suspension of a cadet from the Egyptian Military Academy, Mr. Mahmoud said.
YEMEN – 21 held in south; protests continue
ADEN | Separatists demonstrated in southern Yemen on Sunday after security forces arrested 21 people accused of rioting, residents and officials said.
People traveling to Aden said demonstrations continued for a second day in the main southern city and in the provinces of Abyan and Dalea, also in the south of the poorest Arab country.
Demonstrators, some carrying the flag of the former South Yemen, which united with the north in 1990, blocked the main road linking Aden with Dalea, they said.
The protests were timed to coincide with a two-day meeting of Yemen donors in the Saudi capital Riyadh. Marchers and speakers at rallies called on the meeting to address the unresolved conflict in the south.
GAZA STRIP – Hamas seeks to extend detention of Briton
GAZA CITY | A Gaza military prosecutor wants to extend the detention of a British journalist, claiming he poses a security threat, a Hamas government official said Sunday.
Free-lance journalist Paul Martin has been held in Gaza since Feb. 14, the first foreigner to be arrested since Hamas seized control of the territory in 2007.
Mr. Martin's initial 15-day arrest warrant expires Monday. At that time, a prosecutor will ask a court to keep him in custody, said Hamas Interior Ministry spokesman Emad Ghussein.
Hamas officials have not made specific accusations against Mr. Martin, but Mr. Ghussein has said the journalist poses a threat to Gaza's security.
NOTE: The World Scene above was published at WashingtonTimes.com on Monday, March 1, 2010.
Copyright 2009 News World Communications, Inc. Reprinted with permission of the Washington Times. For educational purposes only. This reprint does not constitute or imply any endorsement or sponsorship of any product, service, company or organization. Visit the website at washingtontimes.com.