World #3 – U.S. brokers agreement between Serbia and Kosovo
Tuesday's World Events — Posted on September 15, 2020
(AP at CBS News) — President Trump announced Friday that Serbia and Kosovo have normalized economic ties as part of U.S.-brokered talks that include Belgrade moving its Israeli embassy to Jerusalem, and Israel and Kosovo agreeing to mutual recognition.
[The announcement and a multi-faceted agreement between the two countries followed months of diplomatic talks led by Richard Grenell, the U.S. ambassador to Germany, who was named special envoy for Serbia-Kosovo relations by President Trump in 2019.  On January 2020, due to U.S. mediation, Serbia and Kosovo agreed to restore flights between their capitals for the first time in more than two decades].
On Friday, after two days of meetings with Trump administration officials in Washington, Serbian President Aleksandar Vucic and Kosovo's Prime Minister Avdullah Hoti agreed to cooperate on a range of economic fronts to attract investment and create jobs. The announcement provided Mr. Trump with a diplomatic win ahead of the November presidential election and furthers his administration's push to improve Israel's international standing.
"I'm pleased to announce a truly historic commitment," President Trump said in the Oval Office, standing alongside the two leaders, who signed an economic cooperation agreement. "Serbia and Kosovo have each committed to economic normalization."

"After a violent and tragic history and years of failed negotiations, my administration proposed a new way of bridging the divide. By focusing on job creation and economic growth, the two countries were able to reach a major breakthrough," the president said.  …..
Kosovo's Parliament declared independence from Serbia in 2008, nine years after NATO conducted a 78-day airstrike campaign against Serbia to stop a bloody crackdown against ethnic Albanians in Kosovo.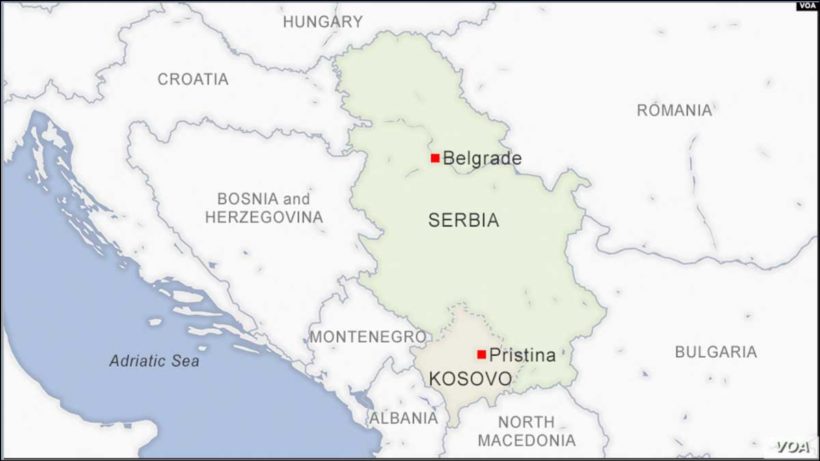 Most Western nations have recognized Kosovo's independence, but Serbia and its allies Russia and China [have refused to do so, thereby blocking Kosovo from becoming a UN member]. The ongoing deadlock and Serbia's unwillingness to recognize Kosovo have kept tensions simmering and prevented full stabilization of the Balkan region after the bloody wars in the 1990s.
"These were difficult talks for us, but I'm truly satisfied," Vucic told Serbian reporters in Washington.
He stressed that the economic agreement does not include "mutual recognition" between Serbia and Kosovo. [However, under the terms of the agreements signed, for a period of one year as the economic agreements are implemented, Serbia will suspend its efforts to encourage other states to either not recognize Kosovo or to revoke existing recognition. In return, Kosovo will not apply for new membership in international organizations for the same time period].  Vucic hailed the talks as a big victory for Serbia and a step toward closer ties with the U.S. Despite officially seeking membership in the European Union, Serbia has been forging close political, economic and military ties with Russia and China.
Hoti described the economic cooperation as a "huge step forward" in the relationship and said the two leaders were committed to working together.
Serbia and Kosovo have already OK'd air, rail and transit agreements, including one that would clear the way for the first flight between Pristina and Belgrade in 21 years. [The agreement also includes measures to improve transport infrastructure and border crossings, cut trade tariffs and share energy and water resources].
The new agreement comprises many more areas of economic cooperation. Business leaders in both nations have been frustrated and have been talking among themselves about ways to foster investment outside of the ongoing political talks brokered by the EU.
Background
During a press conference following the historic agreement, which President Trump held in the White House with the Prime Minister of Kosovo and the President of Serbia, several Trump officials spoke: (see videos under "Resources" below)
National Security Advisor Robert O'Brien said regarding the U.S. brokered agreement between long-time enemies Serbia and Kosovo:
"We brought together — through the hard work of great diplomats, primarily led by Ric Grenell, acting at the President's direction — Serbia and Kosovo. And they've normalized their economic relations…. The Serbia-Kosovo conflict has gone on for decades. They've been stuck, unable to move forward, for many, many years."

And the President, sometime ago, decided that we try — we needed to try something creative and try something new, break the deadlock and bring — try to move forward with the peace process with Serbia and Kosovo. ...
Special Envoy for Serbia and Kosovo — the Presidential Envoy for Serbia and Kosovo, Ambassador Ric Grenell explained:
What we've been able to accomplish here by pushing the two parties together is truly historic. The way that this came about is that the politics were stuck. Everybody knows that. We've been fighting and talking about the same thing for decades. They have been fighting about the same symbolism, words, verbs, adjectives. It's been a nightmare.

And what President Trump said to me was, "They're fighting politically about everything. Why don't we give it a try to do something different and creative? Why not try to do economics first and let the politics fall — follow the economics?" That proved to actually be a formula that they were eager for. No one had been talking to them about this.

I ask you [reporters] to look at this agreement and see all of the details that have been hard-fought negotiated that will move both economies and the entire region forward. This is economic normalization….

.....   The last thing I'll say before we turn it over to Jared: The people of Serbia and the people of Kosovo are ecstatic about this agreement and are very thankful that there was an outside administration to look at this situation and not do the typical political thing. If we would have done the typical political thing and listened to all of the really smart people at NGOs and think tanks here in Washington, D.C., we would not have this agreement.
Read the entire "Press Briefing with Ambassador O'Brien and Ambassador Grenell..." (September 4, 2020).  Watch Ambassador O'Brien and Ambassador Grenell's comments at c-span (ends at 9:21)
---
As part of the agreements, Serbia and Kosovo also:
Agreed to join the Mini Schengen Zone.
Each sides will recognize the diplomas and professional certificates from the other.
Serbia agreed to move its Israeli embassy to Jerusalem from Tel Aviv in July 2021, and Israel and Kosovo agreed to a mutual recognition of each other and establishment of diplomatic relations.
Kosovo also announced that they would locate their embassy in Jerusalem.
In doing so, Serbia will become the first European, and Kosovo the first Muslim majority nation, to have embassies in Jerusalem. (Kosovo is a secular state; 88% of its population is Muslim.)
Each sides will remove 5G equipment from their mobile networks provided by what was termed "untrusted vendors" from their mobile networks, and to prohibit such vendors from bidding in the future. Officials from Serbia and Kosovo said this was a reference to Chinese companies such as Huawei Technologies.
Both sides pledged to protect and promote freedom of religion, including renewed interfaith communication, protection of religious sites and implementation of court decisions regarding the Serbian Orthodox Church, continued restitution of Holocaust-era heirless and unclaimed Jewish property.
The agreements also contain provisions where both Serbia and Kosovo designate Hezbollah as a terrorist organization and support the decriminalization of homosexuality around the world. (Read more at wikipedia)