World #3 – Belarus fighter jet diverts airplane, opposition journalist arrested
Tuesday's World Events — Posted on May 25, 2021
A Ryanair flight from Athens, Greece to Lithuania was reportedly escorted by a fighter jet to the Belarus capital of Minsk, where journalist Roman Pratasevich, 26, was arrested during a seven-hour grounding.
"I saw this Belarusian guy with girlfriend sitting right behind us," said passenger Marius Rutkauskas when the plane later arrived at its final destination in Vilnius, Lithuania's capital. He freaked out when the pilot said the plane is diverted to Minsk. He said there's death penalty awaiting him there."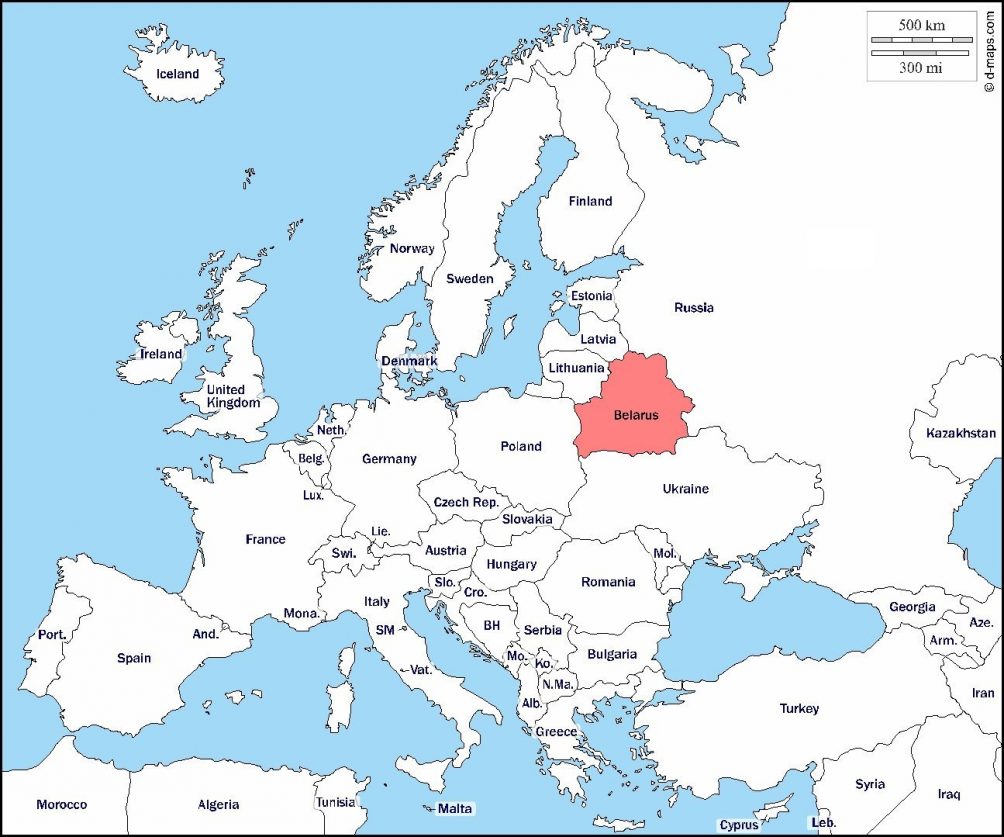 Pratasevich is the founder of the Nexta channel on the Telegram app, which Belarus has declared extremist after users coordinated protests on Nexta against President Alexander Lukashenko. [Lukashenko, who has ruled Belarus for 26 years, heads an authoritarian government and has often been referred to by media outlets as "Europe's last dictator"].
"We sat for an hour after the landing," Rutkauskas said. "Then they started releasing passengers and took those two. We did not see them again."
Ryanair was notified of a "potential security threat" by Belarus but "nothing untoward was found" before the plane was cleared to take flight again, the airline said in a statement. Belarus had notified the airline of a bomb threat but no explosives were found, according to the AP. …..
Lithuania's government issued a response calling the move an attack on Lithuania and a signal to the European Union and other countries.
"This is the act of state terrorism directed against the security of citizens of the European Union and other countries, civil society of Belarus seeking asylum from the regime's persecution, as well as international civil aviation," the statement said.

"The airspace of Belarus is unsafe for everyone," the statement went on. "The EU must take effective measures to protect all individuals, regardless of their nationality, who are at risk from inadequate actions of the regime."
Lithuania's foreign minister, Gabrielius Landsbergis said:
"Belarusian airspace is completely unsafe for any commercial flight, and it should be deemed this not only by the EU but by the international community. Because now, this instrument could be used for any plane crossing Belarusian airspace."
After the plane arrived in Vilnius, Lithuanian Defense Minister Arvydas Anusauskas said Pratasevich's girlfriend and four other people did not reboard.
"We will find out who are the other four that did not travel with the rest. Lithuania has launched an investigation to find out what really happened on that plane," he said on Facebook.
Lukashenko was the declared winner of a sixth term last year, but his win sparked protests in the country. Police detained roughly 30,000 people as a result.
[Wikipedia notes: Elections in Belarus are not considered to be free and fair by international monitors, opponents of the regime are repressed, and the media is not free, leading to sanctions on Lukashenko and other Belarusian officials being imposed.
His disputed victory in the country's 2020 presidential election led to widespread allegations of vote rigging, which strongly amplified anti-government protests, the largest during his rule.
Protesters have faced violent persecution by the authorities. A statement by the United Nations Human Rights Office on September 1 cited more than 450 documented cases of torture and ill-treatment of detainees….
Following the contested election, Lukashenko is not recognized by the United Kingdom, European Union and the United States as the legitimate president of Belarus].
Published by NYPost .com with Post wires on May 23, 2021. Reprinted here May 25 for educational purposes only. May not be reproduced on other websites without permission from the New York Post.
Questions
[PLEASE NOTE: Posting will end for the school year on Friday, May 28th.]
NOTE: Before answering the following questions, read the "Background" and watch the videos under "Resources" below.
1. List the who, what, where and when of the news item.
2. a) What is Belarusian president Alexander Lukashenko's nickname?
b) For how long has Lukashenko been in office?
3. For what reason did Lukashenko order the diversion of the commercial flight?
4. Which countries do not recognize Lukashenko as the legitimate president of Belarus?
5. How does Lithuanian's government want the international community to respond?
6. Exiled opposition leader Sviatlana Tsikhanouskaya called on the International Civil Aviation Organization to begin an investigation. "It is absolutely obvious that this is an operation by the special services to hijack an aircraft in order to detain…Pratasevich," she said in a statement. "Not a single person who flies over Belarus can be sure of his safety."
Government officials from the EU and U.S. made statements saying they were "concerned," by the diversion of Pratasevich's commercial flight and his arrest was "unacceptable" and it was "shocking."
Belarus is a member of the United Nations. President Biden could do more than issue statements through Secretary of State Blinken. The U.S. Ambassador could call for an emergency meeting at the UN and have the UN demand that Belarus release this journalist.
a) Should he do so?
b) Do you think he will do so?
c) Should the U.S. and our allies impose strict sanctions on Belarus?
Explain your answers.
Background
After the Ryanair Flight had already begun its descent into the Lithuanian capital, the pilot announced that the plane would be suddenly diverting to Minsk, capital of neighboring Belarus. There was no explanation.
Belarusian dissident journalist Roman Protasevich, who is wanted in Belarus for his role in broadcasting huge opposition protests in Minsk last year, did not have much time. Minsk is less than 125 miles from Vilnius. The diversion would take minutes.  He stood up from his seat, reaching into the overhead locker, pulling a laptop computer from his hand luggage and passing it to a female companion along with his mobile phone.
"When it was announced they were going to land in Minsk, Roman stood up, opened the luggage compartment, took luggage and was trying to split things," said a Lithuanian passenger, who gave his name only as Mantas.  "I think he made a mistake. There were plenty of people so he could give the things to me or other passengers and not the girlfriend, who was also I think arrested."  (Reuters, May 23, by Andrius Sytas)
---
Belarus is an important corridor between Europe and Moscow or southeast Asia and Europe, according to Flightradar 24. Tim Hepher reported May 23 for Reuters:
Lawyers say Sunday's flight was emblematic of a tangle of jurisdictions that share a delicate co-existence in aviation - involving a Polish-registered jet flown by an Irish group between EU nations Greece and Lithuania, over non-EU Belarus.
Under the 1944 Chicago Convention (treaty), each country has sovereignty over its own airspace, though the treaty prohibits any use of civil aviation that may endanger safety.
But the right to overfly other countries is enshrined in a side treaty called the International Air Services Transit Agreement, of which Belarus is not listed as a member. Non-treaty members grant overflights according to varying rules.
A separate 1971 treaty that includes Belarus outlaws the seizure of aircraft or knowingly communicating false information in a way that endangers aircraft safety.
The European Union Aviation Safety Agency (EASA) said it was "monitoring the situation from the safety perspective."
---
Roman Pratasevich was involved in demonstrations against Lukashenko's regime as a teenager and was later expelled from the journalism program at the government controlled Belarusian State University. He was always at the front lines of protests, according to fellow activists.
Franak Viacorka, adviser to Lukashenko's opponent in last year's election, Svetlana Tikhanovskaya, told CNN that Pratasevich was extremely courageous at demonstrations, even as a minor, and was arrested countless times.
Pratasevich co-founded the Telegram channel NEXTA in 2015. Its popularity exploded around last year's elections, not least because it was one of the few platforms that people in Belarus could access. In one week, it gained more than 800,000 new subscribers, and now has 1.2 million members -- a huge following in a country of 9.3 million people.
Viacorka said Protasevich "Could present information in very clear terms so people could understand what was happening. He was always challenging Lukashenko personally, so he became the personal enemy of Lukashenko."
Not only did NEXTA swiftly upload photos and videos of protests sent by eye witnesses, it also offered advice on how to deal with the security forces. And in the absence of a clear protest leader -- after most vocal activists had been detained or exiled -- the channel became a reliable source of verified information for protesters to coordinate their moves.
"This is very important in a dictatorship," said Viacorka, "because a dictatorship tries to create noise, and these Telegram channels reveal the truth and the corrupt nature of the regime."
Last week Protasevich went to Greece and photographed the opposition leader Tikhanovskaya, an experience he described on Twitter as "insanely cool."
But he was also worried by events at home. The regime had begun taking retribution against his family in Belarus. He tweeted earlier this month:
"Lukashenko has ordered to strip my father of his military rank. My father served in the military for 29 years and quit in the autumn 2019."
Protasevich had previously said that his family had not been involved in the protest movement.
Kanstantsin Dzehtsiarou, a professor in human rights law at the University of Liverpool, told CNN, "Although Protasevich is currently wanted as a suspect under Article 293 (maximum punishment 15 years in prison) there is a chance that he will be indicted with a more severe crime, and then the death penalty is not excluded. But knowing the conditions in Belarusian prisons, I would worry about his ill-treatment." (CNN, May 24 by Tim Lister)