(from France24.com) – A massive fire broke out at an illegal pipeline tap in central Mexico on Friday, killing at least 79 people and injuring 74 more, just as the government wages a major crack-down on fuel theft.
Over 85 other people on Saturday were listed as missing a day after a massive fireball erupted at an illegal pipeline tap in the small town of Tlahuelilpan, about 62 miles north of Mexico City.
Scores of locals with jerry cans and buckets had been collecting gasoline that was gushing from a leaking pipeline when an explosion occurred, according to witnesses.
Video taken in the aftermath showed desperate people fleeing the scene, screaming for help, as the enormous fire lit up the night sky in Tlahuelilpan, in Hidalgo state.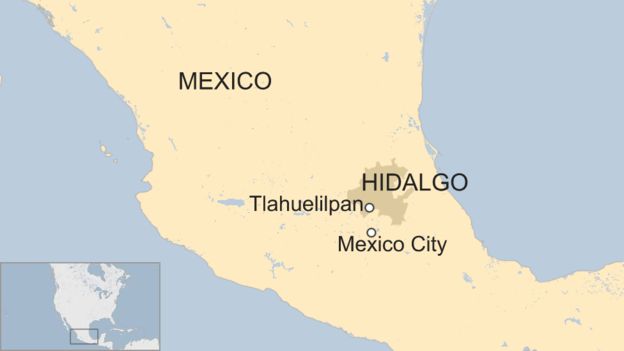 President Andres Manuel Lopez Obrador traveled to the scene in the early hours of Saturday.
The Hidalgo state governor Omar Fayad announced the new death toll on Saturday, as can be seen in the tweet below:
"I went just to see what was happening, and then the explosion happened. I rushed to help people," said Fernando Garcia, 47. "I had to claw through pieces of people who had already been burned to bits," he told AFP.
The tragedy came just three weeks after newly inaugurated President Lopez Obrador launched an offensive against fuel theft gangs drilling dangerous, illegal taps into pipelines an astounding 12,581 times in the first 10 months of 2018, an average of about 42 per day. The problem has cost Mexico an estimated $3 billion in 2017.
"I am deeply saddened by the suffering in Tlahuelilpan caused by the explosion of a pipeline," the leftist leader Obrador wrote earlier on Twitter. "I call on the whole government to assist people there."
Federal and state firefighters and ambulances run by state-owned oil company Pemex rushed to help victims with burns and take the wounded to hospitals.
The flood of patients overflowed local clinics and hospitals, said AFP correspondents at the scene.
Security Minister Alfonso Durazo said around midnight that the fire had been brought under control.
Pemex said it was also responding to another fire at a botched pipeline tap in the central state of Queretaro, though in that case there were no victims.
Mexico is regularly rocked by deadly explosions at illegal pipeline taps, a dangerous but lucrative business whose players include powerful drug cartels and corrupt Pemex insiders.
…The roots of the fuel theft problem run deep in Mexico, where the practice known locally as "huachicoleo," or moonshining is big business for some communities. …
(Published on January 19 by FRANCE 24 with AFP and AP. Reprinted here for educational purposes only. May not be reproduced on other websites without permission from France24.)