World #2 – Biden allows Russian pipeline after blocking Keystone Pipeline in U.S.
Tuesday's World Events — Posted on May 25, 2021
Note:  Russia's Nord Stream pipelines will give Russia dominance over Europe's natural gas markets, at the expense of the U.S. and other countries, and by purposely bypassing Ukraine and Poland, make it easier for Russia to potentially shut off gas supplies to Eastern Europe.
---
(by Dan DeLuce, NBC News) WASHINGTON — The Biden administration has decided to waive sanctions against the company overseeing the construction of Russia's Nord Stream 2 gas pipeline to Germany, despite bipartisan opposition in Congress and appeals from Eastern European governments.
Republican lawmakers immediately accused the administration of handing Russian President Vladimir Putin a major political victory. Democrats urged the White House to reconsider, and the Kremlin called the news a "positive signal."
The State Department announced the decision in a report to Congress. The move was first reported by Axios.
Secretary of State Antony Blinken opted to waive sanctions against the Russian-owned company behind the pipeline, Nord Stream 2 AG, as well as its German CEO, Matthias Warnig, and other corporate officers, because sanctions "would negatively impact U.S. relations with Germany, the EU and other European allies and partners," said the State Department report, which was obtained by NBC News.
Warnig, a longtime ally of Putin's, is a former East German Stasi [secret police] intelligence officer who has served on the supervisory boards of major Russian companies.
The State Department report said "close cooperation" with Germany, the European Union and other European countries will be critical for U.S. efforts to tackle the Covid-19 pandemic, promote a global economic recovery, fight climate change and address other challenges, including countering "malign behavior by Russia and China."
Sen. Bob Menendez, D-N.J., chairman of the Foreign Relations Committee, denounced the decision in a scathing statement.
"I am opposed to the decision by the Biden administration to waive sanctions on NS2 AG and Matthias Warnig. I urge the administration to rip off the Band-Aid, lift these waivers and move forward with the congressionally mandated sanctions," Menendez said.

"The administration has said that the pipeline is a bad idea and that it is a Russian malign [harmful; evil]  influence project. I share that sentiment, but fail to see how today's decision will advance U.S. efforts to counter Russian aggression in Europe," he said.
Menendez asked, "What does the [Biden] administration now expect from Germany after having made this significant concession to exercise the waiver?" He said the decision "has created uncertainty in many corners of Europe and I expect to hear very soon from the administration on its plans moving forward."
Sen. Jeanne Shaheen, D-N.H., [also opposed Biden's hypocrisy]:
"Completion of [the Nord Stream 2] pipeline poses a threat to U.S. security interests and the stability of our partners in the region. The administration should uphold its commitment to Congress. Every option available to prevent its completion should be utilized," Shaheen said in a statement.
Although several European governments and members of both parties in Congress strongly oppose the project, German Chancellor Angela Merkel's government had quietly lobbied the administration not to impose sanctions that would block the completion of the pipeline, which runs under the Baltic Sea to Germany.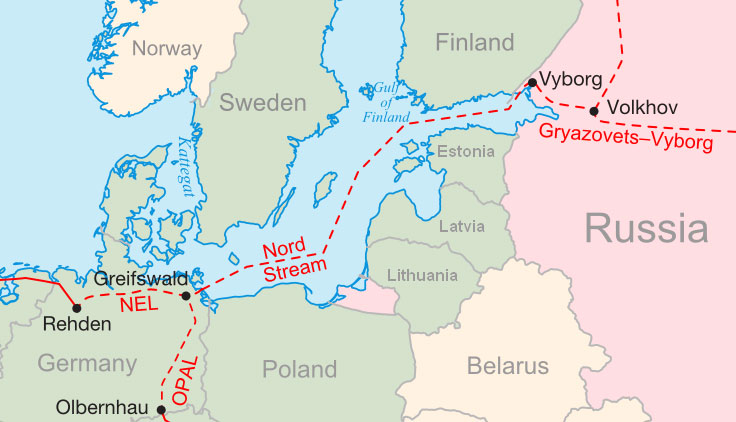 The Biden administration sought to balance the need to counter Russia with its desire to repair relations with Germany, which were badly strained during the Trump administration. But critics said that the [Biden] administration had failed to fulfill its vows to stand up to Moscow and that the move would give Putin valuable leverage over Ukraine and other Eastern European states.
"It demonstrates that ultimately standing up to Russia was of less importance," said John Herbst, a retired career diplomat who was U.S. ambassador to Ukraine. "It really undercuts Biden's 'I'm-tough-on-Russia' stance.'" …
Some career diplomats opposed the decision, but the White House overruled their objections, two sources familiar with the discussions said.
Russia currently has to transport natural gas through Ukraine to Europe. The controversial Nord Stream 2 pipeline would bypass Ukraine, depriving it of transit revenues and making it potentially more vulnerable to Russian aggression, Herbst and other opponents of the project say.
In the report to Congress issued Wednesday, which was required under recently passed legislation, the State Department had to list entities that are involved in the Nord Stream 2 project that merit sanctions. The State Department told Congress that it will only sanction eight ships that are supporting the pipeline's construction.
The report acknowledged that the company running the project, Nord Stream 2 AG, and its CEO, Warnig, are involved in sanctionable work. But it said the Biden administration had decided to waive enforcing the sanctions on the Russian-owned company, Warnig and other corporate officers.
The decision means vessels working on the pipeline could be penalized but not the company that contracted them to do the work, Nord Stream 2 AG, which is owned by the Russian state oil giant Gazprom and is based in Switzerland.
The decisions "demonstrate the Administration's commitment to energy security in Europe, consistent with the President's pledge to rebuild relationships with our allies and partners in Europe," Blinken said in a statement. He added that the administration would continue to oppose the completion of the pipeline: "Our opposition to the Nord Stream 2 pipeline is unwavering."
Blinken met with his Russian counterpart, Foreign Minister Sergey Lavrov, in Iceland on Wednesday.
The Russia-to-Germany pipeline has been a source of tension between Washington and Berlin for years. Merkel claims that it is a purely commercial matter that should not be subject to geopolitics or linked to human rights concerns.
Nord Stream 2 would double the shipments of Russian natural gas to Germany, providing German industry with inexpensive energy as the country makes a transition from coal and nuclear energy to renewable sources.
The pipeline is more than 90 percent complete, and opponents argued that failing to act quickly would allow it to be completed.
Poland and Ukraine have appealed publicly and privately to the Biden administration in recent months to act promptly to stop the pipeline.
"We continue to count on the United States to take decisive action to stop the construction of the Nord Stream 2 gas pipeline; it is still not too late," the Polish Embassy in Washington said in an email Wednesday. Many countries perceive Nord Stream 2 as a project visibly marked by geopolitics, aiming to strengthen the position of Russia as a major gas supplier to Europe and to undermine Ukraine and the entire region's energy security," it said. …
Republican lawmakers [criticized] the decision, accusing the administration of showing weakness, defying Congress and failing to live up to its tough rhetoric about Russia.
"Stunning. In defiance of U.S. law, Biden is actively helping Putin build his pipeline," tweeted Sen. Ted Cruz, R-Texas. "Objectively speaking, the Biden administration is shaping up to be the most pro-Russia administration of the modern era." …
Published at nbcnews .com on May 19, 2021. Reprinted here for educational purposes only. May not be reproduced on other websites without permission.
Background
As Axios has previously reported, the completion of Nord Stream 2 would be a huge geopolitical win for Putin and give him substantial new leverage in Europe.
Russian gas currently has to pass through Ukraine on its way to Europe. Bypassing Ukraine with a direct pipeline to Germany is an opportunity for Russia to advance its goal of isolating its former client state, now a fledgling democracy, from Western Europe.
Russia has a long track record of cutting critical supplies to its neighbors during disputes, including cutting off gas to Ukraine.
The pipeline could be finished by the summer without a major intervention to stop it.
A State Department spokesperson told Axios the Biden administration...would "continue to underscore U.S. strong, bipartisan opposition to this Russian malign influence project."
"The Biden administration has been clear that the Nord Stream 2 pipeline is a Russian geopolitical project that threatens European energy security and that of Ukraine and eastern flank NATO allies and partners," the spokesperson said.
[The removal of santions against Russia's Nord Stream] seems at odds with Secretary of State Antony Blinken's statement, made during his confirmation hearing. He said in part: "I am determined to do whatever we can to prevent that completion" of Nord Stream 2. (from an Axios report, May 18)
---