World #2 – Bahamas: U.S. Coast Guard and cruise ships to the rescue
Tuesday's World Events — Posted on September 10, 2019
(by Erik Bojnansky, Reuters) – Hundreds of weary Bahamians, some carrying small bags of belongings and children on their hips, disembarked a cruise ship in south Florida on Saturday after fleeing the catastrophic devastation left by Hurricane Dorian.
The evacuees arrived at the Port of Palm Beach after an all-night voyage on the Grand Celebration, a cruise ship operated by Bahamas Paradise Cruise Line, which offered free passage to the U.S. to a limited number of Bahamians.
"I feel lost between a rock and a weary line but I guess I will make it through," said Thomas Stubbs soon after he got off the ship.
The 42-year-old owner of an air conditioning and refrigeration business in Freeport said he will gather building supplies and return to that city in the next few days to help repair the homes of about 50 family and friends.
"I have a lot, a lot, a lot of stuff lost but I will be back," he said.
Stubbs was one of about 1,100 evacuees who made the 72- nautical-mile journey from Freeport. Thousands had tried to get on board.
Lanell Andrews, 30, arrived with her one-year-old twins who rode in a double stroller.
"We had to do what we had to do. You had to leave," said Andrews, who will drop off her children with relatives and return to help rebuild her water-damaged home with her husband who remained in Freeport.

"One step at a time," she said. "We are just trying what we can do and hope for the best."
Hurricane Dorian, the most powerful hurricane on record to hit the Bahamas, parked itself over part of the archipelago for almost two days earlier [last] week, pummeling it with Category 5 winds, with some gusts topping 200 miles per hour.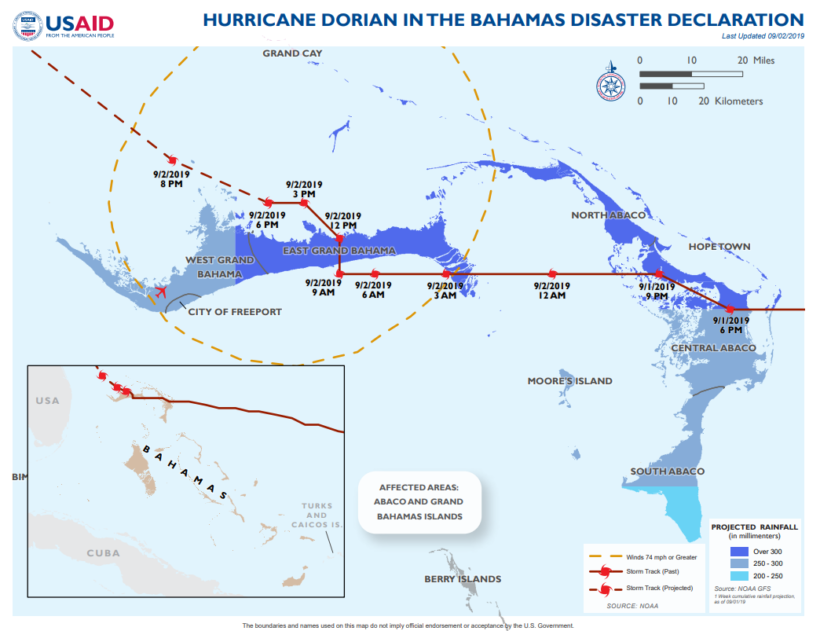 Bahamas leaders believe hundreds and perhaps thousands are missing in the nation of about 400,000 people. The official death toll, which stood at 43 on Friday, was expected to rise sharply.
Sophia Morley, a 47-year-old guidance counselor employed by the ministry of education, arrived with her 15-year-old daughter and 74-year-old mother who is blind in one eye and suffers from dementia. Morley wanted to leave her loved ones with friends or relatives in the area until her Bahamas home again has electricity and water. She was not sure where they will stay.
"I have more questions than answers," Morley said. "We like certainty. But I believe it is going to be alright."
Officials checked the evacuees' passports and visa documents before they were allowed to board the cruise ship in Freeport. At the Port of Palm Beach, they were greeted by Immigration and Customs Enforcement agents, who again checked their documents.
They were also met at the port, located about 75 miles north of Miami, by friends, relatives, paramedics and volunteers. A row of blue buses stood ready to transport evacuees.
[The Miama Herald reported "Yaremi Farinas, a Port of Palm Beach public information officer, said that as of midday Saturday, none of the passengers disembarking had requested to be taken to a shelter. Instead, all of them had arranged for a family member or a friend to pick them up.].
Background
The U.S. Coast Guard has rescued 295 people in the Bahamas since Hurricane Dorian started pounding the islands.
Seven Jayhawk helicopters and five MH-65 dolphin helicopters are on continued search and rescue missions on the devastated islands of Grand Bahama and Abaco, the US Embassy in Nassau tweeted.
The Coast Guard said eight cutters are also providing hurricane response support in the Bahamas.
"They will continue working around the clock to rescue as many people as they can," the embassy said. Bahamian security forces were organizing evacuations on a landing craft. Other boats, including yachts and other private craft, were also helping to evacuate people. (from a Sept. 7 NY Post article)
Read "4 Ways USAID is Responding to Hurricane Dorian in the Bahamas"
---
About The Bahamas:
Lucayan Indians inhabited the islands when Christopher COLUMBUS first set foot in the New World on San Salvador in 1492.
British settlement of the islands began in 1647; the islands became a colony in 1783.
Piracy thrived in the 17th and 18th centuries because of The Bahamas close proximity to shipping lanes.
Since attaining independence from the UK in 1973, The Bahamas has prospered through tourism, international banking, and investment management, which comprise up to 85% of GDP.
Because of its proximity to the US - the nearest Bahamian landmass being only 50 miles from Florida - the country is a major transshipment point for illicit trafficking, particularly to the US mainland, as well as Europe. US law enforcement agencies cooperate closely with The Bahamas, and the US Coast Guard assists Bahamian authorities in coastal defense through Operation Bahamas, Turks and Caicos, or OPBAT. (from the CIA World FactBook)