World #1 – US Navy seizes thousands of assault weapons from ship allegedly sent by Iran
Tuesday's World Events — Posted on May 11, 2021
(by Lee Brown, NY Post) — Wild images show thousands of assault weapons, machine guns and sniper rifles the US Navy says it found on a sailing ship believed to be bringing them from Iran to support the war in Yemen.
The guided-missile cruiser USS Monterey discovered the weapons hidden aboard a dhow, a traditional Mideast sailing ship spotted in the northern reaches of the Arabian Sea off Oman and Pakistan, the Navy said Sunday alongside images and video of the arsenal laid out.
The huge cache was found below deck, most wrapped in green plastic, officials said of the two-day operation that started Thursday.
It included nearly 3,000 Chinese Type 56 assault rifles, a variant of the Kalashnikov, as well as hundreds of other heavy machine guns and sniper rifles, the Navy said.
There were also dozens of advanced, Russian-made anti-tank guided missiles, and several hundred rocket-propelled grenade launchers and optical sights for weapons, according to the Navy.
"After all illicit cargo was removed, the dhow was assessed for seaworthiness, and after questioning, its crew was provided food and water before being released," the navy said in a statement.
While the ship was stateless [not sailing under the flag of any country], an initial investigation found it was heading to Yemen from Iran, again tying the Islamic Republic to arming Yemen's Houthi rebels despite a United Nations arms embargo [which was put in place in 2015], sources told The Associated Press.
"The unique blend of materiel recovered by the USS Monterey appears to be consistent with the materiel from previous interdictions, which have been linked to Iran," Tim Michetti, an investigative researcher who studies the illicit weapon trade, also told the wire service.
[The Daily Mail reported "An American defense official said the weapons resembled previous shipments which have been intercepted that were bound for Houthi rebels in Yemen.]  Officially, the Navy said "the original source and intended destination" of the weapons is "currently under investigation."
"Assessment of the findings will be an interagency effort," the statement said.
Starting in Sept. 2014, Yemen's war has killed some 130,000 people, including over 13,000 civilians slain in targeted attacks, according to the Armed Conflict Location & Event Project. The U.N. Security Council has imposed an arms embargo on the Houthis in 2015.
Despite that, U.N. experts warn "an increasing body of evidence suggests that individuals or entities in the Islamic Republic of Iran supply significant volumes of weapons and components to the Houthis."
Iran's mission to the United Nations did not immediately respond to a request for comment, though Tehran has denied in the past giving the rebels weapons.
[The UK Daily Mail reports:
Yemen´s war began in September 2014, when the Houthis seized Sanaa and began a march south to try to seize the entire country.
Saudi Arabia, along with the United Arab Emirates and other countries, entered the war alongside Yemen´s internationally recognized government in March 2015.
Iran backed the Houthis, who harass Saudi Arabia with missile fire and drone attacks, AP reported].
Published by NYPost .com with Post wires on May 9, 2021. Reprinted here for educational purposes only. May not be reproduced on other websites without permission.
Background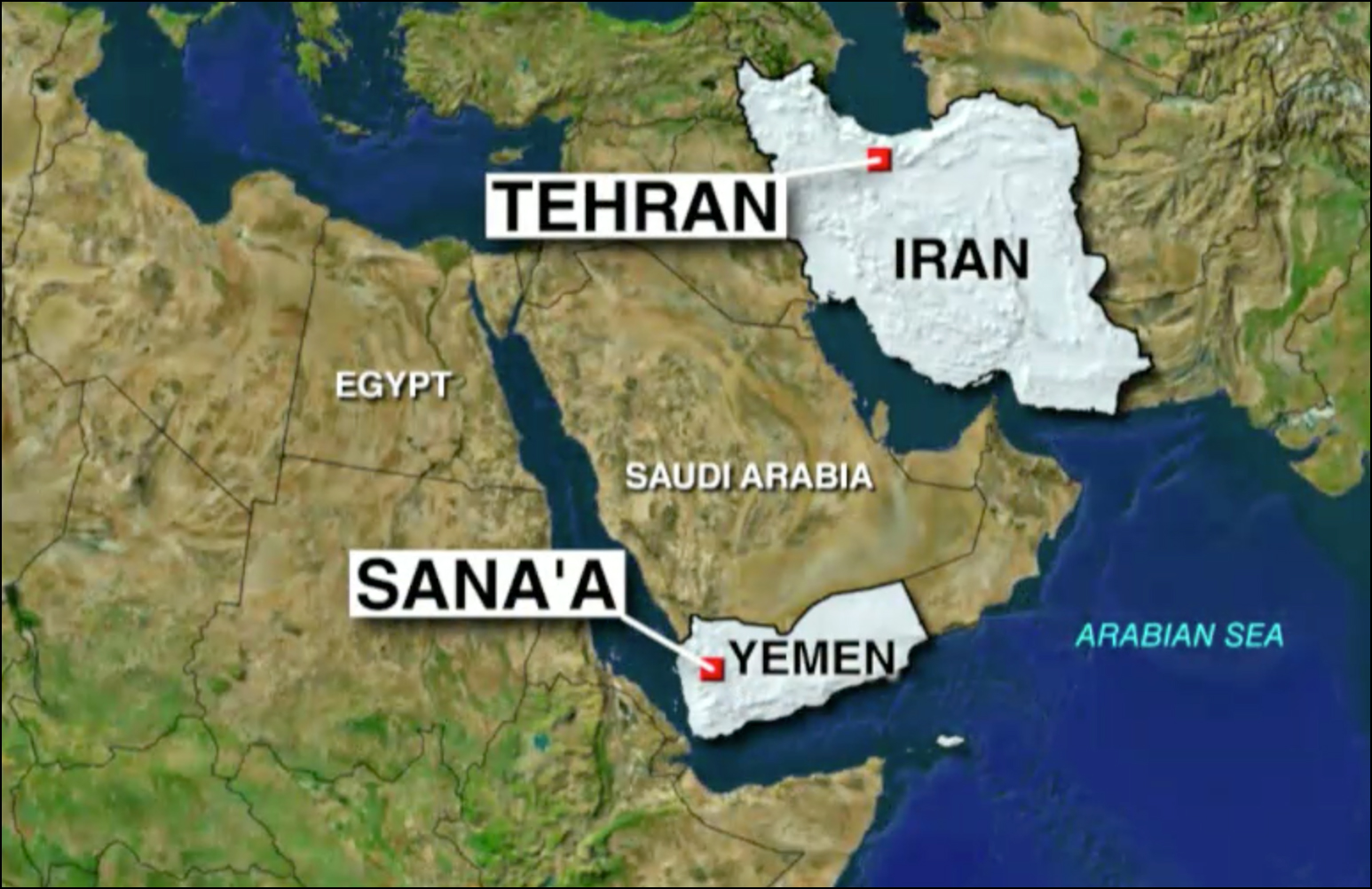 After years of fighting, in 2015 the Houthis seized control of Yemen's capital - Sana'a.  Ali Reza Zakani, an Iranian member of parliament, boasted that Sana'a was now the fourth Arab capital in Iranian hands – after Beirut (through Hizbollah), Damascus (through President Assad) and Baghdad (through Iraq's democratically elected Shia-led government).
Houthis: the Houthis' adherents are Zaydi Muslims, followers of the Shia religious school historically seen as closest to Sunnis, which made it easier for a Zaydi caliph to rule much of present-day Yemen for many centuries until the 1962 revolution. However, the sect has come to be dominated by a clan that owes allegiance to a now dead rebel leader, Hussein Badreddin al-Houthi, who declared war on the government in 2004. The Houthis' Shiism has led them to a pro-Iran, anti-Western position – its adherents carry flags saying, "Death to America, Death to Israel."  (from a 2015 Backgrounder: Who are the Houthi rebels?)
---
In early February, in his first major foreign policy address, President Joe Biden announced he was ending American support for Saudi and United Arab Emirates-led "offensive operations" in Yemen. ... Biden [said] he would prioritize diplomatic solutions to the conflict and appointed, as a special envoy, one of the U.S. State Department's top Middle East experts. He also announced support for a cease-fire [in Yemen] and an effort to restart long-stalled peace talks.
"This war has to end," Biden said. "And to underscore our commitment, we are ending all American support for offensive operations in the war in Yemen, including relevant arms sales."
The move signaled a dramatic shift in U.S. support for Saudi Arabia, a move that has long been urged by progressive activists. Under President Donald Trump, Congress passed resolutions blocking certain arms sales and directing the U.S. to end its role in the hostilities, but Trump vetoed them.
Saudi Arabia and the UAE launched their intervention in Yemen in March 2015, after an Iranian-backed rebel group known as the Houthis took over the capital and forced out Yemen's internationally backed president. The U.S. has supported the intervention, first under President Barack Obama and then under Trump, with weapons sales, intelligence, and logistical support.
Biden's call is a hard won-victory for the progressive wing of the Democratic Party, much of which had urged Obama and Trump to end U.S. support for the war. (from a Feb. 4, 2021 report at The Intercept)