World #1 – Putin Opponent Improving After Being Poisoned
Tuesday's World Events — Posted on September 22, 2020
(from AFP, Agence France-Presse) — Russia's leading opposition politician Alexei Navalny announced Saturday that he could now walk with a "tremble," and gave the first detailed account of his recovery nearly a month after being poisoned.
"Now I am a guy whose legs tremble when he takes the stairs," he wrote, detailing moments of "despair" as doctors help him overcome the effects of the nerve agent Novichok.
This latest update on his progress came after posted to Instagram on Tuesday that he had spent a first day breathing unassisted.
The anti-corruption campaigner fell ill on a plane from Siberia to Moscow on August 20 and spent two days in a Russian hospital before being airlifted to Berlin's Charite hospital.
Navalny said in his update that during the initial days of his recovery, he had needed therapy to help him recover his speech as he struggled to form words. He was still unable to use a phone, he added, meaning friends or family probably posted the messages for him.
"Not long ago, I didn't recognize people and couldn't understand how to speak," he said.  "How to find a word and how to make it mean something? This was all totally incomprehensible.

"I didn't know how to express my despair either and so I was just silent."
The nerve agent Novichok disrupts communication between the brain, the main organs and muscles, while doctors say it gradually clears from the body.
Navalny, who said that he did not remember the early stage of his recovery, thanked the "fantastic doctors" treating him at Charite hospital.  He now saw a "clear path, although not a short one" to recovery, he said.
An avid user of social media, Navalny said that he hoped soon to be "able to scroll through Instagram and add likes without thinking about it."
Navalny's supporters and some European leaders have said that poisoning with Novichok, a military-grade nerve agent, points to a state-ordered crime.
The revelations of nerve agent use have prompted calls for new sanctions against Russia and for Germany to abandon a near-completed project to carry Russian gas to Europe, Nord Stream 2.
Russia insists its medical tests did not detect any poison in Navalny's body. It says it lacks grounds for a criminal investigation, despite international calls for a transparent probe.
Navalny's aides said that German experts found traces of Novichok on a water bottle in his hotel room in the Siberian city of Tomsk.
Germany announced September 3 that medical tests from a military chemical weapons laboratory had found "unequivocal evidence" of the nerve agent.
Published by AFP at France24 on September 19, 2020. Reprinted here for educational purposes only. May not be reproduced on other websites without permission from Agence France-Presse.
NOTE: CBS News reports:  Russian scientist Vil Mirzayanov, who was involved in the secret Soviet program to create the Novichok nerve agent and now lives in the U.S., apologized to Navalny and predicted that he would eventually recover.  "Navalny will just have to be patient but in the end, he should be healthy," Mirzayanov said, predicting recovery would take "almost a year."
Background
On August 20, opposition leader Alexei Navalny was taking a flight from Tomsk, Russia to Moscow. He didn't eat or drink anything all morning - apart from a cup of tea he bought at Tomsk Bogashevo airport, according to his press secretary Kira Yarmysh.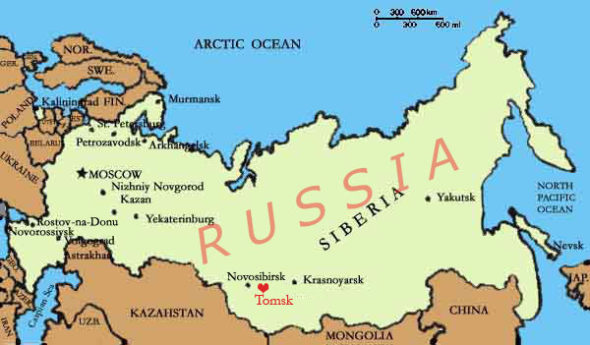 Another passenger on the flight, Ilya Ageev, saw Mr. Navalny drinking the tea about an hour before the plane was due to take off. The Kremlin critic was smiling and joking with fellow passengers who recognized him.
During the first half hour of the flight, Mr. Navalny started to feel unwell. Flight attendants were handing water out to passengers, but he turned it down. He then got up to go to the restroom...and was inside for about 20 minutes. ...Minutes later, a flight attendant made an announcement asking if any doctors were on board. ...
The rest of the cabin crew informed the pilot and tried to administer first aid to Mr. Navalny.  His assistant, Ilya Pakhomov, walked down the aisle appealing for medical assistance. A woman...came forward to say she was a nurse.
For the next hour she and the flight attendants focused on keeping Mr. Navalny conscious until the pilot could make an emergency landing, according to S7 airlines.
Sergey Nezhenets, a lawyer, was sitting in the back row close to where Mr. Navalny was being treated. ...
"I started paying attention to what was going on when a flight attendant asked for medical professionals on board to come forward," Mr. Nezhenets told the BBC. "A few minutes later, the pilot announced we would be landing in Omsk, because a passenger was unwell. I only realized the passenger in question was Navalny after we landed, when I checked Twitter and saw his spokeswoman's posts.
"A few minutes after the call-out for a doctor, Alexei started moaning and screaming. He was clearly in pain. He was lying on the floor in the part of the plane reserved for cabin crew. He wasn't saying any words - he was just screaming."

..."I don't know what they were doing, I didn't see," he says. "But I heard them keep on saying 'Alexei, drink, drink, Alexei, breathe!'  When he was moaning, the rest of us felt better, in a way because we could tell he was at least still alive...."
Two of Mr Navalny's assistants were standing nearby; one was his press secretary Kira Yarmysh.
"She was very nervous," Mr Nezhenets says. "The medic asked her what had happened to him, and Kira said: 'I don't know, he was probably poisoned'."
The crew moved fast to ask permission for an emergency landing at Omsk, the airline says, and it was given immediately. ...Medical staff at the airport boarded the plane just two minutes after landing.
As soon as they had examined Mr. Navalny, the medics said "this is not a case for us - he needs intensive care," Mr. Nezhenets recalls.
"We waited for another 10 minutes for the ambulance to arrive," he says. "During this time, the doctors took Navalny's blood pressure and gave him an intravenous drip - but I think it was clear to them that it was of no use." ...
For two days, the hospital in Omsk kept Mr. Navalny in its acute poisoning department. Initially they would not allow him to be flown to Germany, citing his unstable condition. [Officials at the intensive care unit initially refused to admit his wife, Yulia, or his personal physician, Anastasia Vasileva, both of whom rushed to the hospital from Moscow.  According to Navalny's press secretary,  doctors initially told Yulia Navalnaya that she couldn't be admitted because her (unconscious) husband hadn't consented to visitation. Later, officials apparently claimed that her passport was insufficient proof of her relationship to Navalny and demanded to see their marriage certificate].
On August 22, Navalny was airlifted to the Charité clinic in Berlin and two days later German doctors said their tests showed he had been poisoned.
(Excerpted from a September 3 BBC News Russian report)