World #1 – Jordan's former crown prince detained in suspected plot to overthrow king
Tuesday's World Events — Posted on April 6, 2021
(by Daniel Uria, UPI) April 4 — The former crown prince of Jordan said he has been placed on house arrest and had his communication cut off as security forces said they uncovered a plot to overthrow the king.
Prince Hamzah bin Hussein, the half-brother of Jordan's ruler King Abdullah II, said in a video [he sent to the BBC on Saturday] that the chief of the general staff told him he was not allowed to leave his home or communicate with people and was ordered to stop actions that could be used to target Jordan's "security and stability."
He said the lockdown was put into place due to criticisms of the king or government voiced at meetings where he was present but added he was not accused of making the criticisms himself.
"I am not the person responsible for the breakdown in governance, the corruption and incompetence that has been prevailing in our governing structure for the last 15 to 20 years has been getting worse … And I am not responsible for the lack of faith people have in their institutions," he said. "It has reached a point where no one is able to speak or express opinions on anything without being bullied, arrested, harassed and threatened."
The Jordanian Armed forces confirmed that as many as 20 people had been arrested and that Hamzah had been "asked to cease all movements" as an investigation into his actions was underway.
Officials said they had discovered a far-reaching plot to unseat Abdullah that involved at least one other Jordanian Royal, tribal leaders and members of the country's political and security establishment as well as unspecified "foreign" backing.
Among the others arrested were Sharif Hasan, another member of the royal family and Bassem Awadullah, a former senior official in Jordan's Royal Hashemite Court.
[The New York Post reported: "Details of the plot are sparse, but arrests of top officials and royal family members are rare in Jordan, a key US ally sandwiched between Israel, the Palestinian Territories, Syria, Iraq and Saudi Arabia.
About 3,000 troops are stationed at Muwaffaq Salti Air Base, an important staging area for the fight against ISIS. The US provides about $425 million in military aide to Jordan each year].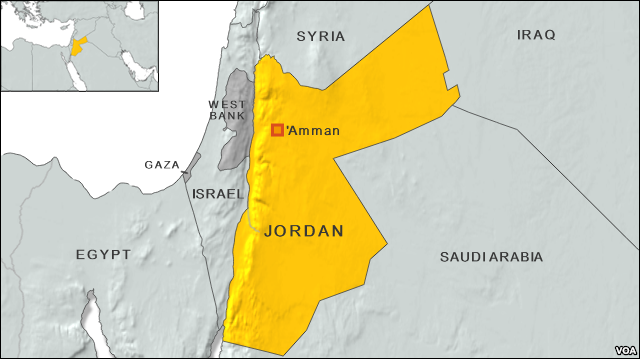 U.S. State Department spokesman Ned Price said the nation is "closely following" the reports out of Jordan and has been in touch with Jordanian officials.
"King Abdullah is a key partner of the United States and he has our full support," he wrote on Twitter.
Saudi Arabia also expressed support for King Abdullah, according to a statement from the Saudi Press Agency.
"The Kingdom affirms its complete stand by the sisterly Hashemite Kingdom of Jordan and its full support with all its capabilities for all decisions and measures taken by King Abdullah II bin Al Hussein and His Highness Prince Hussein bin Abdullah II, Crown Prince, to maintain security and stability," the statement read.
The United Arab Emirates, Egypt, Bahrain, Kuwait and Britain also offered messages of support.
Published at UPI .com on April 4. Reprinted here for educational purposes only. May not be reproduced on other websites without permission.
---
UPDATE: Tuesday, April 6, from AFP (Agence France-Presse) in Amman, Jordan published at the UK Guardian "Jordan bans coverage of alleged plot involving Prince Hamzah"
The prosecutor general in Jordan's capital, Amman, has banned the publication of any information about an alleged plot said to involve the king's half-brother, Prince Hamzah, state television said.
"In order to keep the security services' investigation into Prince Hamzah and the others secret, [it is decided] to ban the publication of anything related to this inquiry at this stage," the prosecutor Hassan al-Abdallat said.

"The ban on publication involves all audiovisual media and social networks, as well as the publication of all images or video clips relating to this subject on pain of legal action," he said in a statement shown on television.
The order came after Hamzah, who has been highly critical of the government, pledged loyalty to King Abdullah II late on Monday, two days after being placed under house arrest.
The government has accused Hamzah, an ex-crown prince, of a "wicked" plot and involvement in a seditious conspiracy to "destabilize the kingdom's security."
Hamzah – who said he was placed under house arrest, while at least 16 others were detained – had on Monday struck a defiant tone, insisting he would not obey orders restricting his movement.
But in an apparent easing of the tensions, the 41-year-old prince later pledged his backing to King Abdullah.
"I will remain … faithful to the legacy of my ancestors, walking on their path, loyal to their path and their message and to His Majesty," he said in a signed letter, quoted by the palace.

"I will always be ready to help and support His Majesty the King and his Crown Prince," he is quoted as writing.
Hamzah – whom Abdullah stripped of the title of crown prince in 2004 – has emerged as a vocal critic, accusing Jordan's leadership of corruption, nepotism and authoritarian rule.
In a video he sent to the BBC on Saturday, he lashed out at "incompetence that has been prevalent in our governing structure for the last 15 to 20 years and has been getting worse".
"No one is able to speak or express opinion on anything without being bullied, arrested, harassed and threatened," he said.