News from around the World
Tuesday's World Events — Posted on April 26, 2011
AFGHANISTAN – Taliban militants free hundreds from Afghan prison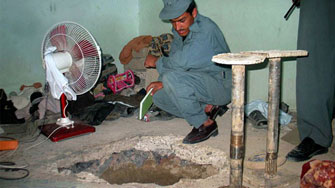 KANDAHAR | Taliban militants tunneled at least 480 inmates out of the main prison in southern Afghanistan overnight Sunday, [sneaking] them through a 1,000-foot-long underground passage they had dug over months (see photo), officials… said Monday.
Officials at Sarposa prison in the city of Kandahar, the birthplace of the Taliban, say they only discovered the breach at about 4 a.m., a half hour after the Taliban said they had gotten all the prisoners out.
The militants began digging the tunnel about five months ago from a house within shooting distance of the prison guard towers. It was not immediately clear whether they lived in the house while they dug.
The diggers finally broke through to the prison cells around 11 p.m. Sunday, and several inmates who knew of the plan unlocked cells and ushered hundreds of inmates to freedom without a shot being fired.
A man who claimed he helped organize those inside the prison told the Associated Press in a phone call that he and his accomplices obtained copies of the keys for the cells ahead of time from "friends." He did not say who those friends were, but his comments suggested possible collusion by prison guards.
"There were four or five of us who knew that our friends were digging a tunnel from the outside," said Mohammad Abdullah, who said he had been in Sarposa prison for two years after being captured in nearby Zhari district with a stockpile of weapons.
"Some of our friends helped us by providing copies of the keys. When the time came at night, we managed to open the doors for friends who were in other rooms."
He said they woke the inmates up four or five at a time to sneak them out quietly. The AP reached Abdullah on a phone number supplied by a Taliban spokesman. His account could not immediately be verified.
CHINA – Chinese Christians held at Easter service: church
BEIJING | Up to 30 members of a Chinese evangelical church were arrested on Sunday for trying to hold an Easter service in defiance of the officially atheist government, a member of the clergy said.
A large number of police began to gather early Sunday in the Zhongguancun area of Beijing where the Shouwang Church had said it would hold an outdoor service to mark the holiest day of the Christian calendar.
"Between 20 and 30 followers were taken away by police," senior pastor Jin Tianming told AFP by telephone from his home, where he is under house arrest. He said there were several police officers posted outside the building.
He added that the members of the congregation who were arrested had been taken to different police stations and that none had so far been released.
Jin had said before the planned gathering that the church considered Easter an important occasion and would stick to its decision to hold a service.
"This is our uncompromising position and a matter of faith. If they arrest our followers, this is the price we are willing to pay," he had said.
Police declined to comment on the arrests when contacted by [a reporter from Agence France Presse] AFP.
UKRAINE – Ukraine prepares to mark 25 years since Chernobyl
KIEV | Ukraine is preparing to mark 25 years since the Chernobyl power station exploded in the world's worst nuclear accident.
The blast on April 26, 1986, spewed a cloud of radioactive fallout over much of Europe and forced hundreds of thousands from their homes in the most heavily hit areas in Ukraine, Belarus and western Russia.
An international donors conference in Kiev last week raised 550 million euros ($798 million) of the 740 million euros needed to build a new shelter and a storage facility for spent fuel.
Ukrainian President Viktor Yanukovich and Russian Orthodox Patriarch Kirill will commemorate the victims of the nuclear accident with prayers and candle-lighting in Kiev tonight before they travel to the Chernobyl station on Tuesday.
(The news briefs above are from wire reports and staff reports posted at: WashingtonTimes.com and SignonSanDiego.com on April 25th and googlenews.com on April 24th.)