News from around the World
Tuesday's World Events — Posted on May 31, 2011
VIETNAM – Government bans police from wearing shades, smoking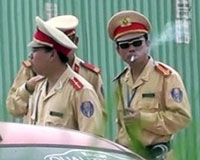 HANOI – Vietnam has banned police from wearing dark sunglasses, smoking, drinking alcohol and making personal calls on mobile phones while on duty after a widely viewed undercover video sparked outrage.
Under the order introduced last week by the Ministry of Public Security, police are also prohibited from chatting and reading books and newspapers while working.
The order, reported in the Tuoi Tre newspaper over the weekend, follows the online posting of a video clip showing a traffic officer clad in dark glasses, puffing on a cigarette and accepting bribes.
Some of the actions covered by the order were already prohibited, but the new regulations are more sweeping.
[Photo: Vietnam: police wearing sunglasses and smoking in public.]
NIGERIA – Country hit by multiple blasts after inauguration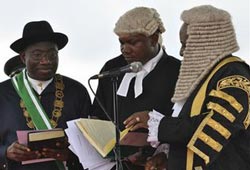 BAUCHI, Nigeria – Multiple blasts rocked Nigeria's restive Muslim north and a city near the capital [Abuja] following the inauguration of the country's southern Christian president [Goodluck Jonathan], officials said Monday. [Photo: Nigerian President Goodluck Jonathan, left, takes the oath of office before Justice Sunday Olorundanusi, center, and Chief Justice of Nigeria Katsina Alu during his inauguration ceremony Sunday, May 29, 2011.]
The most powerful of the blasts tore through a bar in a military barracks in the northern city of Bauchi on Sunday, killing 15 people just hours after the swearing-in ceremony, said an official who participated in the rescue efforts. …..
The multiple blasts illustrate the challenges facing Jonathan. The southerner was sworn in Sunday for a full four-year term and is now faced with the task of uniting a country that saw deadly post-election violence despite what observers called the fairest vote in more than a decade.
A spokesman for the National Emergency Management Agency, Yushau Shuaib, said stringent security measures had been taken to prevent such attacks on inauguration day.
"Telecommunications operators blocked service in Abuja yesterday and [the] government took so many other measures to prevent this, but it is unfortunate that this still happened," he said. "The Agency moved in quickly, otherwise this would have been even worse." …..
The nation of 150 million people with more than 150 ethnic groups is broadly divided between the Christian-dominated south and the Muslim north. Post-election violence spread quickly across northern states after early results showed that Jonathan, a Christian from the south, was winning.
Many northerners believed someone from their region should be the next leader after the Muslim president died in office. Late President Yar'Adua had been expected to rule for another term, but his death left the presidency in the hands of a southerner. An unwritten agreement in the ruling party calls for its presidential candidates to rotate between the country's Christian south and Muslim north.
NORTHERN IRELAND – Belfast cheers 100th anniversary of Titanic launch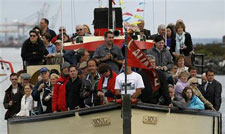 DUBLIN – A century ago, the people of Belfast celebrated one of their proudest days – the launching of the supposedly unsinkable Titanic. The Northern Ireland capital commemorated that bittersweet anniversary Tuesday with cheers from schoolchildren in Edwardian period costumes, the tooting of foghorns, and a hymn-singing dockside choir. [Photo: People gather on a boat in Belfast Lough, Northern Ireland, Tuesday, May, 31, 2011, to attend a religious service at the exact spot were the Tittanic was launched 100 years ago.]
The doomed Titanic was launched into Belfast Lough on May 31, 1911. Ten months later, [several days after it set sail] more than 1,500 of its 2,200 passengers and crew drowned or froze to death awaiting rescue after it struck an iceberg and sank on its maiden voyage to New York City.
For decades Belfast didn't publicize its status as the birthplace of the world's most infamous maritime disaster. But ever since James Cameron's film "Titanic" became a worldwide blockbuster in 1997, Belfast has been working to build a new community and tourism hub on its once-derelict docklands, now christened Titanic Quarter and one of the biggest construction sites in Europe. …..
Behind Tuesday's celebrations is a determined decade-long push to transform the former shipyards from an industrial wasteland into Belfast's sharpest new residential and tourist district, a $1.65 billion project.
A new Titanic Quarter visitors center expected to open before next year's 100th anniversary of the ship's sinking will focus on the liner's 1909-12 construction. Belfast City Council hopes it will attract 400,000 tourists annually to Belfast, a city of just 700,000.
The Ulster Folk and Transport Museum east of Belfast also launched a major exhibit Tuesday of artifacts from the Titanic's construction and wreck.
(The news briefs above are from wire reports and staff reports posted at: the San Diego Union-Tribune's signonsandiego.com on May 30th and 31st.)