News from Morocco, Malawi and Ivory Coast
Tuesday's World Events — Posted on March 15, 2016
MOROCCO – Moroccans protest over U.N. head's West Sahara position
(Reuters UK) – Tens of thousands of Moroccans marched though the capital Rabat on Sunday to protest against U.N. Secretary General Ban Ki-moon's position on the Western Sahara dispute and rally support for the king.
Waving portraits of King Mohamed and Moroccan flags, protesters chanted "The Sahara is ours, the King is ours" as they packed the streets near the parliament building in a rally supported by the government.
Morocco's government last week accused Ban of no longer being neutral in the Western Sahara conflict, saying he used the word "occupation" to describe Morocco's presence in the region that has been at the center of a dispute since 1975.
"That was a serious attack on the feelings of all Moroccans, the march shows we are all united in our national cause," Mbarka Bouida, delegate minister for foreign affairs said, joining the protesters.
State news agency MAP said three million people attended the march, though those figures could not be confirmed. Some protesters said they were bussed for free to the march and said trains had also been free for the day of the rally.
The long-running dispute over the region in the northwest edge of Africa has dragged on since Morocco took control over most of it in 1975 following the withdrawal of former colonial power Spain.
The Polisario Front, which claims the territory belongs to ethnic Sahrawis, fought a rebel war against Morocco until a U.N.-brokered ceasefire in 1991, but the two sides have been deadlocked since that agreement.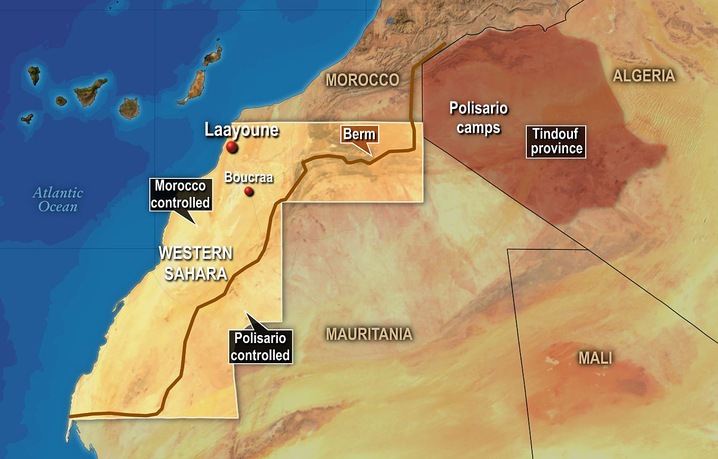 Ban said earlier this month he would restart U.N. efforts to reach a solution after visiting camps in southern Algeria for the Polasario Front leadership and refugees who fled the conflict and who have spent decades there.
The Moroccan government said Ban used the word "occupation" to describe Moroccan annexation [take-over] of Western Sahara in 1975.
Polisario, backed by Morocco's regional rival and neighbor Algeria and a number of other African states, wants a referendum* promised in the ceasefire agreement on the region's fate. Morocco says it will not offer more than autonomy [allow them self-government] for the region, rich in phosphates and possibly offshore oil and gas. [*a referendum is an event in which the people of a county, state, etc., vote for or against a law that deals with a specific issue: a public vote on a particular issue]
"We came to tell Ban and the world that the Sahara is a red line for us, and we would die for it," a protester named Salah, who traveled from Oujda area.
Morocco's king last year insisted only the autonomy plan was acceptable. Rabat [the government] invests heavily in the Western Sahara, hoping to calm social unrest and independence claims, and in February announced a $1.85 billion investment plan.
---
MALAWI – Government torches ivory haul in fight against elephant poaching
(Reuters) LILONGWE – Malawi on Monday burnt 2.6 tons of smuggled ivory confiscated in the northern town of Mzuzu near Tanzania in what was seen as a symbolic gesture in its fight against poaching.
Conservationists say China's growing appetite for contraband ivory imports, which are turned into jewels and ornaments, has fueled a surge in poaching in Africa.
"This is a milestone for Malawi … we will not allow this country to be exploited as a market of this illegal trade," said Bright Kumchedwa, director of Parks and Wildlife, referring to the cache of 718 pieces of ivory.
"By burning the ivory, we want to demonstrate to the entire world that Malawi is committed to eradicating wildlife crime," Kumchedwa said in a telephone interview from Mzuzu, about 400 km (248 miles) from the capital Lilongwe.
A court in Malawi earlier this month said the ivory stockpile worth $3 million could be destroyed.
Tanzanian authorities had in September successfully won a court order in Mzuzu delaying the burning by three months but did not seek a further delay this time around, officials said.
In seeking the delay, Tanzania had argued that the haul of tusks should be preserved as evidence against poachers.
Malawian wildlife authorities say Malawi's elephant population has halved from 4,000 in the 1980s.
The country still has an additional 4 tons of ivory that it says it plans to burn in the future.
---
IVORY COAST – Analysis: Why did Al-Qaeda attack the Ivory Coast?
(London's Daily Telegraph) – Islamic terrorists from al Qaeda's North African branch killed 18 people, including four Europeans, in the beach resort town of Grand Bassam in Ivory Coast on Sunday. Plagued by civil wars, coups and massive foreign debt, life in the Ivory Coast has not been in easy in recent years. Its one saving grace until now, as its citizens look to nearby countries like Mali and Nigeria, is that they have spared the kind of Islamic terrorism that is tearing much of the rest of west Africa apart.
Nor does the group have any particular quarrel with the Ivory Coast, whose coup-wracked army these days is much too weak any way to play any major part in the regional counter-terror programs.
Instead, the reason AQIM (Al-Qaeda in the Islamic Maghreb) sent its gunmen to rampage there was simply to make their presence known – just as they did in November's Radisson hotel attack in Mali, and January's similar atrocity in Burkina Faso.
"They are trying achieve a kind of domino effect, starting with Mali, then Burkina, Ivory Coast, and next it will probably be Ghana or Senegal," said Yan St Pierre, of the German Modern Security Consulting Group. "It is simply about expanding their zone of influence as much as possible."
The reason for this, he says, is partly down to a growing rivalry between the Mokhtar Belmokhtar, the leader of AQIM, and the growing Islamic State of Iraq and the Levant (Isil, or ISIS) presence in Libya, where the group now controls Colonel Gaddafi's home city of Sirte.
While the two groups share many similar aims, ISIS's presence serves as a constant reminder to AQIM that unless they too produce regular terrorist spectaculars, would be-recruits may lose interest in joining them.
It is, after all, surely no coincidence that after a period of inactivity since the French-led operation to oust them from Mali in 2013, AQIM's attack on Mali's Radisson hotel took place exactly a week after ISIS's atrocities at Paris's Bataclan Theatre.
"The presence of ISIS in Libya does have a galvanizing effect on AQIM," added Mr. St Pierre. "It can impact on everything from recruitment and revenue, through to territory and smuggling routes."
(The news briefs above are from wire reports and staff reports posted at Reuters UK on March 13, Reuters Africa on March 14 and London's Daily Telegraph on March 14.)