News from around the World
Tuesday's World Events — Posted on November 16, 2010
(The excerpts below are from WashingtonTimes.com – from wire dispatches and Washington Times staff reports)
UNITED KINGDOM – Britain gets tough on welfare recipients
LONDON – Britain announced Thursday the most radical overhaul in decades to its once-generous welfare system, pledging harsh penalties for those who refuse jobs and community work service for the unemployed in return for benefit checks.
Work and Pensions Secretary Iain Duncan Smith unveiled sharp changes to the country's cradle-to-grave social safety net, which was first introduced after World War II to better protect newborns, families, the jobless and the sick.
"The message is clear: If you can work, then a life of benefits will no longer be an option," said Prime Minister David Cameron, whose government last month announced it would slash benefits payments by 18 billion pounds ($29 billion) under a four-year package of spending cuts worth 81 pounds ($128 billion).
Under the new plan, many of the 5 million people who claim jobless benefits in Britain will be ordered to regularly do four weeks of unpaid community work to remain eligible for their 65 pounds ($105) weekly welfare payment. The stints could include manual labor tasks, such as removing graffiti or gardening in public parks.
TURKEY – American Indian tribes seek trade ties
ANKARA – [Native] American Indian tribal leaders and businessmen seeking trade ties with Turkish companies have offered them tax incentives to operate in their territories in the United States, the organizer of the trip said Thursday.
[Native] American Indian businessmen are increasingly seeking global business partnerships to create jobs and new businesses in their territories. They have held talks with Chinese, Spanish and Australian companies, but their tribal leaders' trip to Turkey was the first large-scale overseas exploration of new trade ties, they said.
Lincoln McCurdy, president of the Turkish Coalition of America, which organized the trip, said the [Native] American tribes are sovereign nations that can strike their own trade deals and offer special tax incentives.
The delegation, representing 17 tribes from at least 10 U.S. states, has been welcomed by the Turkish government, which wants to bolster trade ties with the United States, a key ally and Turkey's seventh-largest trading partner.
BRAZIL – Clown's literacy tested for congressional seat
SAO PAULO – Grumpy the clown won election in a laugher, getting more votes than any other candidate for Brazil's Congress. Now he has to prove that he can read and write.
The Sao Paulo Electoral Court held a closed-door exam for the clown-turned-congressman-elect on Thursday to determine if he meets a constitutional mandate that federal lawmakers be literate.
Francisco Silva became famous as Tiririca – "Grumpy" in Portuguese – and received about 1.3 million votes, nearly twice as many as the next-highest vote-getter in last month's congressional elections.
CUBA – Cuba frees political prisoner who refused exile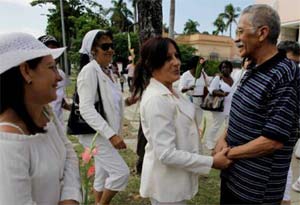 HAVANA – Cuba has freed one of 13 political prisoners who refused to go into exile and will let him stay on the island, in a signal that all may be released soon.
Arnaldo Ramos told Reuters Sunday that he was in good shape after more than seven years in prison and planned to resume his opposition to the communist-led government.
"I am in perfectly good condition and very happy to be home," said the 68-year-old economist, who was released and allowed to return to his Havana home on Saturday night. "I'm going to return to the same activities I did before."
He went on Sunday to the weekly protest march of the dissident group "Ladies in White," (see photo) where he posed for pictures beside leader Laura Pollan.
He was one of 75 dissidents arrested in a 2003 crackdown on government opponents and one of the last remaining in prison, serving an 18-year sentence.
In a deal brokered by the Catholic Church, Cuban President Raul Castro agreed in July to free the 52 who were then still behind bars.
But the government also wanted the imprisoned dissidents to leave the country and tried to convince them to go to exile in Spain in exchange for their freedom.
Spain has agreed to take in the former prisoners. Of the 52 dissidents, 39 accepted the offer, but the remaining 13, including Mr. Ramos, refused to leave their country.
GERMANY – Germany renews bid for Security Council
BERLIN – Germany again pitched on Sunday its appeal for a permanent seat on the U.N. Security Council, after Washington's backing of Asian heavyweights India and Japan for such posts.
"Germany is also ready to take on more responsibility," German Foreign Minister Guido Westerwelle said in a statement.
Elected last month as a nonpermanent Security Council member, Berlin has long lobbied for permanent status.
"I hope the efforts to reform the Security Council will benefit from a new impetus with the recent declarations of President Obama in India and Japan," Mr. Westerwelle said.
The main decision-making body of the United Nations, the Security Council has 15 members of which the five with permanent seats – Britain, China, France, Russia and the United States – have veto rights.
NOTE: The news blurbs above are from "World Scene" published at WashingtonTimes.com on Thursday, November 11, 2010 and from "World Briefs" and "Europe Briefs" published at WashingtonTimes.com on Sunday, November 14, 2010.
Copyright 2010 The Washington Times, LLC. Reprinted from the Washington Times for educational purposes only. Visit the website at washingtontimes.com.
Background
UNITED KINGDOM: In 1942, the Social Insurance and Allied Services was created by Sir William Beveridge in order to aid those who were in need of help, or in poverty. Beveridge ...set up national insurance. He stated that 'All people of working age should pay a weekly national insurance contribution. In return, benefits would be paid to people who were sick, unemployed, retired or widowed.' ... ...The cheapness of what was to be called National Insurance was an argument alongside fairness, and justified a scheme in which the rich paid in - and the state paid out - to the rich, just as for the poor. In the original scheme, only some benefits called National Assistance were to be paid regardless of contribution. Universal benefits paid to rich and poor such as child benefit were particularly beneficial after the second world war when the population of the United Kingdom declined. ...
Beveridge recommended to the government that they should find ways of tackling the five giants, being Want, Disease, Ignorance, Squalor and Idleness. He argued to cure these problems, the government should provide adequate income to people, adequate health care, adequate education, adequate housing and adequate employment. ... (from wikipedia)
-----------------------------------------------
GERMANY: ON THE U.N. SECURITY COUNCIL: (read more at the website un.org/Docs/sc/unsc_background.html)
The United Nations Security Council (UNSC) is charged with the maintenance of international peace and security.
Its powers, outlined in the United Nations Charter, include the establishment of peacekeeping operations, the establishment of international sanctions, and the authorization of military action. Its powers are exercised through United Nations Security Council Resolutions.
There are 15 members of the Security Council, consisting of five veto-wielding permanent members (China, France, Russia, United Kingdom, United States) and ten elected members with two-year terms [these are not eligible for immediate re-election]
The ten elected members are elected by the General Assembly for two-year terms starting on January 1st, with five replaced each year. The members are chosen by regional groups and confirmed by the United Nations General Assembly. The African bloc chooses three members; the Latin America and the Caribbean, Asian, and Western European and Others blocs choose two members each; and the Eastern European bloc chooses one member. Also, one of these members is an "Arab country," alternately from the Asian or African bloc.
Decisions on substantive matters (including imposing sanctions on a country) require nine votes, including the concurring votes of all five permanent members.
Under the UN Charter, all 191 Member States (countries) of the United Nations agree to accept and carry out the decisions of the Security Council. While other organs of the United Nations make recommendations to Governments, the Council alone has the power to make decisions which Member States are obligated under the Charter to carry out.
Under the United Nation's NPT (Non Proliferation Treaty) countries are not allowed to develop nuclear weapons (except those that had weapons when the treaty was signed). India, Pakistan, North Korea have nuclear weapons. India and Pakistan did not sign on to the NPT. North Korea withdrew from the NPT once it developed nuclear weapons. [Note: Israel is believed to have nuclear weapons, but refuses to officially confirm or deny having a nuclear arsenal, or having developed nuclear weapons, or even having a nuclear weapons program. It has not signed the NPT.]