News from around the World
Tuesday's World Events — Posted on November 9, 2010
(The excerpts below are from WashingtonTimes.com – from wire dispatches and Washington Times staff reports)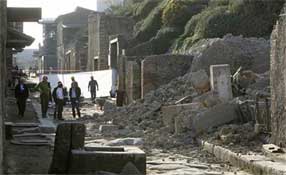 ITALY – More building collapses possible at Pompeii
ROME | Italy's culture minister says more buildings inside the ancient Roman city of Pompeii could collapse, a warning that comes a day after a 2,000-year-old house once used by gladiators disintegrated into rubble.
The collapse Saturday at one of Italy's main tourist attractions was a source of embarrassment for the government and the country. Culture Minister Sandro Bondi went to Pompeii on Sunday to survey the damage.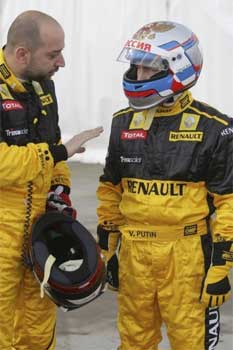 RUSSIA – Putin roars off in Formula One car
MOSCOW – Prime Minister Vladimir Putin took a Formula One race car for a spin on Sunday, reaching speeds of almost 150 mph.
Mr. Putin (on right in photo, wearing helmet) signed a deal last month with Formula One chief Bernie Ecclestone to bring F1 racing to Russia starting in 2014, and his televised test drive could help raise the profile of the sport in Russia.
It also fits with the action-man image he has cultivated over the years, beginning with his startling flight into Chechnya in 2000 in a fighter jet.
After receiving instructions, Mr. Putin climbed into the bright yellow race car wearing a matching jumpsuit and then drove off by himself along an empty road near St. Petersburg. He spun out at one point, but regained control.
When he finished the drive and was told his maximum speed, he smiled and said in English: "For the first time, it's good."
IRAQ – Christians hold Mass in assaulted church
BAGHDAD -The walls were still splattered with blood and pieces of flesh as Iraqi Christians celebrated Mass on Sunday in the church that just a week before had been the scene of a horrific bloodbath in which dozens died.
Parishioners holding candles and wearing black gathered in Baghdad's Our Lady of Salvation Church, which had been stripped bare of pews and still bore bullet holes along its walls, while overhead the chandeliers and ceilings were stained with blood.
Islamic militants took about 120 parishioners hostage last Sunday in the worst attack against the country's Christian minority since the 2003-U.S. led invasion unleashed a torrent of violence across the country. By the end of the siege, 58 people were dead.
At the Mass, the congregants read verses from the Bible and laid out candles in the shape of a cross on the church floor, along with the names of those who died. At the front of the church were photos of the two priests killed in the attack.
GERMANY – Riot police clash with anti-nuke activists
DANNENBERG – Activists rappelled down from a high bridge, broke through police lines and chained themselves to German train tracks Sunday, trying to halt a shipment of nuclear waste as they protested Chancellor Angela Merkel's plans to keep using nuclear energy.
The train, which set off Friday from a reprocessing plant in France, slowly headed toward the northern town of Dannenberg, where containers carrying 123 tons of reprocessed nuclear waste were to be loaded onto trucks for the final leg of their journey to a disputed storage site at Gorleben.
Riot police tried to stop up to 4,000 protesters making their way through the woods onto the tracks near Dannenberg ahead of the nuclear-waste train. Police used water cannons and pepper spray and wrestled with activists to break up the protest, but some still reached the rail line.
CUBA – Cuba hits deadline to free political prisoners
HAVANA – The wives and mothers of Cuba's most prominent political prisoners marched through the leafy streets of the capital Sunday, demanding the government honor an agreement to release their loved ones by the end of the day – or face protests and international condemnation.
With the deadline approaching and no word on the men's fate, a standoff between President Raul Castro and the island's small but vocal opposition community appeared imminent. One dissident vowed to start a hunger strike if the 13 prisoners are not in their homes by Monday, and a human rights leader warned the government was playing with fire.
Mr. Castro agreed following a meeting with Roman Catholic Cardinal Jamie Ortega to release 52 prisoners of conscience held since a 2003 crackdown on peaceful dissent.
The July 7 deal called for all the prisoners to be free in three to four months, a period that ended at midnight Sunday.
NOTE: The news blurbs above are from "Briefly" published at WashingtonTimes.com on Sunday, November 7, 2010 and from "World Scene" published at WashingtonTimes.com on Sunday, November 7, 2010.
Copyright 2010 The Washington Times, LLC. Reprinted from the Washington Times for educational purposes only. Visit the website at washingtontimes.com.