News from around the World
Tuesday's World Events — Posted on September 21, 2010
(The excerpts from World Scene and Briefly Europe below are from WashingtonTimes.com – from wire dispatches and Washington Times staff reports)
JORDAN – U.S. Embassy warns of 'imminent threat'
AMMAN | The U.S. Embassy in Jordan warned on Wednesday that it has "credible" information of a possible "imminent threat" around the southern port city of Aqaba.
"Credible information has been received regarding a possible imminent threat in the Gulf of Aqaba region," the embassy said in a brief statement on its website.
"The U.S. Embassy recommends that all non-official and personal travel to Aqaba be deferred for at least the next 48 hours. For those US citizens resident in Aqaba, the downtown and port areas should be avoided if possible."
PAKISTAN – Al Qaeda No. 2 slams Pakistan relief effort
reported from CAIRO, EGYPT | Al Qaeda's No. 2 leader on Wednesday made a thinly veiled call on Pakistanis to rise up against their government over what he said was the "failure" of authorities there to provide relief to flood victims.
In a video posted on militant websites, Ayman al-Zawahiri also accused the Islamabad government of corruption, saying Pakistani officials were only interested in lining their pockets and not concerned about the fate of the country or its people.
However, the al Qaeda No. 2 placed some of the blame on the Pakistani people, saying their apathy is at least partially responsible for the "deteriorating conditions and corrupt state of affairs" in the country.
ITALY – Medal of Honor recipient says he's nothing special
VICENZA, Italy | Army Staff Sgt. Salvatore Giunta will get the nation's highest military honor this year. But in his words, he's just "mediocre" and "average" at his job.
Sgt. Giunta will become the first living Afghanistan war veteran awarded the Medal of Honor, for his actions in a firefight nearly three years ago. When Sgt. Giunta's squad was caught in an ambush, he exposed himself to enemy fire to pull a fellow soldier back to cover before opening fire on insurgents carrying away a wounded soldier.
Speaking to reporters today from his current post in Italy, Sgt. Giunta deflected all praise, saying anyone who wants to call him a hero must include all other service members who go into the unknown.
IRAN – U.S. accuses Iran of coercing inspectors
reported from VIENNA, AUSTRIA | The United States accused Iran on Wednesday of intimidating U.N. inspectors investigating its nuclear program in an effort to influence their findings – a move an American diplomat suggested allowed the International Atomic Energy Agency (IAEA) to consider "appropriate action."
Glyn Davies, chief U.S. delegate to the nuclear agency, did not go into details in comments to the agency's 35-nation board. But he referred to the phrase "appropriate action" as part of the authority given the board if the inspectors are hampered in carrying out their duties.
FRANCE – U.S. vet returns French war flag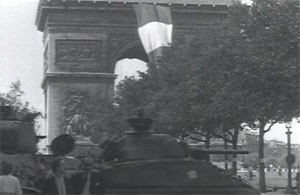 PARIS | On the day Paris was liberated from the Nazis in 1944, a young American soldier nabbed a souvenir of epic proportions: He took home the French flag that hung from the Arc de Triomphe, a symbol of the end of four years of struggle and shame.
Six and a half decades later, the aging veteran has given the flag back to the city of Paris.
Officials from Paris City Hall took possession of the 13-yard tricolor flag Saturday in a ceremony in southern France, a step in its unusual journey from New York state back home to Paris. The American veteran remains anonymous, too ashamed to come forward.
French officials have no intention of scolding him: They have only thanks and kind words for him, pointing out that he once risked his life for France.
"I'm infinitely grateful," Catherine Vieu-Charier, deputy to the mayor of Paris, told the Associated Press.
French historian Christine Levisse-Touze insisted his act couldn't be considered a theft. "If an American GI wanted to take home a souvenir, I'd say there was nothing reprehensible about that, it's an act you can easily understand," said Ms. Levisse-Touze, director of a Paris museum with exhibits on the city's liberation.
Ms. Levisse-Touze is studying the flag to verify its authenticity, but she said it appears to be the real thing, based on comparisons with archive footage and on the straps used to tie it to the monument. The cotton flag is still in excellent condition and has been carefully preserved.
Paris firefighters in the Resistance hung the flag on the Arc de Triomphe on Aug. 25, 1944. After Gen. Philippe Leclerc's 2nd Armored Division, backed by the Americans, rolled into Paris, the occupiers surrendered, ignoring Hitler's order to demolish much of the city.
The flag quickly disappeared, and its absence was barely noticed during the tumult. Ms. Levisse-Touze believes a different, larger French flag was hanging under the Arc de Triomphe the next day, when Gen. Charles de Gaulle led a victory parade down the Champs-Elysees.
NOTE: The news blurbs above are from World Scene published at WashingtonTimes.com on Wednesday, September 15, 2010 and from Briefly Europe published at WashingtonTimes.com on Sunday, September 19, 2010.
Copyright 2010 The Washington Times, LLC. Reprinted from the Washington Times for educational purposes only. Visit the website at washingtontimes.com.