News from around the World
Tuesday's World Events — Posted on March 8, 2011
EGYPT – Egyptians storm security offices
Cairo | Trudging through dungeon-like cells and mounds of shredded documents, hundreds of Egyptians on Saturday surged into the Cairo headquarters of the dreaded State Security apparatus for an unprecedented look inside buildings where political prisoners endured horrific torture.
Some former prisoners sobbed as they saw their old cells, recalling electric shocks and severe beatings. Families held passport photos of missing relatives and were desperate to explore the dank chambers for clues to their fates.
Dismantling State Security, the shadowy and all-powerful intelligence force, was a key demand of protesters who forced the resignation last month of Egyptian President Hosni Mubarak. When the military-led interim authority failed to dissolve the agency immediately, protesters in Cairo and the port city of Alexandria descended on State Security offices this weekend to seize files they hoped would cement Mr. Mubarak's legacy of prisoner abuse and disappearances.
Earlier Saturday, the widely detested former interior minister Habib el Adly appeared before an Egyptian court and pleaded not guilty to charges of corruption and money-laundering.
SAUDI ARABIA – Saudis ban protests
Riyadh | Demonstrations won't be tolerated in Saudi Arabia and its security forces will act against anyone taking part in them, the Interior Ministry said Saturday, a day after about 100 members of the Shiite minority staged a protest in an eastern region of the kingdom.
The Interior Ministry statement said the kingdom bans all demonstrations because they contradict Islamic laws and society's values, adding that some people have tried to go around the law to "achieve illegitimate aims."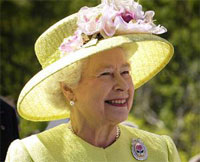 GREAT BRITAIN – Queen's trip to Ireland first by Brit monarch since 1911
London | Queen Elizabeth II (pictured on right) will make her first-ever visit to the Republic of Ireland – the first ruling British monarch to go there in a century marked by Ireland's brutal war of independence from Britain and the grueling conflict in Northern Ireland.
The long-anticipated visit by the 84-year-old queen will highlight Ireland's reconciliation with its former colonial master and the slow blooming of peace in neighboring Northern Ireland.
Buckingham Palace and the Irish government confirmed the queen would visit this year, accompanied by her husband, the Duke of Edinburgh. British and Irish officials, speaking on condition of anonymity, said they were planning a three-day visit in May.
Most Irish politicians cheered the news, but the IRA-linked Sinn Fein party warned it was premature.
King George V spent six days in Dublin in 1911, when Britain and Ireland were united under a single crown. Ireland won its independence in 1922 following a guerrilla war, but relations between remained poisoned by the disputed Northern Ireland, still part of the United Kingdom.
IVORY COAST – Ouattara to attend AU meeting with U.N. help
Abidjan | Ivory Coast's internationally recognized leader Alassane Ouattara said Saturday he will attend a meeting of African Union leaders in Ethiopia next week, in the latest bid to find a resolution to his country's escalating crisis.
The trip will mark the first time Ouattara will leave a hotel, where he has been under 24-hour U.N. protection since being declared winner of the Nov. 28 election. Results certified by the U.N. indicate Ouattara won by a landslide. But his rival, sitting President Laurent Gbagbo, is refusing to leave office.
Jean Ping, the chairman of the AU commission, invited Ouattara to the meeting on March 10 in Ethiopia's capital.
"Of course I accepted this invitation, and all measures will be taken so that I may go," Ouattara told reporters.
For him to do so, a U.N. helicopter will pick him up on the Golf Hotel's back lawn. He has spent the past three months at the aging resort hotel, which is guarded by U.N. peacekeepers and whose exits are blocked by soldiers loyal to Gbagbo.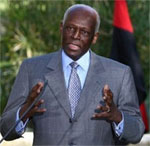 ANGOLA – 20,000 peacefully march at pro-government rally
Luanda | Angola's ruling party rallied more than 20,000 pro-government protesters to march in the country's capital in response to anonymous calls for anti-government demonstrations.
The party of President Eduardo Dos Santos (photo on right from 2009), who has been in power since 1979, held a peaceful, all-day demonstration Saturday. Calls for anti-government protests for Monday have been circulating on the Internet, but no opposition leaders have endorsed the plan.
Angola is rich in diamonds and one of Africa's top oil producers, but its people are impoverished and its infrastructure in ruins.
(The news briefs above are from wire reports and staff reports posted at: post-gazette.com on March 6th and tulsaworld.com and on March 5th and 6th.)