News from Around the World – 2/16/10
Tuesday's World Events — Posted on February 16, 2010
(NOTE: The News Briefs below are from WashingtonTimes.com, from wire dispatches and Washington Times staff reports)
YEMEN – Shi'ite rebels agree to end war
SAN'A | The Yemeni government and northern Shi'ite rebels agreed Thursday to end a war that has raged sporadically since 2004 and drawn in neighboring Saudi Arabia, officials from both sides said. A truce was to begin at midnight.
The Yemeni government, simultaneously battling a resurgent al Qaeda and southern separatists in addition to the northern insurgents, had been exchanging proposals with the Shi'ite rebels for several days to end the conflict.
The leader of the rebels, who complain of social, religious and economic discrimination, also ordered his fighters to abide by the ceasefire.
Riyadh was drawn into the conflict in November when the rebels seized some Saudi territory, complaining that Riyadh was letting Yemeni troops use its land for attacks against them. Riyadh declared victory over the rebels last month after insurgents offered a separate truce and said they had quit Saudi territory. Rebels say Saudi air strikes have continued.
CHINA – Court upholds sentence for reform activist
BEIJING | A Chinese court on Thursday upheld the unprecedented 11-year sentence of a prominent academic who called for political reform – the latest in a rash of harsh punishments for activists that underscore Beijing's refusal to brook any dissent.
The ruling – the third legal defeat this week for veteran Chinese activists – drew a rare public rebuke from the U.S. ambassador, who said Liu Xiaobo should be released immediately.
Liu's hearing at Beijing's high court took less than 10 minutes, and the activist was not given a chance to speak. "I'm innocent!" he called out before being taken away.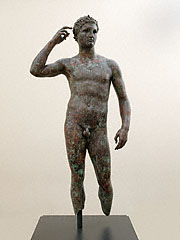 ITALY – Court orders Getty bronze confiscated
ROME | An Italian court on Thursday ordered an ancient Greek statue bought by the J. Paul Getty Museum seized, officials said.
The Los Angeles museum said it would appeal the decision to Italy's highest court and would "vigorously defend" its right to keep the bronze.
The "Victorious Youth" statue, which dates from 300 B.C. to 100 B.C., was pulled from the sea by Italian fishermen in 1964 off the eastern town of Fano, near Pesaro. The Italian government, which has been on an international campaign to reclaim looted antiquities, says it was brought into Italy and then exported illegally.
The Getty maintains Italy has no claim to the bronze and that it bought the statue in good faith in 1977 for $4 million.
UKRAINE – Tymoshenko resists calls to concede
KIEV | Ukraine's embattled prime minister, Yulia Tymoshenko, appeared in public for the first time in days Thursday but still resisted calls to concede defeat in the presidential election and resign her post.
Mrs. Tymoshenko, looking tense but determined, appeared before the media for the first time since Sunday's election to chair a government meeting. She did not comment on the elections directly but took a swipe at the pro-Russian opposition leader Viktor Yanukovych, who defeated her by a margin of 3.5 percentage points, according to the final preliminary vote count.
Her refusal to admit defeat signals that Mrs. Tymoshenko is digging in for a long power struggle with Mr. Yanukovych.
SWEDEN – Suspect held in Auschwitz sign theft
STOCKHOLM | Swedish police on Thursday arrested a former neo-Nazi leader that Polish investigators suspect of involvement in the theft of the "Arbeit Macht Frei" sign at Auschwitz.
Swedish Prosecutor Agneta Hilding Qvarnstrom said 34-year-old Anders Hogstrom was detained in Stockholm on a European arrest warrant.
Ms. Hilding Qvarnstrom said Mr. Hogstrom will be appointed a defense attorney and questioned by Swedish investigators before authorities can decide on extraditing him to Poland.
Polish officials have said Mr. Hogstrom is suspected of incitement to commit theft of a cultural treasure.
The infamous sign, which means "Work Sets You Free" in German, was stolen in December from the site of the Nazis' former Auschwitz death camp in Poland. Polish police found it in the woods three days later cut into three pieces. They charged five Polish men with its theft.
NOTE: The News Briefs above were published at WashingtonTimes.com on Friday, Feb. 12, 2010.
Copyright 2009 News World Communications, Inc. Reprinted with permission of the Washington Times. For educational purposes only. This reprint does not constitute or imply any endorsement or sponsorship of any product, service, company or organization. Visit the website at washingtontimes.com.