Fighting Irish
Tuesday's World Events — Posted on May 19, 2009
(by Jamie Dean, WorldMag.com) – As President Barack Obama greeted a roaring crowd of some 12,000 people at the University of Notre Dame's commencement ceremony in South Bend, Ind., Sunday afternoon, a quieter ceremony was unfolding across campus: About two dozen seniors gathered at the Catholic university's outdoor Grotto to accept their degrees with little pomp, but plenty of well-planned circumstance.
Out of the school's 2,900 graduates, these 20-plus seniors refused to attend their own graduation ceremony for pro-life reasons: University officials invited the pro-abortion Obama to deliver the commencement address and accept an honorary law degree.
When the university announced Obama's impending visit in late March, student leaders from about a dozen student groups cried foul: The pro-life students said a Catholic school shouldn't honor a pro-abortion politician since abortion is anathema to traditional Catholic teaching.
John Jenkins, a Catholic priest and Notre Dame's president, defended the school's decision, saying Obama supported other causes supported by Catholics, like fighting poverty and ending the war. Jenkins insisted the school did not agree with Obama's support for legalized abortion or funding embryonic stem-cell research.
But pro-life students insisted abortion was too fundamental an issue to overlook, and formed ND Response, a student group protesting Obama's visit. The students said the school shouldn't rescind the speaking invitation since the president had already accepted, but asked the school to withhold the honorary law degree.
Protests from outside groups grew louder as commencement approached: Police arrested dozens of people-including former Republican presidential candidate Alan Keyes-for entering the school's private grounds to protest in the days before graduation.
Sunday afternoon, some 300 people gathered just outside the school's campus for a pro-life rally. Some carried signs reading "Shame on Notre Dame." Other signs said, "Stop Abortion Now."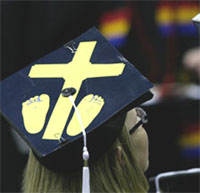 Inside the commencement ceremony, a handful of students wore yellow pro-life symbols on their mortarboards. But others decorated their caps with Obama's red-and-white campaign symbols. After a resounding welcome, school officials awarded an honorary degree to Obama, and the president delivered a speech that briefly addressed the abortion controversy: "I do not suggest that the debate surrounding abortion can or should go away." Obama said both sides could agree that this is "a heart-wrenching decision for any woman to make," and called for programs to help reduce unintended pregnancies and promote adoption.
At least three protesters briefly interrupted the president's speech: One shouted: "Abortion is murder," but the crowd drowned out the protest by chanting Obama's campaign slogan: "Yes, we can."
Across campus in the Grotto, the alternate graduation for pro-life students skipping the commencement ceremony was more subdued. A Catholic priest offered a prayer and called the graduates' names while family members looked on.
The night before, John D'Arcy, the bishop of Notre Dame's diocese, conducted an open-air Mass at a pro-life rally, and offered support for students protesting the president's visit. The bishop said he would skip commencement and told the crowd: "All of you are heroes, and I'm proud to stand with you."
Back in the Grotto on graduation day, cameras beamed the quiet ceremony for the two-dozen seniors skipping commencement to large screens at the pro-life rally off-campus. As a priest directed the graduates to move their tassels from right to left, the crowd watching outside stood and offered a rousing ovation.
Copyright ©2009 WORLD Magazine, Web Extra posted May 18, 2009. Reprinted here May 19th with permission from World Magazine. Visit the website at WorldMag.com.