Stories the Media Missed
Wednesday's Example of Media Bias — Posted on April 6, 2011
With the international media's attention fixed on Libya and Japan, Israel has [been out of the media spotlight] up until [the March 23rd] bombing in Jerusalem.  …with less column inches available for other world news, editors have indulged in selective reporting or under reporting of important stories from Israel.  …Have [you] seen the following stories from the past two weeks?….
Gaza Mortar Barrage:
While the media reported an initial 124 missiles launched at Libyan targets, Israel's south came under a barrage of some 50 mortar shells fired from Gaza, which injured two, on Saturday morning. The media has come to treat the firing of missiles from Gaza as "normal" and therefore not newsworthy. Nonetheless, this escalation barely registered with the foreign press…. until the Israeli reaction.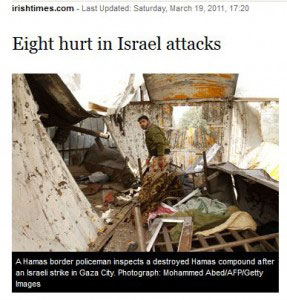 A good case study in bias is this Reuters report that appeared in the Irish Times:
Chronological inversion: The story focuses on the Israeli response to the mortar barrage rather than the initial mortar barrage itself.
Moral equivalence: The headline refers to "Israel attacks" despite the fact that Israel's actions were made in self-defense as a response to an attack on its civilian population. In addition, lumping "Eight hurt" together fails to distinguish between Hamas "security officers" and Israeli civilians who were indiscriminately yet deliberately targeted.
Photo bias: Instead of publishing a photo of mortar damage on the Israeli side or even Palestinian terrorists with their armaments, the photo choice of a bombed out Palestinian building in Gaza is meant to portray Palestinians as the aggrieved victims.
The Victoria Weapons Ship:
If a media outlet constantly publishes stories about Gaza's "suffering" under an Israeli blockade or the "brutality" of Israel's boarding of the Mavi Marmara flotilla, then surely the readership also deserves to see exactly why Israel is enforcing a naval blockade of Gaza?
On March 15, the Israeli Navy seized an Iranian arms shipment bound for Gazan terror groups. Despite the evidence of some 50 tons of weapons presented to the media at Ashdod Port and a wealth of IDF-released video footage of the boarding and subsequent discovery of the hidden arms on board the Victoria, the incident [got] very little coverage.
In addition, the behavior of Iran and Syria, offering material support to terrorist groups deserves to be exposed as widely as possible. The Turkish seizure of weapons on board an Iranian aircraft also failed to register with the media.
When it comes to the Middle East and Israel, very often it is not necessarily what is written that skews the reality but what is missed out.
Read the entire post at honestreporting.com.