ABC Spends 2x More Time on 'Brangelina' Than U.S. Economy
Wednesday's Example of Media Bias — Posted on October 12, 2016
From a Business and Media report by Sam Dorman on October 11, 2016:
In September, ABC spent too much time on one celebrity's marriage and too little on voters' most important issue: the economy.
For three consecutive months before the first presidential debate, voters continually ranked the economy as their top concern. An ABC News/Washington Post poll from Sept. 5-8, revealed that a plurality (35 percent) of Americans said the economy was their "single most important issue."
But in the same month that ABC released that poll, World News Tonight with David Muir spent twice as much time on a major Hollywood breakup than the state of the U.S. economy.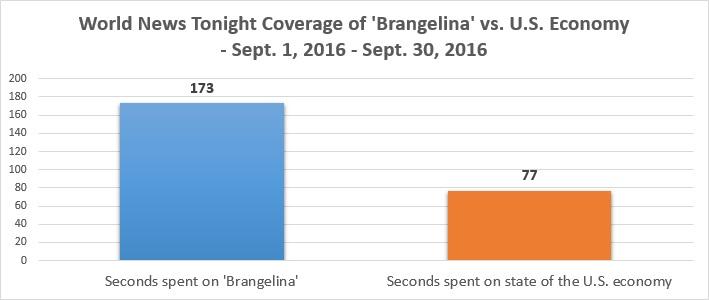 Even though the story broke late in the month, reports that actress Angelina Jolie would divorce actor Brad Pitt and reactions to it took up 173 seconds of World News airtime that month, compared to just 77 seconds on the economy. That's a minute and a half less coverage of the economy than the Brangelina split.
TMZ reported the divorce filing on Sept. 20. In the few days following that announcement, ABC's World News reported on that story three times.
On Sept. 20, Senior National Correspondent Matt Gutman described the beginning of the celebrity's "love story" poetically: "In 'Mr. And Mrs. Smith,' they blasted bazookas at one another and perhaps Cupid's arrows."
Anchor David Muir took 20 seconds the next day to share actor George Clooney's response to the breakup and then saying, "George Clooney taking the high road on the divorce bombshell."
ABC spent more time on that segment alone than it spent on September Census figures, which The Los Angeles Times called "surprisingly strong." NBC Nightly News reported on Sept. 13, that the Census report showed American incomes and poverty improving at record rates. But ABC World News Tonight only spent 18 seconds covering that news on Sept. 13.
Compared with other networks, ABC spent much more time covering Brangelina and much less time covering the economy:
CBS Evening News spent 447 seconds on the economy
NBC Nightly News gave the issue 276 seconds
Voters also ranked the economy as their top concern in July and August. ABC World News Tonight and NBC Nightly News spent more time on Pokemon Go than the state of the economy in July. While World News Tonight and CBS Evening News both spent more time on Colin Kaepernick's protest of the national anthem than it did on the economy in August.