Libya
Friday's Editorial Cartoon — Posted on October 26, 2012
Question(s)
Editorial cartoonists often use humor to make a point about a serious situation.
1.  What point is Sean Delonas making in his cartoon?
a)  President Obama's foreign policy has caused the world to like the U.S. again
b)  Mitt Romney is going to win the presidential election on November 6
c)  Military leaders in Washington like Mitt Romney better than President Obama
d)  If Mitt Romney had been president during the terrorist attack on our consulate in Libya, the outcome would have been different.
2.  Do you agree with Delonas' assertion about the terrorist attack on the U.S. consulate in Libya?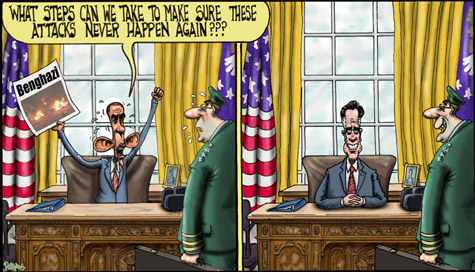 Cartoon by Sean Delonas