US Deploys Warships as North Korea Prepares to Launch Missile
Daily News Article — Posted on March 26, 2009
Note: This article is from the British newspaper The Daily Telegraph.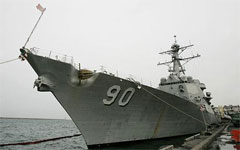 (by Peter Foster, Telegraph.co.uk) BEIJING – The US has deployed two warships with anti-missile capabilities in the waters off Japan as tensions mount over North Korea's plans to test-fire a long-range ballistic missile capable of striking Alaska.
The deployment comes as America, Japan and South Korea threaten North Korea with 'serious consequences' if it proceeds with plans to conduct the missile test in defiance of a 2006 UN resolution [demanding that Pyongyang abandon its nuclear-weapons program].
North Korea, which has informed international agencies of its plan to fire the missile between April 4 and 8, says the launch is a "satellite test" which it is entitled to make under international law.
Recent satellite imagery has shown that North Korea has now assembled two stages of the three-stage Taepodong-2 missile on a launch pad in the country's northeast. Experts estimate that missile could be ready to fire within four days.
Japan has threatened to shoot down the missile if it crosses over Japanese territory, a move which Pyongyang has already said it would consider an "act of war".
[U.S. Secretary of State] Hillary Clinton has warned any launch would threaten to end the six-party talks over Pyongyang's nuclear weapons program. The talks have been stalled since December in a dispute over how to verify its disarmament.
"This provocative action, in violation of the United Nations mandate, will not go unnoticed and there will be consequences," she said while on a visit to Mexico, warning that the US would put the issue before the UN Security Council for additional sanctions.
It is unclear if China, Pyongyang's only major ally which has held talks with senior figures from both North and South Korea in the last week, would support a US move to deepen sanctions.
North Korea also continues to hold two Korean-American journalists who it arrested over a week ago after they strayed across North Korea's border with China while on a reporting assignment.
The US Navy spokesman said the two destroyers – the USS McCain and USS Chafee – equipped with Aegis technology capable of tracking and destroying missiles had left Sasebo port in southwestern Japan. "I would say we are ready for any contingencies," he added.
The approach launch is typical of the brinkmanship of North Korean diplomacy, analysts say, however relations on the Korean Peninsular now said to be at their lowest ebb for a decade.
A successful satellite launch would be both a blow to South Korea, which hopes to launch its own satellite later this year, and a huge fillip for Kim Jong-il, the North's ailing dictator who was reported to have a had a stroke last year.
"A successful launch, coupled with international recognition of its nuclear capabilities, would also help secure the survival of the regime," added Koh Yu-hwan, Dongguk University professor of North Korea studies in Seoul.
Information appearing on telegraph.co.uk is the copyright of Telegraph Media Group Limited and must not be reproduced in any medium without licence. Reprinted here for educational purposes only. May not be reproduced on other websites without permission from the Telegraph. Visit the website at telegraph.co.uk.
Background
NUCLEAR NON-PROLIFERATION TREATY:
Under the United Nation's NPT (Non Proliferation Treaty), countries are not allowed to make nuclear weapons (except for the 5 that had nuclear weapons prior to the treaty - the U.S., Russia, China, France, the United Kingdom). Safeguards are used to verify compliance with the Treaty through inspections conducted by the UN's IAEA (International Atomic Energy Agency).
NORTH KOREA'S NUCLEAR WEAPONS PROGRAM and THE SIX-PARTY TALKS: (portions of this informaiton are from wikipedia.org.)
The six-party talks are a series of meetings with six participating states - the U.S., Japan, China, South Korea, North Korea and Russia.
These talks were a result of North Korea withdrawing from the U.N.'s Nuclear Non-Proliferation Treaty (NPT) in 2003. North Korea is led by dictator Kim Jong-Il, who has starved and imprisoned millions of his own people.
The aim of the talks is to find a peaceful resolution to the security concerns raised by the North Korean nuclear weapons program.
After five rounds of talks from 2003 to 2007, little progress was been made.
September 2005, as a result of illegal acts committed by the North Korean government, including the counterfeiting of U.S. money, the U.S. froze North Korea's overseas bank accounts. The North Korean government then refused to participate in further six-party talks.
April 2006, North Korea said they would resume talks only with the U.S. (not six-party), if the U.S. released recently frozen North Korean financial assets held in a bank in Macau. The U.S. did not comply with the request.
October 2006 North Korea conducted a test of a nuclear weapon.
A week later (Oct. 2006), the U.N. passed a resolution demanding that Pyongyang abandon its nuclear-weapons programs. The resolution also ordered all countries to prevent North Korea from importing or exporting any material for weapons of mass destruction or ballistic missiles.
In December 2006 North Korea returned to negotiations through the six-party talks.
In February 2007, North Korea agreed to shut down its nuclear facilities in exchange for fuel aid and steps towards the normalization of relations with the U.S. and Japan. Negotiations then stalled through July.
In October 2007 an agreement was made among the six countries negotiating the end of the North's nuclear program. Under the agreement, North Korea would start getting energy and other economic assistance from the U.S. and others, as well as begin normalizing relations with the United States and Japan. In exchange for this, by Dec. 31, 2007 North Korea was supposed to provide a written declaration disclosing all of its nuclear materials and capabilities as well as disable its main reactor at Yongbyon. North Korea did not fulfill their part of the agreement.
In June 2008, the U.S. reached a deal with North Korea to provide 500,000 metric tons of food aid but insisted on supervision, fearing that much of it was going to the elite.
In March 2009 in advance of its missile launch, North Korea announced it was refusing to take any more food aid from the U.S.
Also, go to wsj.com for a graph detailing negotiations with North Korea.